Baker Mayfield: A Heisman story for the ages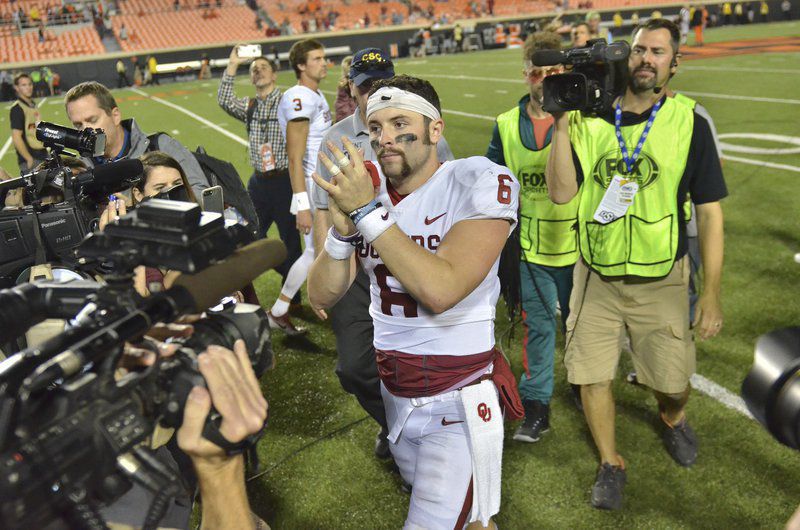 NEW YORK — America's largest labyrinth welcomed Baker Mayfield back with its first authentic chill this season. Temperatures slipped into the 30s Friday night, and forecasts hinted at light snow soon.
While New York City's lightbulbs winked at the night, the 800 languages spoken by more than 8 million people throughout the five boroughs clattered and dissolved into the December sky.
Some 2,000 miles from the golden soil of his Texas hometown, Mayfield rested in a hotel bed with the opportunity to reflect on how he has returned to Manhattan as a heavy favorite to become Oklahoma's sixth Heisman Trophy winner over Louisville's Lamar Jackson and Stanford's Bryce Love.
Mayfield's story is a rabbit hole.
There was a previous trip to New York as a Heisman finalist in 2016, but he didn't win the award. A few months later, he spent the night in an Arkansas jail. Then there was the afternoon in Lawrence, Kansas, when he became a national news piece after an infamous sideline outburst.
Mayfield's journey from walk-on to icon is all-encompassing. He will leave OU as arguably its best quarterback, with the glitzy passing numbers and perhaps a national championship to help prove it.
Somewhere along the way, his life became like a movie. But before it took shape, Mayfield had to prove he could be a starting quarterback, three different times. Once he stood on the peak of stardom, he had learn to keep his balance.
Again and again.
•   •   •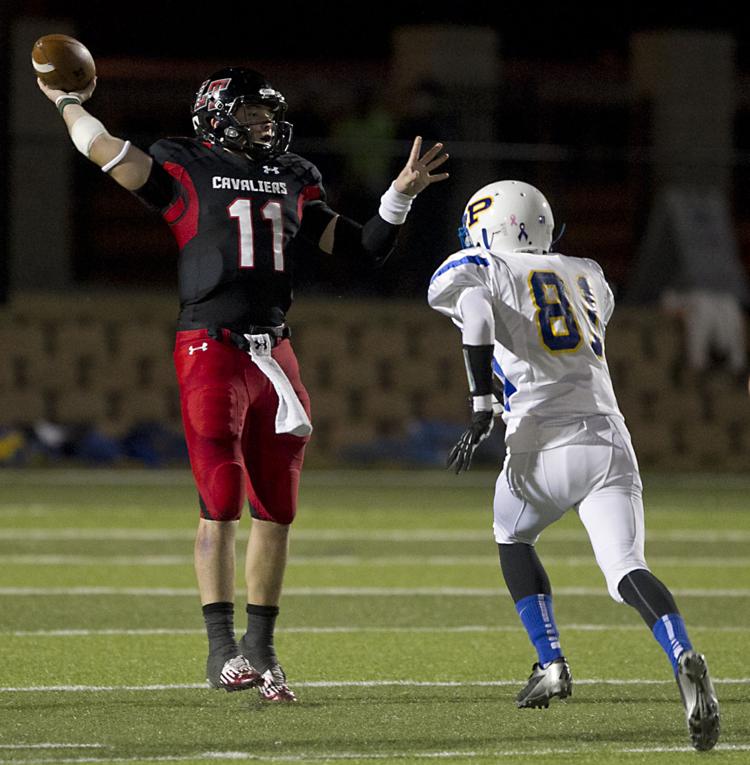 Mayfield's charmed life growing up in sunny and clean Austin, Texas, wasn't all it appeared. He initially struggled standing out for the Lake Travis High School football program, which produced tall, broad-shouldered quarterbacks and big-name coaches.
Mayfield was 5-feet, 2-inches tall in 2008 when Carolina Panthers reserve quarterback Garrett Gilbert was second in an active streak of eight Lake Travis quarterbacks to have reached the Division I level.
"He was really, really small. A very small kid," said Hank Carter, who joined the team as a defensive coordinator that fall and took over as head coach in 2010, when Chad Morris left to join the Division I ranks. (Morris became Arkansas' head coach this week.)
By his sophomore year, Mayfield had grown eight inches but remained behind quarterbacks Collin LaGasse, Dannon Cavil and Bear Fenimore, all future Division I athletes. Cavil briefly played receiver at OU before transferring. Mayfield understood why he didn't earn a starting role, not that he liked it.
"It was a hard time for me," he said.
Mayfield didn't win the starting job as a junior, either, though Carter suspected he would grab the reins in-season and overtake LaGasse. No one had a choice, it turned out.
Lagasse was injured on the first series of the Cavaliers' 2011 season opener against rival Westlake. Mayfield skipped to midfield with his signature trot, the one that suggests he knows something everyone else doesn't.
He threw for 278 yards in a blowout win and led Lake Travis to a 16-0 state title season.
Mayfield threw for 2,467 yards and 22 touchdowns as a senior, but maintains he graduated high school with one Power 5 scholarship offer. It was from Rice, though Carter remembers Washington State showing serious interest.
The low recruiting profile Mayfield kept contradicted the big-time stage on which he saw himself, the kind he witnessed Saturdays in Norman, Oklahoma, growing up. That seemed far away. He walked on at Texas Tech because the in-state tuition cost made financial sense for his parents, James and Gina, who would end up living with in-laws for roughly two years to ease the blow.
•   •   •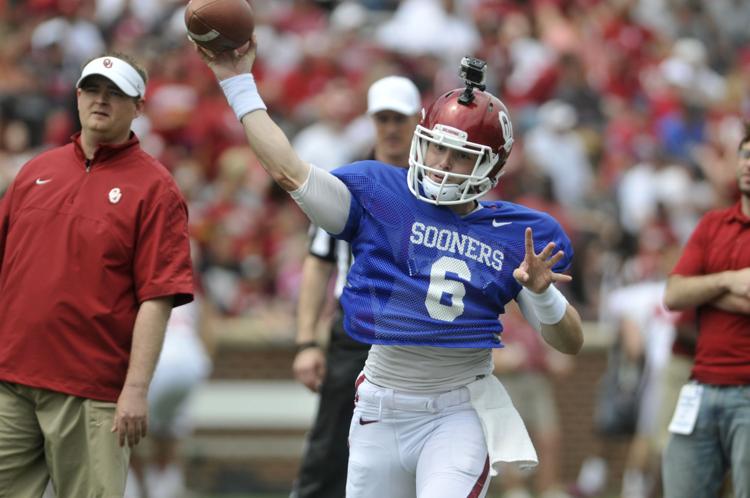 Injuries and graduation hollowed the Lake Travis lineup during Mayfield's senior season. At one point, Carter said, the Cavaliers had a 180-pound backup left tackle protecting their star quarterback, who seemed to enjoy leading a band of rag-tags.
"The biggest thing I remember was the toughness he showed. He was getting the heck knocked out of him," Carter said.
So, moving to West Texas and walking on with the Red Raiders, perennially a middle-of-the-road Big 12 team, suited Mayfield fine. 
"I was excited to walk on. I felt greatly disrespected," he said.
Mayfield earned the jersey number "6" because that's what Tech coaches gave him. Walk-ons don't get to pick. He won the Red Raiders starting job, anyway, and became the first Power 5 walk-on true freshman season-opening starting quarterback. He earned five victories as Tech's starter.
That made the end-of-season fallout with Tech coach Kliff Kingsbury — later deemed a "miscommunication" after Mayfield wasn't made the starter again after sustaining an injury — even more bewildering and Mayfield's future more uncertain. He was already a long shot at Texas Tech. The next step could be tougher.
The 2013 holiday break was almost over when Mayfield returned to Lake Travis and told Carter he was transferring. "Do I need to get on the phone?" his high school coach asked, eager to promote the former QB to college coaches if needed.
"No," Mayfield said. "I'm just gonna go walk-on at OU."
Carter was stunned. He had questions, the same ones Sooner football Lincoln Riley, then the offensive coordinator at East Carolina, was asking Mayfield by phone, 1,500 miles away.
A dual-threat quarterback named Trevor Knight had just led OU to a stunning upset of Alabama in the Sugar Bowl. The Sooners didn't need a quarterback. Riley, a former Texas Tech assistant, tried using that as a recruiting tool to lure Mayfield.
"Are you crazy?" Riley asked during one conversation.
Maybe he was.
"I thought that was crazy. I didn't think it was truth," OU defensive coordinator Mike Stoops said of Mayfield's decision. "But it was probably the smartest thing he ever did. He's a guy that, his instincts were right, for whatever reason."
Mayfield arrived at OU, introducing himself to then-head coach Bob Stoops at a team meal. He sat out 2014 in accordance with NCAA rules and in 2015 won the job over Knight and Cody Thomas, two of the taller, broader-type QBs coaches preferred over Mayfield during the recruiting process.
By that time, stars were aligning. Riley had been hired as offensive coordinator at OU and oversaw the QB competition. To eliminate preconceived notions, he did not watch previous highlights of the three players. Everything Mayfield did to become OU's next quarterback, he displayed during that '15 fall camp. He threw nine interceptions as a freshman at Tech, so Riley and Stoops were clear that play wasn't acceptable.
"For him to win that job, he had to change in a lot of ways who he was as a player," Riley said. "I think that competition was the best thing that could have ever happened for him."
•   •   •
Video of Mayfield perfecting "The Whip" dance before OU's College Football Playoff game against Clemson in 2015 went viral, and a scrappy walk-on began transforming into a star.
He was fourth in the Heisman Trophy voting his first season as OU's starter and only improved in 2016, setting the new Football Bowl Subdivision pass-efficiency rating record at 196.4.
Mayfield bobbed his head in and out of the news along the way. He exchanged public remarks with TCU coach Gary Patterson, whom he suggested strung him along in the recruiting process. There were barbs with Kingsbury and Lubbock sports columnist Don Williams as the Big 12 battled with a decision to allow Mayfield an extra year of eligibility after he had transferred within the conference, but without a written scholarship offer. The league ultimately amended a rule and allowed Mayfield to suit up this season.
Some grew tired of the quarterback's constant visibility. Following the 2016 season, video of an embarrassing public intoxication arrest, during which he ran from police, became public. In September, he thrilled many fans by planting a flag at midfield of Ohio Stadium after OU's 31-16 conquest of the then-No. 2 Buckeyes, but some viewed it as a cheap move.
A few months later, a lewd sideline gesture at Kansas was caught on national television, causing a wave in the national news cycle.
Mayfield made public apologies for all three instances.
"He's such an amazing kid," Carter said. "But he doesn't do himself any favors."
Kelli Dodson never lost respect for the quarterback. In August, Mayfield made an unprompted visit to see Dodson's 13-year-old daughter Katelyn, who has Dravet Syndrome. The genetic disorder is thought to be the most catastrophic form of epilepsy. Katie functions at an 8-year-old level and may never be able to perform multiplication, and though she can walk with the help of orthotic braces, she needs a wheelchair sometimes.
Mayfield was ordered to community service following his arrest, but Kelli doesn't believe his in-home visit to be part of those sanctions. The meeting was arranged by a mutual friend, and Kelli says she never signed paperwork stating Mayfield had been at her home.
Katie's condition draws plenty of sympathetic looks, but the short-haired girl with glasses didn't get one from Mayfield. He played catch with her using a football he autographed, and met with her 14-year-old brother, Steven. Katie's condition won't allow her to sweat, so she has an air-conditioned clubhouse in the family's backyard, which she refers to as her "art studio." She invited Mayfield in and he gladly obliged. Later, he invited her and Steven to see OU's locker room.  
"He was just very patient with her and kind," Kelli said. "He treated her like she was a normal child, but also like she was special."
Mayfield's public missteps didn't completely dim his public perception. As of Friday, there were more than 6,000 online petition signatures clamoring that his statue at OU's Heisman Park should depict him staking a flag into the ground that night in Columbus, Ohio.
Seth Truitt, an OU junior and business student, authored the petition, through which he hopes the university's student congress can draft a resolution to prod campus leaders into making it a reality. 
"If you immortalize something," Truitt said, "It should be unique and characterize that person's spirit, and I think that's what that moment did for Baker."
Mayfield never claimed to be perfect, but that hasn't kept him from trying. He wants to be a role model, someone the 13-year-olds, college kids, or anyone else, can respect.
"It's [about] knowing how much influence I can have," Mayfield said, "being aware of that and wanting to be a positive one."
•   •   •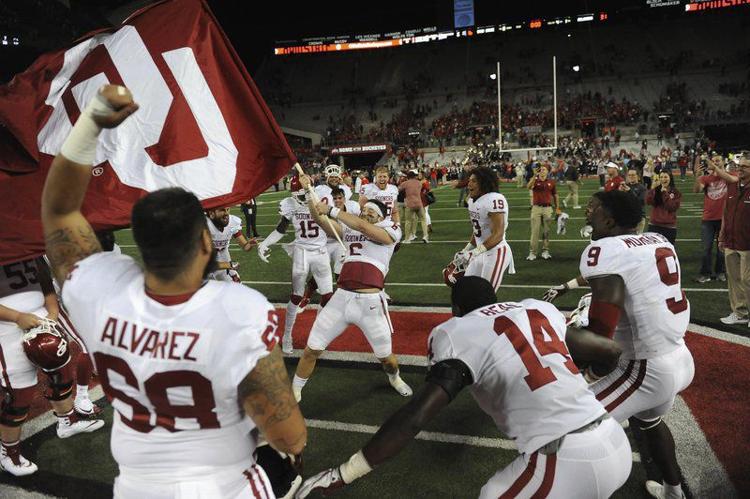 A month ago, Riley stood behind a podium speaking about his quarterback. He had tried to recruit Mayfield to East Carolina a few years earlier, but had since become one of the biggest benefactors of Mayfield's extra year of eligibility.
"He's the best [quarterback] I've ever coached," Riley said. "Probably the best one I've been around. Just the complete package. I've been around other guys who maybe did a few things better here and there, but you talk about the total package of intelligence, arm talent, leadership, drive and being able to move, he's the most complete one I've been around."
Mayfield has stiff-armed — or blocked — many defenders, suggesting uncanny strength for someone who is only 6-1, 220 pounds. Except, OU senior linebacker Ogbonnia Okoronkwo laughed when asked how much weight Mayfield is pushing around in the weight room.
"I think that's definitely something that only comes out on the field," Okoronkwo said.
As OU's starting quarterback, Mayfield's gusto helped produce a 25-2 record in conference games. Watching has become a thrill for sports fans everywhere. Oklahoma City Thunder small forward Paul George is among those impressed.
Asked if Mayfield transcends the sport, George said: "Absolutely. You can see it, and the really good ones have a way of impacting everyone on the team. He has that on the sidelines. They pan on him and he's engaged with everybody. He's getting the crowd into it … You gotta have good energy and he definitely has good energy."
Mayfield's 203.8 pass efficiency rating, if sustained, will shatter his FBS record mark set last season. He has thrown for 4,340 yards, 41 touchdowns and five interceptions, completing 71 percent of his passes.
Those career-high numbers have come during a season highlighted by off-the-field challenges. His life didn't get easier after earning the three starting quarterback jobs that led him to Manhattan this weekend. He battles and thrives in the spotlight.
"It's almost like when Tiger Woods was playing golf and every single swing would get replayed, and everybody else, you might see hit two or three shots," Riley said. "It's just a little bit different microscope for him, there's no question. He's had to adapt and has to continue to adapt to that."
He has become practically unbeatable in the process.
Two days after the Sooners outlasted Bedlam rival Oklahoma State in a 62-52 firefight Nov. 4 in Stillwater, OSU coach Mike Gundy bubbled over with frustration in his weekly press conference about how the Sooners were always a step ahead. Mayfield threw for a career-high 598 yards, accounting for six touchdowns.
"You've got to be shi**ing me," Gundy blurted out.
That's a single line — and a funny one — within Mayfield's tale, which is among the greatest in OU Heisman history.
"Most guys wouldn't have the guts to do what he did," Riley said. "And then, getting the chance to do it at his dream school? I mean it's like a, it's like a story somebody wrote.
"It doesn't even really seem real."