Inside the Game with CNHI Sports, Ep. 8
Kevin Brockway and Elton Hayes join George Bremer to discuss the impact of COVID-19 on the early part of the Big Ten football season.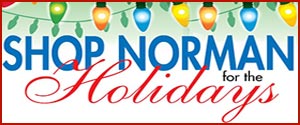 Lionel Estell Bailey died November 18, 2020 in Norman, Oklahoma at the age of 71 years 9 days. Funeral services are scheduled for 11:00 AM, Monday, November 23, 2020 at the Tribbey Community Church, with interment to follow at the Tribbey Cemetery, entrusted to the care of Wadley's Funeral S…
Cheryl Jacques, (60) of Purcell passed away on November 20th at St. Anthony Hospital. Her Funeral Service is pending with McMahans Funeral Home.
Juanita Mildred Boatright, (93) of Norman passed away on November 20th at the Lexington Nursing Home. Her Services are pending with McMahans Funeral Home
Timothy B. Coffey, 55, passed in his home in Noble on 11/20/2020. Burial is at Norman IOOF Cemetery, Friday 11/27/2020 at 2:00PM. Please sign the online guestbook at www.primrosefuneralservice.com