There's a new flavor in town, but it may be more appropriate to say Norman is home to a new flavor discovery, because there's nothing quite like Sear.
Sear, the "new American" restaurant, owned by a duo of husband-and-wife duos, opened last month at 283 34th SW. Chef Ben Spears has spent a quarter century in the kitchen, but Sear is his first brainchild.
"It's a new American style cuisine," he said. "I like to say America is a melting pot. So is my menu. I bring in a lot of different flavors from around the world and combine them, use them, mix them up to create something with a lot of unique flavor."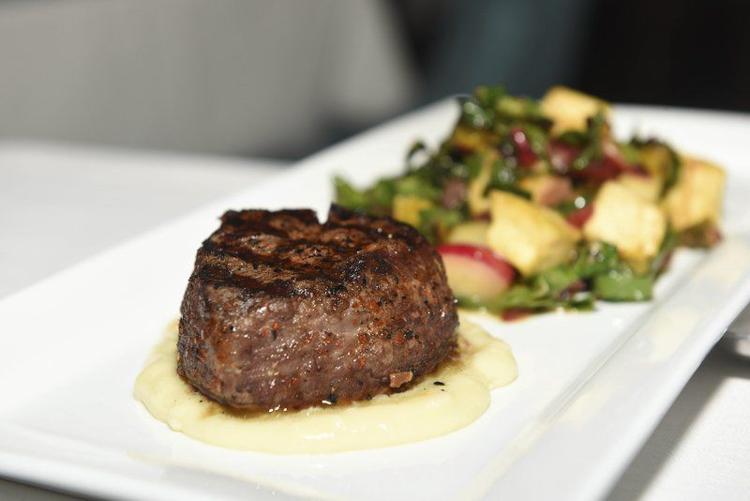 One such example on the menu is the cowboy ribeye, which is flavored with African and Argentine peppers and finished with a fermented black garlic butter sauce.
Then there's the seared scallops with house-made chorizo and the charred parsnip beet salad with miso bacon vinaigrette.
Even the simple is exquisite at Sear, like the Cuban sandwich, made with house-made pork shoulder and paired with mushroom risotto.
The desserts, expertly crafted by Lisa Macias, also offer tasty twists on American classics.
"It's a new take on fusion," Spears said.
The proliferation of fusion food concepts across the country has heralded a new culinary age of sorts, with chefs finding inventive combinations to tantalize palates. Spears said it's an exciting time in the world of food, and it's not limited to the coasts or metropolitan centers. It's happening right here in Norman.
"It's absolutely exciting, especially for it finally to be so accepted in Oklahoma," he said. "Now that we've done away with the buffet style restaurants we have so many unique restaurants coming out now. You're starting to hear about restaurants in leading magazines from around the world and they're from Oklahoma. I don't think it's about surprising. I think it's about time."
The restaurant is also a first for Spears' co-owners. One is his wife, Angie. The other two are longtime friends Jeff and Jennifer Smith. Following a layoff, Jeff and Jennifer said they were looking for new opportunities, but the idea of opening a restaurant wasn't on the table until Spears was on board. Jeff said they never would have even entertained the idea without him.
After sampling the food, it's clear why they took the leap. Spears isn't just a cook, he's an artist.
You've probably eaten his food before — he was formerly the chef at Legend's for the past five years — but not like this.
While the Smiths were quick to give Legend's its due for the fine dining institution it is, they said Sear is different.
Both can be great (and they are),but like Jimi Hendrix after leaving Little Richard's band, Spears is now cooking up something of his own.
It's a fitting comparison, because, like the iconic guitar pioneer, Spears is combining artistic elements in exciting ways.
"My favorite explanation I have heard of Ben's style: He has a Creole Cajun background but he brings in spices and flavors from Asia and around the world and blends it into American comfort foods," Jeff said.
It may be Spears' first restaurant to own, but it gives no hint of being a rookie effort. Spears cooks with adventurous flavors that some may be able to get off the ground but few could land as well as he does.
And it's not just flavor variation.
"Our clientele has become more conscious of what we're putting in our bodies, and we have a huge upswing of dietary needs — plant-based, vegan, allergens," Spears said. "So, I wanted to have a menu that can adapt to each guest as easily as possible. If someone walks in and wants the risotto, I have the option to make it vegan or plant-based.
"We do our own bacon, we brine our own turkey, our own pork our own ham so I don't deal in processed, preservatives or high-sodium. It's a lot of extra work but I think it pays off in the flavor and guest response."
While Sear melds flavors from around the globe, it also has a hyper-local focus. Spears uses local ingredients whenever possible and exclusively serves Oklahoma-made beers. Even the art adorning the walls of the crisp modern interior is local.
It's a globally influenced restaurant with Norman in its DNA.
Even the location is a familiar one for anyone who frequented the original home of Gaberino's Italian restaurant. Spears said though it's a little tucked away, it's an ideal spot.
"Maybe it's more of that hidden-gem idea," he said. "We looked at a few locations in Norman and there was a calling to this place. This whole venture has been a calling … It's one of the older areas of Norman. It's an area that needs to come back for the community. It needs to be revived. [Gaberino's owners] Mitch and Laura [Duprez] did it. They've expanded and they've stayed in this area. We're doing it and I hope that other restaurants would like to take some of this property over here. It's constantly busy over here."
Jeff compared it to going off the strip in Las Vegas.
"When you get off strip where the locals go that's where you find the best stuff," he said.
Sear is located at 283 34th SW. Its hours are 11 a.m. -10 p.m., Monday - Thursday and 11 a.m.-11 p.m. Friday - Saturday.