Let me tell you a story.
Good stories often transport us to another place and time. This story combines history, culture, and entertainment, not contained between book covers.
You can read about it here but, much better, you can live it yourself at Silver Dollar City, named by USA Today last year as "America's Best Amusement Park"
Why is it America's best? Silver Dollar City contains all the features that make theme parks popular — rides, food, entertainment — but it's also full of stories.
Snuggled into the Ozark Mountains, Silver Dollar City celebrates a unique part of America and the people who settled in this area.
The story starts in the late 40s, when the first members of the Herschend family came to the Ozarks on vacation. At that time there was no lake and little attraction other than beautiful scenery, a small park based on Harold Bell Wright's 1907 book "Shepherd of the Hills" and Marble Cave, a rustic adventure involving rickety ladders that led into one of Missouri's deepest caverns.
The Lynch sisters, the cave's owners, and the Herschends became friends. As the women aged, they turned the cavern, renamed Marvel Cave, over to the Herschends. The family made great improvements to the attraction and by the late 50s, decided to replicate a small, 1800s Ozark village around it.
Today, a visit to the cave is included with your admission. The theme of the park is firmly rooted in the history and character of the area.
Over the years, the tiny village morphed into a variety of shops, rides, entertainment and Ozark crafts. The quality of the crafts is just one factor that makes Silver Dollar City unique. One hundred master craftspeople demonstrate pottery making, basket making, leather working, soap and candle making, knife knapping, blacksmithing, glass blowing and etching, woodworking and more.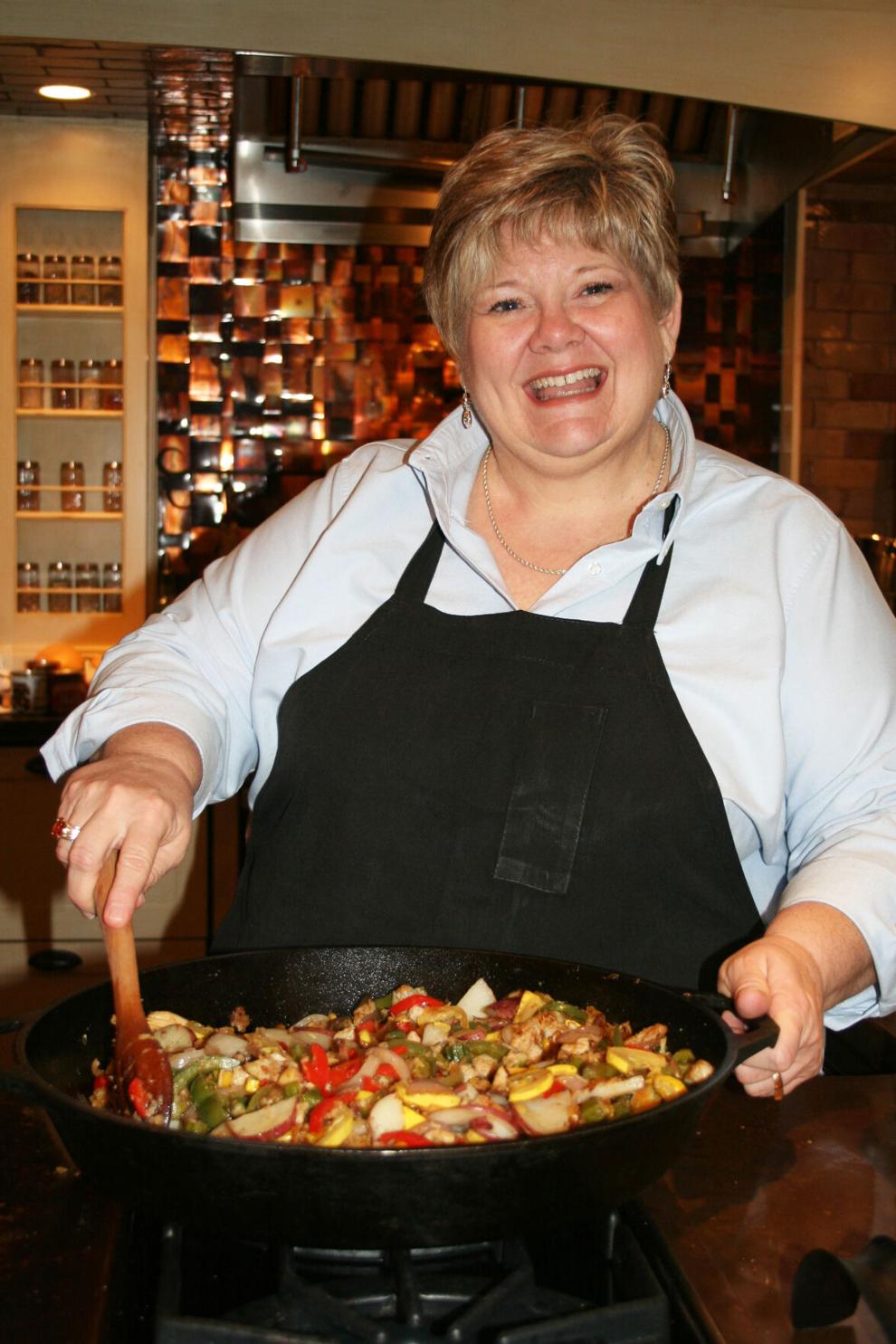 Yes, there are small souvenirs available, but the products produced by the craft artists are wedding gift worthy. Don't miss the wood shop with 1880s equipment and the fine furniture in the adjoining Heartland Home Furnishings shop.
The food here is also an attraction — Silver Dollar City offers 17 choices, from small stands to sit-down restaurants. Ozark-style cuisine is highlighted — favorites include double-battered fried chicken and barbecue brisket. Their famous Ozark Mountain Succotash, a one-dish meal packed with garden-fresh veggies, was a family favorite brought to Silver Dollar City by Shirley Toler, who made it for park guests for nearly 40 years. Toler retired last year, but visitors can still see it being made in giant skillets 6 feet in diameter.
You'll find plenty of ways to salve your sweet tooth in the park. The cinnamon rolls are legendary, and a stop at Brown's Candy Factory is a must.
While there are many kinds of candies here, peanut brittle is one of the top sellers — they make over 30,000 pounds a year.
The Queen of Candy is Candy Master June Ward, who has been making goodies here for over 50 years. Several episodes of popular series "The Beverly Hillbillies" were filmed in the park, and young June was asked to serve as a stand-in for Donna Douglas, who played Elly May. If you should happen to meet June, she has lots of stories to tell.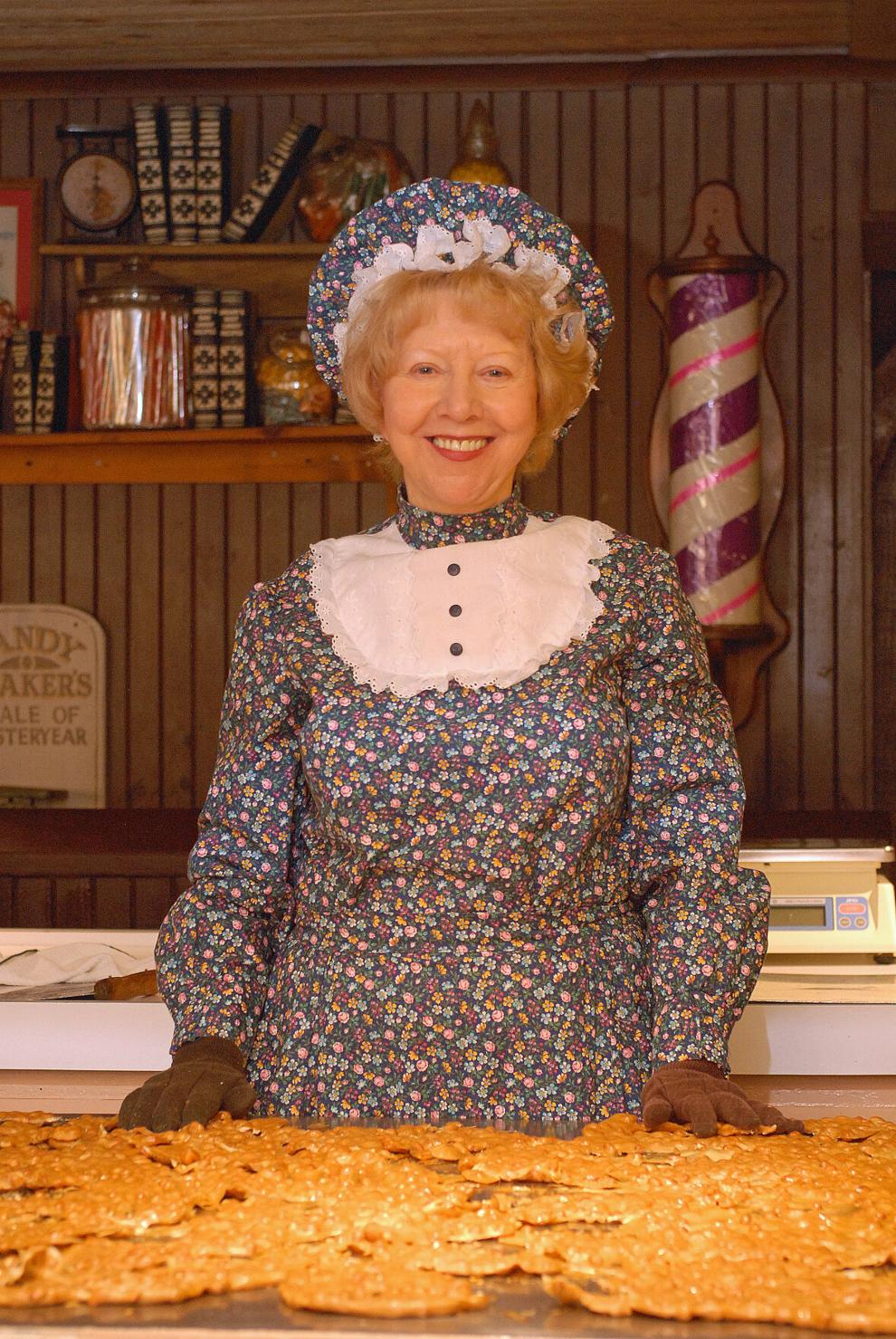 Silver Dollar City is the only theme park in America with cooking classes. The Culinary Craft School (temporarily closed due to COVID) offers 60-minute demonstrations on a variety of Ozark recipes and, best of all, guests get to eat the results. In classes I attended, I learned that succotash is really good — not at all like the frozen bags you see at the grocery store — and sampled savory waffles with sausage chili topping.
Confession: I'm not a fan of rides. The only one I've ridden at Silver Dollar City is the Frisco Silver Dollar Line Steam Train, a good respite from walking. Even the train has a story. To add some pizzazz to the experience, there's a robbery during the ride.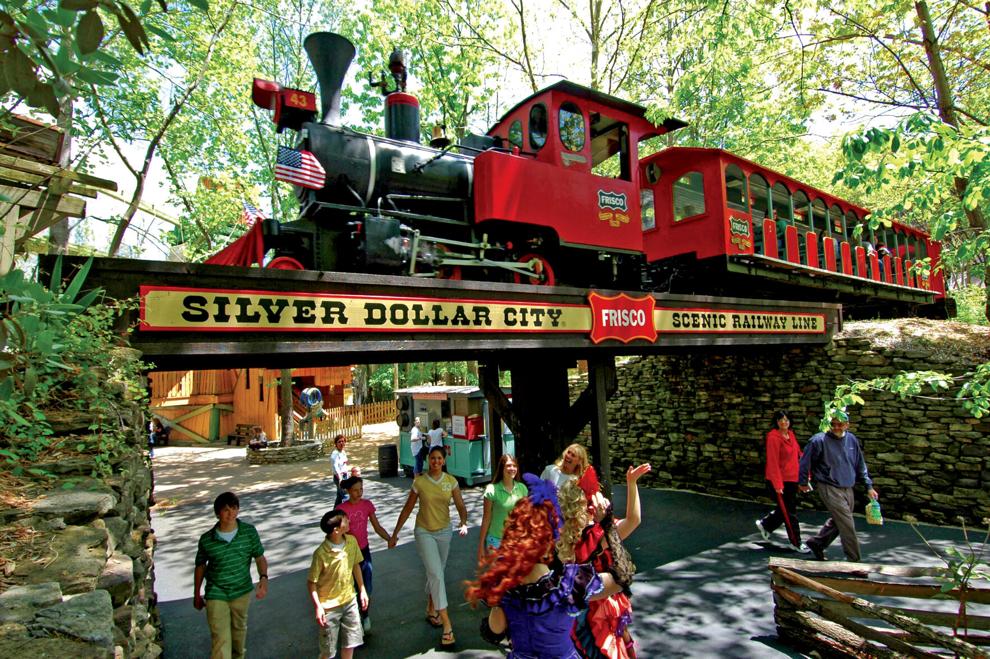 Several of the rides hold world records. The newest is the Mystic River Raft Ride, which features a record-setting 45-foot slide into the wet adventure. It incorporates local lore about a river hidden in Marvel Cave with a fictional narrative. Word to the wise: ride the raft before eating at the park's newest restaurant, Rivertown Smokehouse.
Silver Dollar City roller coasters are also record-setters. Each comes with its own tale, from Time Traveler and an inventor inspired by the 19th century writer Jules Verne, to Outlaw Run and its wild West narrative.
Just taking photos of Time Traveler made my heart beat faster — it's the fastest, steepest spinning coaster in the world. Wildfire thrills with five inversions, and Outlaw Run is the first and only wooden roller coaster with a double-barreled roll. Riders find themselves upside down three times and experience a top speed of 68 mph.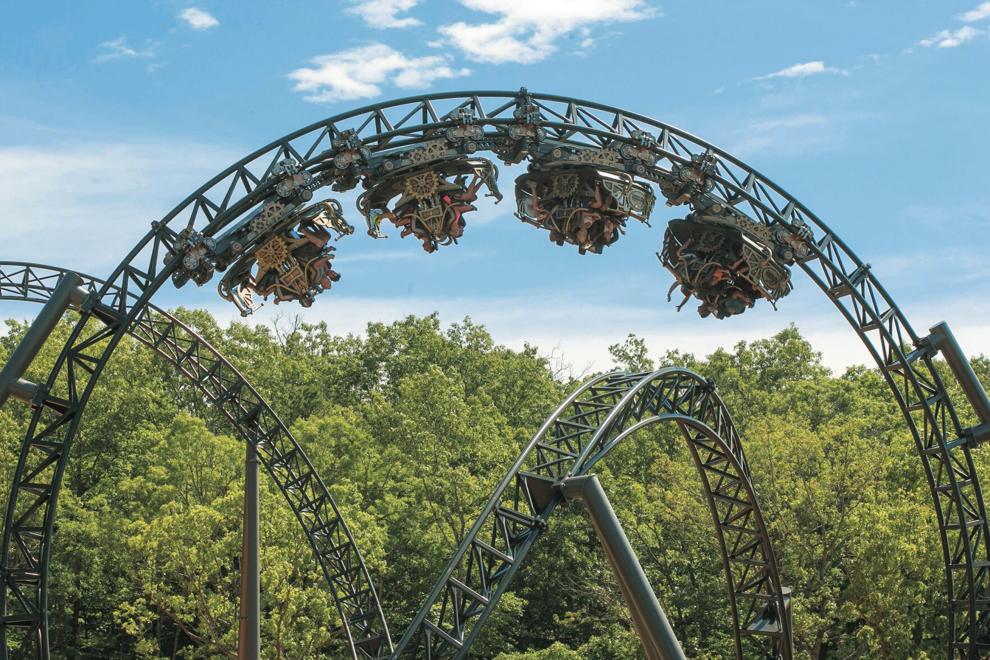 Outlaw Run and Time Traveler are so iconic, they even inspired their own ice cream flavors, available at Hannah's Ice Cream Shop. Here's an FYI: Hiland Dairy is the only company permitted to produce these two flavors, so until you get to Branson, you can pick up a taste of it here in Oklahoma.
If you're traveling with small children, don't worry. There are lots of family friendly rides for youngsters — and chickens like me.
If I haven't given you enough reasons to head up the highway, here's another: Silver Dollar City's festivals are fantastic.
Next one up is the May 14–31 Bluegrass and BBQ Festival. Music and entertainment are staples of the park, but during festivals, this gets kicked up more than a notch.
Other festivals include Southern Gospel Picnic, Harvest Festival with a plethora of pumpkins and lots of visiting craftspeople, and an Old Time Christmas with over 6.5 million lights.
This year is special: it's a continuation of the park's 60th anniversary. New attractions have been added and slick revisions make the park a safe place for guests in spite of the pandemic. Temperature-taking is standard, and masks are required. More outdoor dining and expanded fresh air entertainment areas make visits safer. The easy driving distance from Oklahoma is also a plus.
The reverence for history, a savvy combination of attractions to tempt all ages and the overall quality of the park make Silver Dollar City an excellent destination. Go and enjoy all the stories you'll find here — you'll come home with your own story of a grand getaway.