Sales tax may be down in Norman, but area employers are optimistic according to professionals who follow employment trends.
Express Employment Professionals report that business owners across the country have an optimistic outlook for the first quarter of 2018 and beyond. Perspectives vary across the country, however, with regional factors affecting expectations.
"It's very encouraging that the Express franchise owners are seeing a continuing trend improvement in their local job markets," said Bob Funk, CEO of Express, and a former chairman of the Federal Reserve Bank of Kansas City. "However, the biggest challenge we continue to see isn't a lack of jobs but a lack of qualified and available workers. I see that challenge only growing as we head in 2018."
In a nationwide survey of businesses, Express asked respondents, "Is your current employment market staying the same, trending up or trending down?"
• 49 percent said "staying the same"
• 42 percent said "trending up"
• 9 percent said "trending down"
The survey of 462 businesses, which are current and former clients of Express Employment Professionals, was conducted in November and December 2017 to gauge respondents' expectations for the first quarter of 2018.
Bettye Taylor, a managing director in Oklahoma City, describes most regional businesses as "cautiously optimistic."
"In my division, a key indicator is seeing an uptick in manufacturing jobs," Taylor said. "I'm also seeing an overall increase in the creative roles—marketing, sales, advertising, etc. These are typically the last to 'come back,' so it's another sign of confidence in the economy."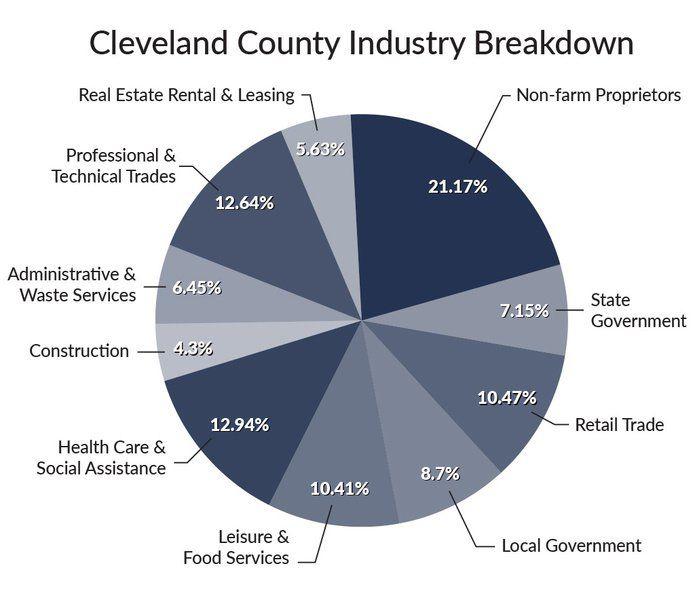 At the Norman Economic Development Coalition, President and CEO Jason Smith is also optimistic.
"We've had four companies this year that have told us they're adding jobs," Smith said. "We have two others that, hopefully, will be making decisions in the next couple of months."
Overall, Smith said, Norman's job outlook for 2018 is good, but the city needs to continue work on attracting high wage jobs to improve quality of life and increase the tax base.
"Big picture, I think we've been pretty fortunate in Norman over the last 10 years," he said. "We've seen pretty substantial growth in private employment, and it's not all been energy centered."
The top five employers in Norman are the University of Oklahoma, Norman Regional Hospital, Norman Public Schools, Johnson Controls and Walmart Super centers.
"The challenges that we've had is we haven't seen wage growth at the levels that I think we all would like and we're starting to see stagnant, even decreasing, jobs in the government sector," Smith said.
Norman's largest manufacturer, Johnson Controls, is constructing their second new building in the last two years, but the company has not yet revealed how that will impact the amount of jobs.
"One of the things we've focused on this year is we're making personal calls and doing surveys, and most of our employers are optimistic, so I think that bodes well for Norman," Smith said.
Express is getting similar positive feedback in the Norman-Oklahoma City metro area.
"The surveys we've taken, it appears most of the companies will be gearing up," Funk said. "What I see as a challenge going forward is finding the skilled and semi-skilled individuals they'll need to build those companies. We're focusing heavily on the recruiting side."
Market demand will help grow wages in some areas, he believes.
"Accounting and IT and some of the manufacturing skills [are in demand] while general labor, frankly, is becoming a much tighter market as well," Funk said. "It think you're going to find that wages are going to rise because of the demand. We certainly don't need the government to tell us what we need."
The growth of background checks and drug tests have affected some labor markets.
"Some of those people would have a great life and a good future if they just knew how to handle themselves," he said.
Funk said while he supports education in general and college education, not all jobs require college degrees.
"We're encouraging students to go to the career techs because they can learn a skill in a shorter period of time," Funk said. "Oklahoma's career tech is number one in the nation. They're very flexible. If they know what you need, they'll design programs for the companies that come into our state."
He said there is a high demand in semi-skilled areas.
"Last week we had 20,000 open job orders nationwide," Funk said. "In Oklahoma we probably had 700 or 750. The opportunities are there, we just have to find the right skill sets."
In Norman, Express runs about 230 employees per week for many different companies.
"Our Norman office is one of our best offices in the country. Our manager down there has done a fabulous job," Funk said. "She does a great job, she's been with us about 14 or 15 years,"
Express Employment Professionals generated $3.05 billion in sales and employed a record 510,000 people in 2016. Headquartered in Oklahoma City, Express has more than 770 franchises in the U.S., Canada and South Africa. Under Funk's leadership, Express has put more than 6 million people to work worldwide.
Major Employers in Norman
The University of Oklahoma 12,941
Norman Regional Hospital 3,040
Norman Public Schools 1,806
Johnson Controls 1,030
Walmart Super centers 950
City of Norman 859
Riverwind Casinos 838
Hitachi 460
NOAA 400
Super Target 380
Oklahoma Veterans Center 350
U.S. Postal Service-NCED 350
SYSCO Foods 337
Griffin Memorial Hospital 329
Cimarron Energy 275
SITEL 264
Arvest Bank 258
Avara Technologies 250
Moore-Norman Technology Center 246
AT&T 225
Thunderbird Casino 190
Chickasaw Nation Industries 163
Republic Bank & Trust 150
Power Cost Inc. 140
Southwestern Wire 135
MSCI 123
Top of the World 100