The City of Norman says two police officers who shared information about a city council member online are under investigation.
Information shared regarding outgoing Ward 8 council member Alex Scott is under review by the Norman Police Department's Internal Affairs, the department confirmed.
While city policy does discuss municipal employees sharing personal information about other employees, a city spokesperson said Tuesday that the two officers have not violated the policy.
Screenshots obtained by The Transcript show a Facebook account called "Tired Ofthehate" sharing the NPD incident report and location of Scott's 2015 sexual assault to the Norman Ward 8 page.
The "Tired Ofthehate" profile shows contact information as the URL facebook.com/mikelauderback. Michael Lauderback is an NPD master police officer, NPD Captain Brett Barbour said.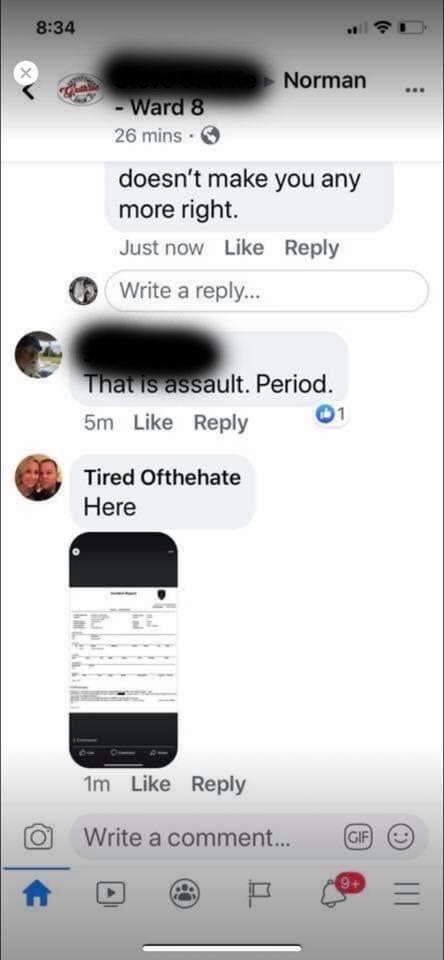 In a separate set of posts, NPD Detective John Barbour shared footage from Scott's encounter with NPD at her home in May 2020 that showed the front of her residence, then shared the council member's arrest record. (Brett Barbour said he is not related to John Barbour.)
Screenshots obtained by The Transcript show that John Barbour shared a YouTube video to the Ward 8 Facebook page depicting the NPD arriving at Scott's home after she called them for assistance. John Barbour shared the video after another Facebook user posted it, writing on the Ward 8 page that he "got this video from another person that got the video with open records request."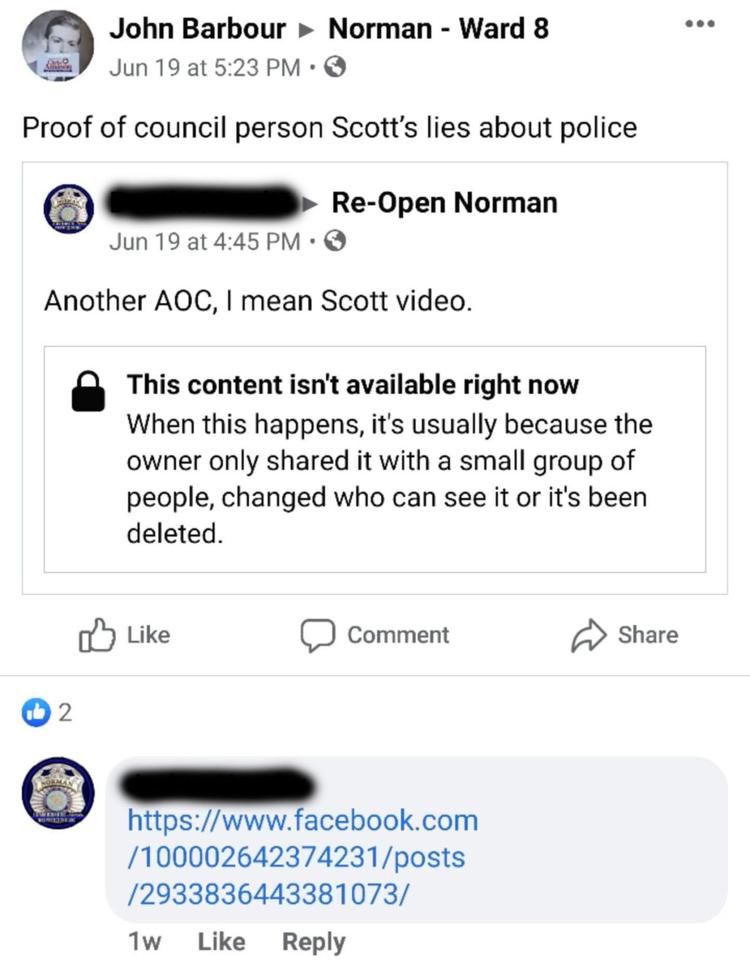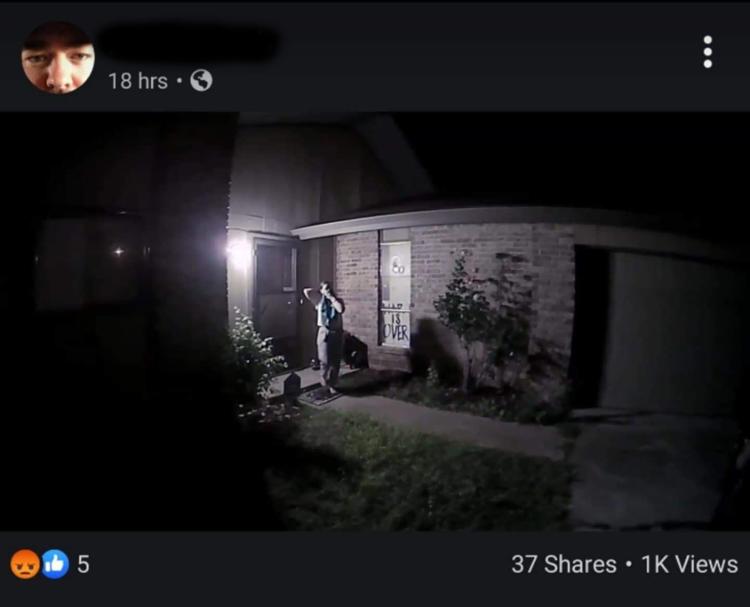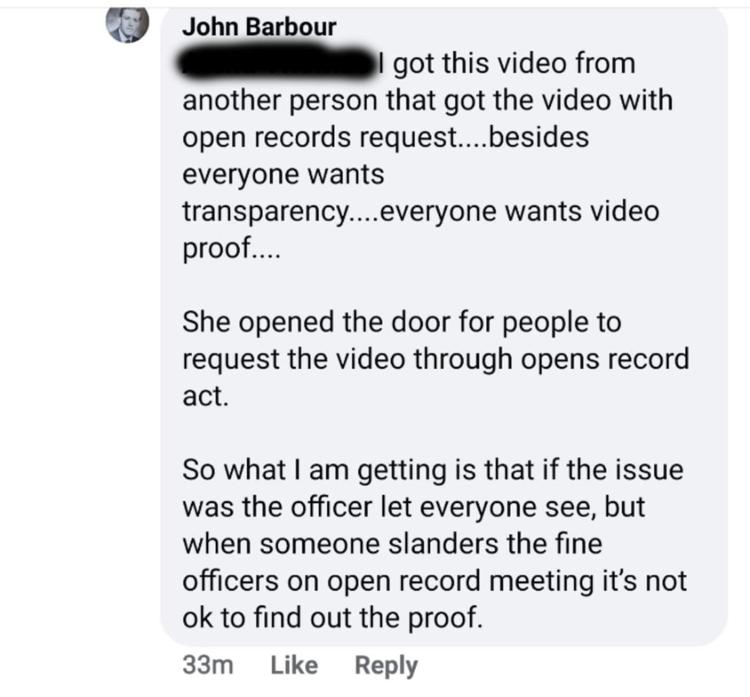 On the Ward 8 page, John Barbour then said the post was deleted "because of concerns for (Scott's) safety" and posted a picture of Scott's arrest record, stating that the council member was involved in a "protest that turned riot."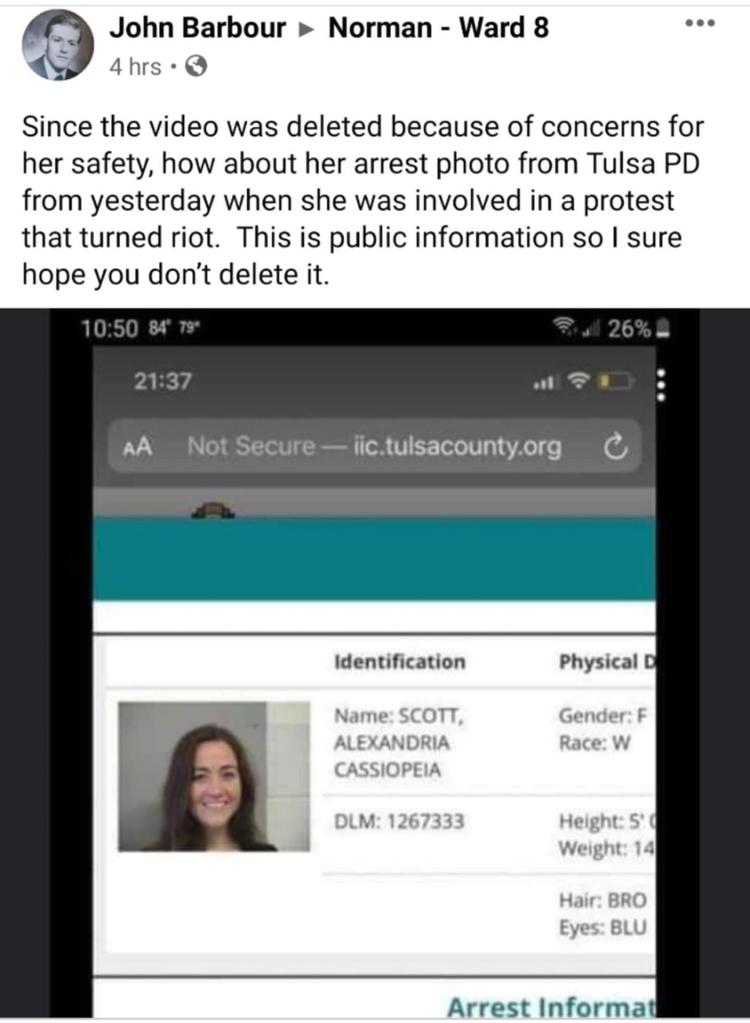 Screenshots show that when John Barbour was confronted about using the term "riot," he wrote on Facebook that he has "connections with Tulsa PD & Secret Service," and those agencies "called it a riot."
Scott was arrested June 20 near the BOK Center in Tulsa. While Scott was strapped to a flagpole outside a campaign rally for President Donald Trump, she was arrested by the Tulsa Police Department for misdemeanor obstruction.
The Tulsa Police Department confirmed to The Transcript that Scott was not arrested for rioting. The arrest record is available online via the Tulsa County jail's website.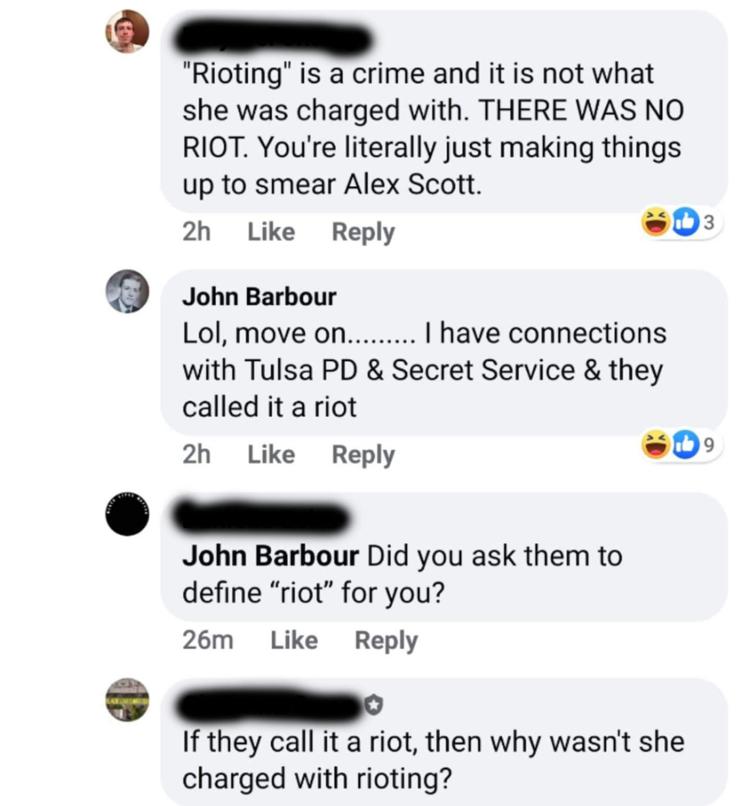 Barbour later edited his post to say Scott was involved in a "protest that turned into people pushing, screaming, throwing things, and preventing (supporters) from entering the rally…"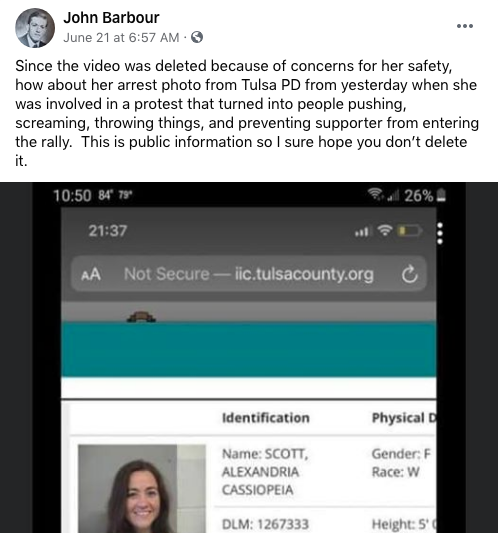 While the Norman Police Department is reviewing and investigating allegations that its officers shared a city council members' address on social media, the department said in a statement Monday that the information the officers shared was obtained legally and was a matter of public record.
The information John Barbour and Lauderback shared is publicly available, but the City of Norman's personnel policies discuss the public circulation of city employees' information on social media. Norman's 2018 Personnel Manual states that:
"(a) Employees are free to express themselves as private citizens on social media sites to the degree that their speech does not impair working relationships of the City for which loyalty and confidentiality are important, impede the performance of duties, impair discipline and harmony among coworkers, or negatively affect the public perception of the City.
"(d) For safety and security reasons, employees are cautioned not to post information pertaining to any other member of the City without their permission."
In a statement to The Transcript, Scott said she did not give John Barbour or Lauderback permission to post information about her. Scott won Democratic nomination for state Senate District 15 Tuesday night.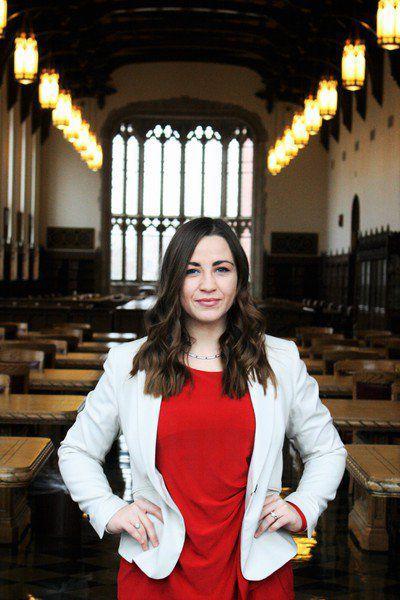 Norman's personnel manual also states:
"Although not an exclusive list, some examples of prohibited social media conduct include. … Posts involving the employee or other City employees reflecting behavior on the part of the employee or other City employees that would reasonably be considered reckless or irresponsible."
The city would have preferred that John Barbour and Lauderback not share such information via social media posts, City of Norman spokeswoman Annahlyse Meyer said Tuesday.
"We can't prevent them from sharing public information, but there is an internal investigation," Meyer said. "But is it in our policy? Yes. But are they allowed to share public information? Yes.
"Is it against city policy for a city employee, specifically the video and such? While we might prefer that they not do that, they're sharing public information."
NPD's 2019 policy manual states that the department's employees "should carefully consider the implications of their speech or any other form of expression when using the Internet."
Brett Barbour said the department's officers are bound to its policies.
Brett Barbour said the NPD cannot release any information regarding the officers because they are under review by NPD Internal Affairs. He did not specify why John Barbour and Lauderback are under internal review, and said the officers could not talk to the media because of the review.
"Any specific incident(s) involving our folks are under investigation, and would have to wait until that is resolved and or looked into," Brett Barbour said. "So, we can't provide information specific to circumstances that are under investigation."