While stormwater crumbles bridges and roads and erases backyards in Norman, city staff hopes to convince public officials that it's found a pot of gold to fund the most critical projects.
Public Works Director Shawn O'Leary and outgoing Stormwater Coordinator Carrie Evenson on Thursday told city councilors on the Community Transportation Planning Committee that the city hopes to use $7.5 million in American Rescue Plan Act dollars to fund stormwater projects.
Staff proposed $3.5 million for the first phase of improvements to Imhoff Creek, $1 million to reopen a bridge on Imhoff Road and $1.5 million to construct a stormwater mitigation project that will double as a nature park at Alameda Street and S. Carter Avenue.
After years of soil erosion on the Imhoff bridge, maintenance staff was forced to close it on July 29. Two concrete support panels pulled away from the bridge. A contractor went to the bridge to perform routine maintenance and discovered the gaping failure, O'Leary said.
"This is a very serious problem," O'Leary said. "We got out there and looked up and said, 'Oh my God.' We closed it immediately. Thank God it didn't fail or cause any harm to people."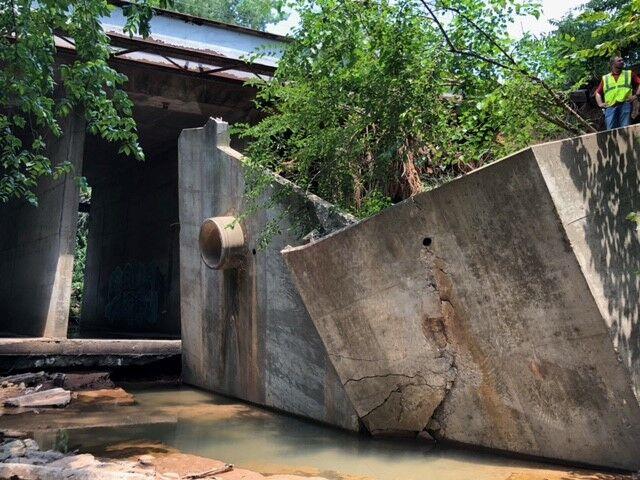 Ward 1 Brandi Studley asked how the city planned to fund such an urgent project if ARPA funds could not be used. O'Leary said the only funding set aside by council is $300,000 a year, far short of the cost of the repair.
"Why not spend the $300,000 we have, is what I'm saying," Studley said.
An option to cannibalize other projects with a different funding mechanism is possible.
"The only option we have for bridge money is through ACOG [Association of Central Oklahoma Governments]," O'Leary said. "This city has opted to use our dollars for roadways, bike lanes, sidewalks and things of that nature. If you were to tell us to start submitting bridge projects, we would start that this year."
Ward 2 Lauren Schueler expressed concern that the bridge closure blocks a "major thoroughfare from Highway 9," and with the start of football season increasing traffic from the east, it could cause problems for people who do not know it is out.
Ward 4 Lee Hall said she is concerned about postponing the project because some drivers disregard the signs and drive over it anyway. Still, she said she would be open to other funding considerations.
If funded soon, the project could be completed by Thanksgiving, O'Leary said.
Studley resisted the use of ARPA dollars, and said funds that are supposed to be used for COVID-19 recovery are being prioritized for "projects over people."
Studley said last year's first round of "COVID money" from Coronavirus Aid Relief and Economic Security funds went to "a lot of other projects," and urged Mayor Breea Clark to look at "people versus projects."
"How are we going to help everyone, and if we're not, we need to have that conversation with the public," Studley said.
Clark said the guidelines for spending show the priorities of the funding, which "include infrastructure," and noted that money for pandemic response like rent and utility assistance are widely available, yet not being drained from city and county coffers.
"I think there was a bigger plan for what the road to recovery from COVID-19 looked like and it involved a better nation in a variety of areas," Clark said. "Not just the people piece, but the infrastructure piece."
Discussion on the use of other funds through an infrastructure bill — if it passes — revealed cities expect those dollars to be competitive, with application processes required to qualify. ARPA money is not competitive.
Imhoff CreekThe second urgent project with the highest price tag — Phase I of Imhoff Creek south of the bridge, where erosion is threatening roads and homes — is "shovel-ready," O'Leary said.
Banks along streams are washing away backyards where homes border the watershed, Evenson said. Staff shared a concern that houses could eventually be swept into the water.
"This [project] has to do with what infrastructure is being placed in jeopardy by the erosion occurring in the stream bank," she cautioned. "There is potential for houses to be affected by that stream bank erosion. The banks have been eroding."
Evenson said a homeowner has spoken to her several times about losing his backyard a little at a time over the years; she pointed out that there is sewer water infrastructure that will eventually be disrupted as well.
Ward 7 Stephen Holman speculated that the city could be at risk for lawsuits if damage occurs. O'Leary said he didn't want to "play attorney," but the need for this project and other critical infrastructure projects has been identified in a published report. City Attorney Kathryn Walker did not comment.
O'Leary said the plan is to use as much natural material as possible to support the bank and stop erosion, something noted in the ARPA guidelines.
"Cities are encouraged to use other methods, techniques, materials and low impact development processes to solve problems," he said. "That was a charge to our design team on Imhoff Creek."
O'Leary stressed that the use of ARPA money would get the project started, and that the second phase is several years away. In answer to a question from Hall, he said the use of ARPA money did not preclude the city from funding the project with grants or other dollars that become available.
The estimated cost for Phase II is $4.5 million; that phase of the project would be performed along the banks north of Imhoff bridge.
Nature parkThe committee pulled back on a proposed nature park complete with playground equipment, a retention pond to mitigate stormwater runoff downstream and other features.
After city staff was deeded property at the corner of Alameda and Carter this year, Evenson proposed the flood plain area was ideal for both education about water quality and a chance to keep water from running downstream in the area. The property was the site of a former homelessness encampment that the city cleared in May.
The cost is $1.5 million, but Clark was hesitant.
"I love the park, but if we're going for a balance … I feel like it's so creative it would qualify for grants, but I'm torn," she said. "I'd like to see what the rest of council says."