Mayors of three of Oklahoma's largest cities joined a bipartisan coalition of over 400 mayors from across the country in signing a letter urging Congress to pass President Joe Biden's COVID-19 Relief Package.
Norman Mayor Breea Clark, Oklahoma City Mayor David Holt and Stillwater Mayor Will Joyce all signed the letter — addressed to House Speaker Nancy Pelosi, House Minority Leader Kevin McCarthy, Senate Majority Leader Chuck Schumer and Senate Minority Leader Mitch McConnell — in favor of Biden's proposed $1.9 trillion COVID relief package, titled the "American Rescue Plan."
"On behalf of The United States Conference of Mayors, we urge you to take immediate action on comprehensive coronavirus relief legislation, including providing direct fiscal assistance to all cities, which is long overdue," the letter reads. "President Biden's American Rescue Plan contains such assistance as part of an aggressive strategy to contain the virus, increase access to life-saving vaccines, and create a foundation for sustainable and inclusive recovery."
In part, Biden's plan looks to provide over $350 billion for state, local and territorial governments and $170 billion to help keep schools open. It would leverage $35 billion in government funds into $175 billion in low-interest loans to finance small businesses, and would also provide grants to over one million of the country's hardest-hit small businesses.
Clark said the Biden administration presented the U.S Conference of Mayors with the opportunity to preview the COVID relief package prior to it being made completely public.
"We all got to look at it, and they got feedback from the mayors on [the relief package]," Clark said. "[They were like], 'Here's what we got, what do we need to be sure to include?' I really appreciated that kind of inclusion in the process."
One issue that mayors across the country stressed on the call is the need for direct funding, Clark said.
"The state of Oklahoma, once they figured out the allocation on how you would get your apportionment, actually moved pretty quickly," Clark said. "I was shocked to hear that there were some mayors on the call whose state is still holding on to the CARES Act funding and hasn't dispersed that yet."
Clark said the mayors want the money to come straight to them because it's the quicker route to relief, and the cities themselves have immediate needs.
"Cities are where people are," she said. "I respect state and local governments, but we're providing direct services that affect their everyday lives. We've got small businesses right here and that's the beauty of local government — we are very connected to our constituents and our local economy, so we know what we need and we know we need it now."
Clark wants to spend the funds in a way that helps Norman recover from the pandemic as quickly and efficiently as possible, she said.
"We can extend our rental and utility assistance program, we could give more to small businesses. There's going to be a lot that we need to address in terms of investing in the local economy, as well as adressing inequities," Clark said. "We've talked a lot about citywide WiFi, 'but oh, it's gonna be so expensive.' We went through months where if you didn't have solid internet, you didn't have education, you didn't have health care, maybe you couldn't work, [you] couldn't connect with people.
"So there [are] a lot of needs in the City of Norman. and a lot of it could be addressed with additional funding."
Clark said that she hopes Norman won't just bounce back from COVID-19, but be better than it was before.
"I just hope [Congress] acts sooner rather than later," Clark said. "These needs are only going to be exacerbated the longer we wait. Now is not a time for politics, now is a time to work for people."
Much like Clark, Holt said that he didn't have to think twice about signing the letter to congressional leaders.
"When it comes to congressional action, I am a one issue voter," Holt said. "If you're proposing to do things that will benefit Oklahoma City, then I'm for your deal. So, in this case it's a no brainer."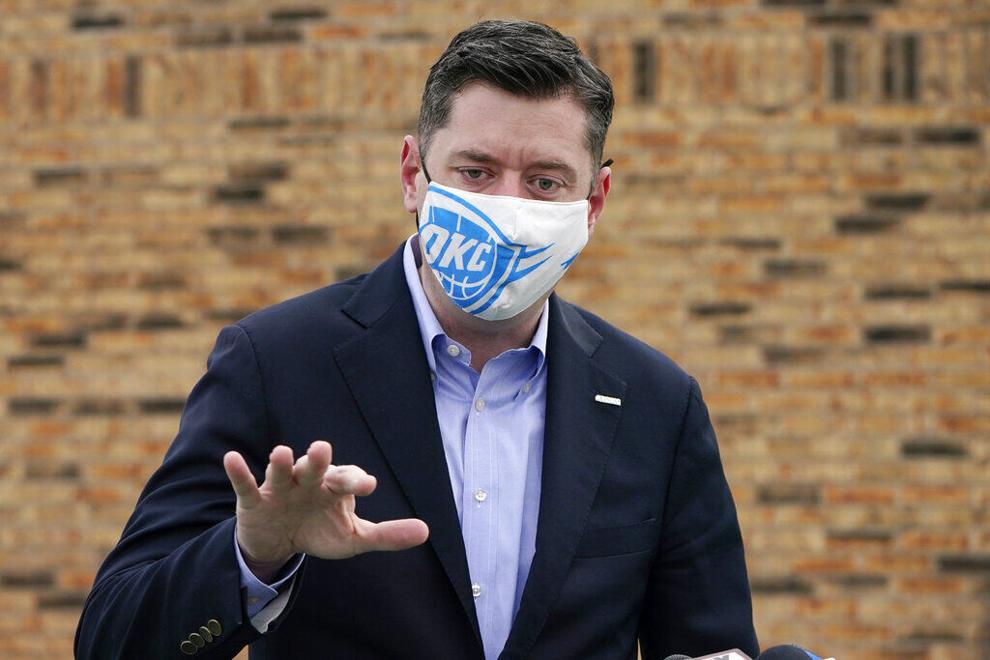 Holt said that he feels that regardless who is president, COVID-19 relief is a non-partisan issue that cities across the country can get behind.
"Cities across the United States are going to be supportive of a package that has hundreds of millions of dollars of financial support for cities, and that's what is proposed here," he said. "[Also], the U.S. Conference of Mayors and individual mayors have been advocating for six months to have that kind of support, so I don't think any one of the 400 mayors took a lot of time agonizing over this decision."
The White House told The Transcript that they are appreciative of the support the administration has received from the mayors across the country.
"America's mayors — including those in Oklahoma — acutely understand the pain that everyday working families are experiencing in this public health and economic crisis," said Ike Hajinazarian, a White House spokesperson. "This pandemic affects blue states and red states — it impacts every community in our country. In urging Congress to immediately move on President Biden's American Rescue Plan, this group of over 400 mayors has sent a loud and clear message: our communities desperately need action."