In his 2020 reelection bid, Congressman Tom Cole, R-Okla., received over $80,000 in political contributions from organizations that have now vowed to suspend all political contributions to politicians like Cole who objected to the Electoral College certification of President Joe Biden on Jan. 6.
Even after the deadly insurrection attempt at the U.S. Capitol that left five dead, Cole decided to object to the Electoral College votes in two states President Joe Biden won during the 2020 election. The decision was fueled by the baseless claims of widespread voter fraud peddled by former President Donald Trump.
In light of the insurrection — which was incited by the lies of voter fraud — many organizations have suspended their political contributions to lawmakers who tried to disenfranchise millions of voters by objecting to Biden's win.
"At this crucial time, our focus needs to be on working together for the good of the entire nation," Comcast, an organization that gave $2,000 to Cole during his 2020 campaign, said in a statement. "Consistent with this view, we will suspend all of our political contributions to those elected officials who voted against certification of the Electoral College votes, which will give us the opportunity to review our political giving policies and practices."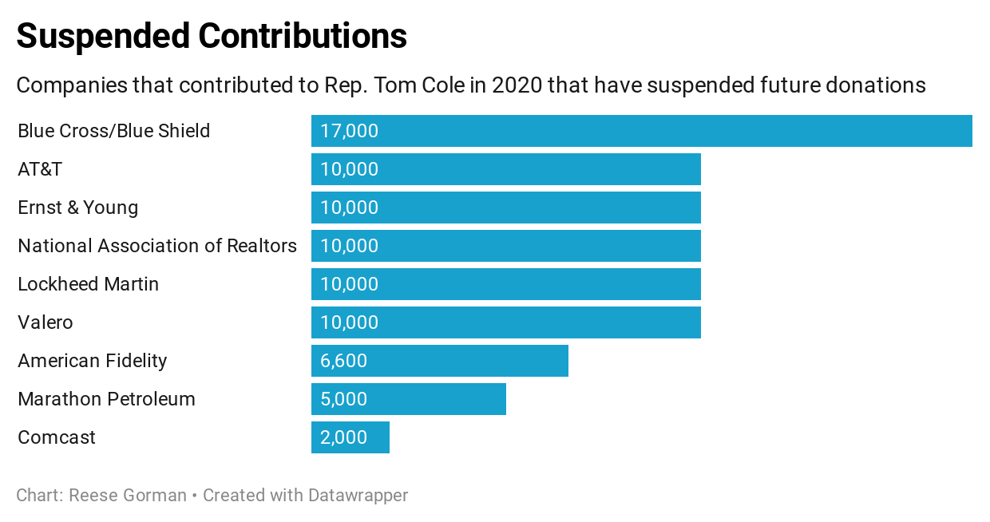 Cole also lost his third biggest donor in the Blue Cross Blue Shield Association, which donated $17,000 to his 2020 campaign, according to OpenSecrets.org.
"At the Blue Cross Blue Shield Association, we continuously evaluate our political contributions to ensure that those we support share our values and goals," BCBSA president and CEO Kim Keck said in a statement. "In light of [the] violent, shocking assault on the United States Capitol, and the votes of some members of Congress to subvert the results of November's election by challenging Electoral College results, BCSBA will suspend contributions to those lawmakers who voted to undermine our democracy. These contributions are made through our PAC, which is supported solely by employee contributions.
"While a contrast of ideas, ideological differences and partisanship are all part of our politics, weakening our political system and eroding public confidence in it must never be. We will continue to support lawmakers and candidates in both political parties who will work with us to build a stronger, healthier nation."
According to OpenSecrets.org, Cole also received $10,000 from the cellular giant AT&T, a company which has also said it is suspending donations to all lawmakers who objected to the Electoral College.
"Employees on our Federal PAC board convened a call today and decided to suspend contributions to members of Congress who voted to object to the certification of Electoral College votes last week," the company said on Jan. 11.
Additionally, Cole received at least another $51,000 in contributions from organizations that are "reviewing" their political donations to those who objected to the electoral college.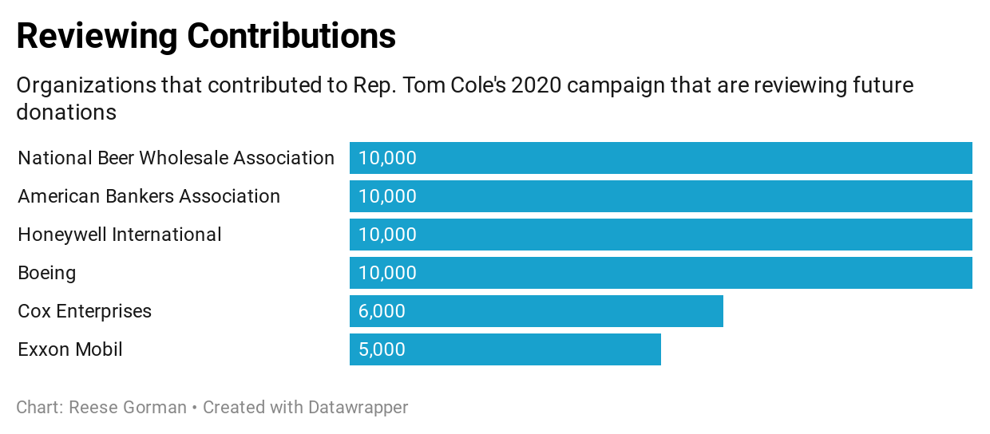 "We continuously assess our political action committee contributions to ensure that Boeing supports those who reflect our company's values," Boeing said in a statement. "Boeing strongly condemns the violence, lawlessness and destruction that took place in the U.S. Capitol on Jan. 6, 2021. Given the current environment, we are not making political contributions at this time. We will continue to carefully evaluate future contributions to ensure that we support those who not only support our company, but also uphold our country's most fundamental principles."
Cole received $10,000 from Boeing, OpenSecrets.org shows.
Aerospace and defense company Raytheon Technologies — which according to OpenSecrets.org was Cole's eighth biggest donor during his 2020 campaign, giving him $12,000 — is also suspending all political action committee contributions for the time being.
"We have paused all political action committee contributions to reflect on the current environment and determine appropriate next steps," said Raytheon spokesman Chris Johnson.
Cole did not respond to The Transcript's multiple requests for comment.