Editor's note: The Transcript did not publish screenshots containing QAnon messages to avoid perpetuating conspiracy theories.
Update: This story has been updated to include comments from state Rep. Kevin McDugle.
As scrutiny of mainstream social media platforms increases among the Republican demographic, some — including Oklahoma state officials — are flocking to a new platform, experts say.
Parler, a new social media app, claims to be an "unbiased social media" platform that allows its users to "speak freely and express [themselves] without fear of being 'deplatformed,'" according to its website. Parler is currently No. 1 on Apple's App Store's top chart for free apps.
Because of these guidelines, Parler is giving conspiracy theorists a platform to openly spread propaganda unchecked and unmonitored, The Washington Post reported.
Oklahoma State Rep. Kevin McDugle, R-Broken Arrow, has used his Parler account to share posts from multiple debunked conspiracy theories, including QAnon. QAnon is a far-right conspiracy theory based on the premise that the government is run by a cabal of Satan-worshiping pedophiles, and President Donald Trump was sent to crusade against it.
McDugle shared multiple posts on Parler containing QAnon content. McDugle also tagged the Proud Boys, a radical, all-male, white supremicist group, in a speech he gave at the state Capitol on Saturday.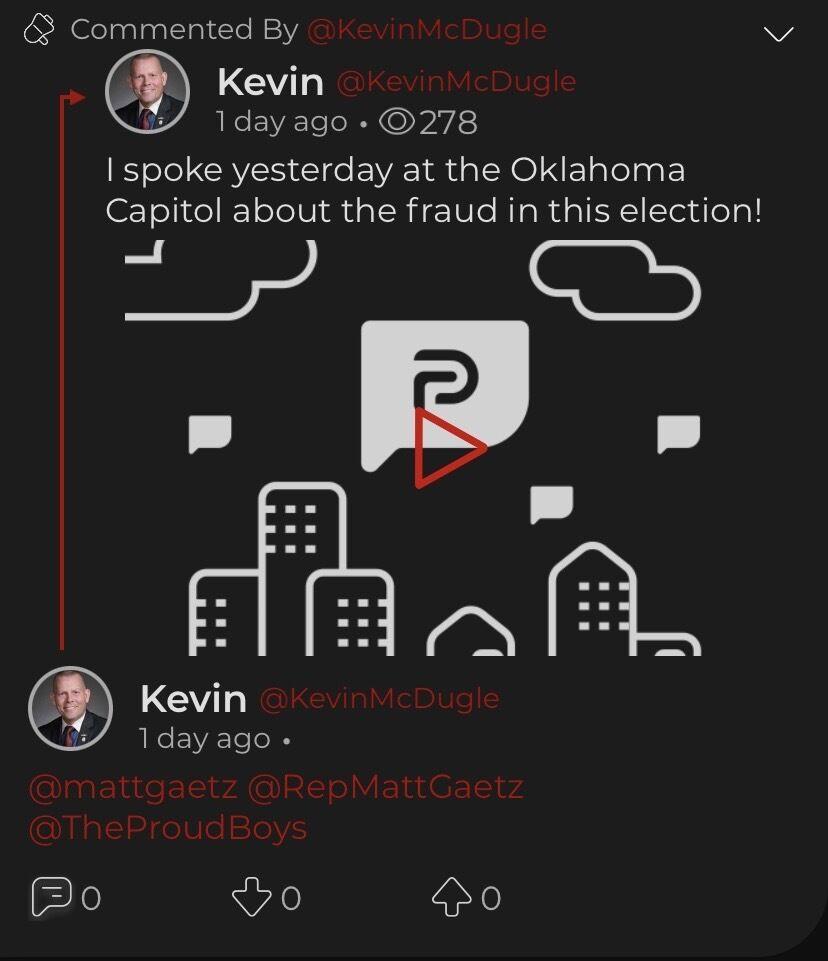 In addition to his posts, McDugle "voted" — Parler's form of "liking" something — one post that was encouraging others to join and follow QAnon. The post was claiming that "The Secret war is public now" and "dogs beseech our POTUS" and even downplays and questions the severity of COVID-19.
After The Transcript published this Tuesday night, McDugle confirmed that he does have a Parler account in multiple statements posted on Facebook.
"I created a Parler account, what's the big deal? I encourage all of you to create Parler accounts and get away from the fake 'fact-checkers' of Facebook," McDugle said in his post.
He also claimed that he shared a post he liked and it "happened to be a 'ProudBoys' post." However, McDugle personally tagged "@TheProudBoys" in his own Parler post
State Sen. Rob Standridge, R-Norman, who has also joined Parler, said he believes these sites were created to allow for "total free speech." As of press time, Standridge had made one post on Parler, writing that he is "praying for our President, Donald J. Trump."
"I think you're going to see sites like Parler take a ton of traffic eventually because I think people crave a total free speech site," Standridge said. "Whether you're on the left or the right, I don't think people like [censorship]."
He said he feels as though mainstream social media sites target the Republican Party with fact-checking. Standridge has published incorrect statistics to justify his claims on Facebook, according to reporting from Oklahoma Watch.
"You can fact-check both sides …. but it's only one side getting fact-checked," he said. "It's really bothersome — I think more than 71 million will be bothered by that over time. You [should] just not fact-check. You [should] just say, 'dive in at your own risk,' or 'buyer beware.' That should be the legal premise."
Patrick Meirick, an associate professor at the University of Oklahoma Department of Communication specializing in political and mass communication, said that the rise in disinformation online grew to prevalence in the 2016 election.
When social media platforms began fact-checking their users' posts and flagging those that contained disinformation — something they are not legally obligated to do — it was met with calls from the president for the repeal of Section 230 of the Communication Decency Act. This section of the act states that platforms such as Twitter and Facebook were not responsible for third-party posts on their sites.
"Before Trump had called for this, folks on the left had called for it too," Meirick said. "I think the whole thing has spurred social media companies into taking more corrective action, and I do think that is what would happen if that section was revoked."
He said that once platforms like Twitter and Facebook started censoring people like Alex Jones of InfoWars and fact-checking President Trump, Republicans began to feel that social media was being biased against them.
"This created an opportunity for a competing social media platform — that's Parler," Meirick said. "They kind of talk about themselves as a platform for 'free speech.' So they weren't going to do any kind of fact-checking, moderation or anything like that, and so I don't think they initially intended it to be primarily for conservatives, and from reading about it I infer they just wanted it to be for free speech."
Because of this, people feel they can share anything on these platforms, he said.
"The effect has been it's been folks on the right and, in particular, folks who have controversial points of view who are going over there," Meirick said. "We've always seen a tendency for selective exposure. People will tend to gravitate toward sources of information that they feel will confirm their belief."
Any outlet that disseminates disinformation or conspiracy theories can potentially spread those beliefs, Meirick said.
"I think that there is a tendency, since it is mainly folks who subscribe to those points of view who are going there, there's a little bit of a preaching-to-the-choir aspect of this. But it may make folks who subscribe to one conspiracy theory [possibly become] exposed to another one that is congenial to their point of view and maybe they start subscribing to that one as well," he said.
Reese Gorman
366-3505
Follow me @reeseg_3