Fourth grader Carrington Roman is undecided on whether she wants to be a chef, a veterinarian or a doctor when she grows up, but she's not undecided about Paul Sakho, the au pair from Poitiers, France who takes care of her and her siblings. 
"He's a good au pair," Carrington said. "He takes us to get air at the trampoline park."
For parents Shannon and Jared Roman of Norman, Paul has brought a higher quality of life to their family. Paul's contribution has been so great, the Roman's nominated him as Au Pair of the Year, and he finished in the top 10.
"The gift that Paul has been to our family is immeasurable," the Roman's wrote in their nomination letter. "He provides stability and an increased sense of family to our kids, which is hard to find in a military family. He melds into our family seamlessly. He teaches us to make crepes, introduces us to all manners of French foods and actually plays games with the kids."
Shannon doesn't remember how they first heard about the au pair program, but initially, the Romans didn't think it would be something they could do because they have four kids in a three bedroom home. While their rooms are spacious enough, the au pair must have his or her own room.
Life was a challenge with their schedules as Jared and Shannon are both active duty Air Force, so they decided to look into the program.
"The work schedule that is the military, you're on 24 hours a day," Shannon said.
Even a normal work day means getting up in the wee hours of the morning and leaving the house at 5 a.m. The kids were in before- and after- school programs.
"We often didn't get home until 6:30 or 7 p.m. at night, and that's a long day," Shannon said. "It was constantly stressful."
Once home, a quick dinner was followed by a rush to get the kids into bed.
Two of the Roman children — Carrington and Mark — are biological, while Denissa and Christian are adopted. Denissa is from the Philippines, and Christian is from China. Shannon said they wanted to preserve the children's native languages so that they would not lose those cultures.
"When we started, we were actually looking for someone from China so we could keep up the language for Christian or the Philippines for Denissa," Shannon said. "That was one of our driving forces is finding someone that can keep their native languages."
The couple looked at au pair programs and picked Cultural Care Au Pair (culturalcare.com) and started their matching process.
"Paul was actually the first person we saw and we liked him, but they say to look at a lot of profiles," Shannon said.
They talked to several candidates, but kept coming back to Paul's profile.
In the end, the personality match was the important thing. The girls now study the Filipino language after school and the boys study Chinese. Paul brings yet another cultural dimension to the mix.
Paul studied English and German and had also spent a year in Germany.
"I really wanted to come to the U.S.," he said.
The goal was to improve his English and get new experiences, and he liked the diversity of the Roman family.
"I was not looking for a special place, I was just looking at a different place than my home," he said. "Four kids is not a problem for me."
Almost immediately, Jared and Shannon recognized a quality-of-life difference for their children.
"They don't have to get up like little zombies and get ready for school when most kids get to sleep for a couple of extra hours," Shannon said.
He was also a hit with the kids.
"He's funny and he can trust people," said Denissa Roman, a sixth grader who likes basketball and soccer. "He shares stuff."
Denissa said Paul lets her play his X-Box, but it's not all fun and games.
"He helps us with our grades and our homework," she said.
First grader Mark gives Paul a big thumbs up.
"He lets us watch and play video games in his room," Mark said. "And sometimes he lets us sleep in."
As a six-year-old Kindergarten student, Christian also likes the games and movies on Paul's TV.
"I like him because he lets us play his TV like Star Wars, and I like him for other stuff," Christian said.
Paul said he does set boundaries for the kids, including limiting how much time they can spend on video games.
"We need to control that, like for one hour or two hours," Paul said. "I think they get stuck in the game, and then they come back to the real world."
Shannon said the process for matching up with an au pair is part of why she believes it was successful.
"I think the cool thing is we get to pick the au pair, but the au pair also gets to pick you," she said.
The Romans provide room and board, and Paul gets a stipend. The number of hours a week he works is limited by the program. Paul's salary is offset by not paying for childcare before and after school, Shannon said.
Paul bonded with the family, and then the unexpected happened. Jared was notified he'd be deployed to the Middle East. When the couple told Paul the news, he agreed to stay on after Jared deployed and finish out his year commitment.
"With my husband deployed right now, we would not be doing well at all," Shannon said. "This is the first time he's ever left and isn't worried about us because he knows Paul's here to help."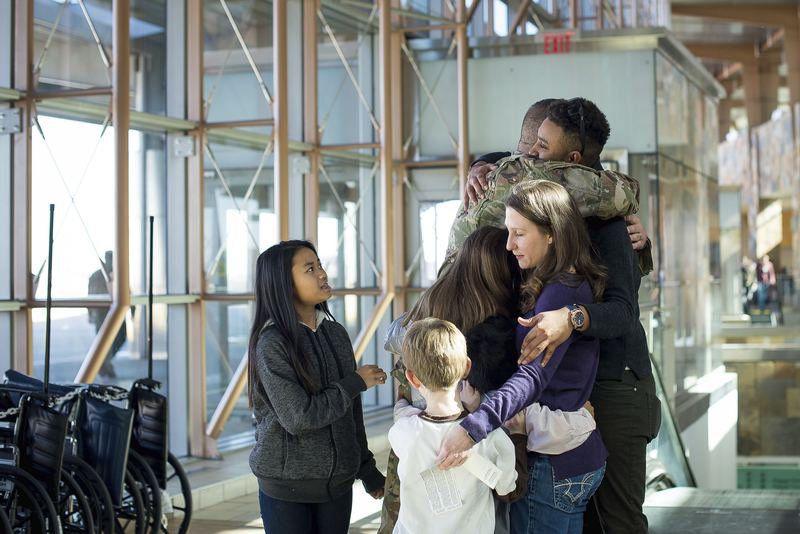 The program allows for flexible hours with the au pair on duty 25-45 hours a week.
"You can't go over that 45 hours a week, but it's flexible, so he does the mornings for us, then he has some time off during the day and then he's on duty some in the late afternoons and evenings," Shannon said.
"Paul is a saint. He has more patience than probably anyone I've met in my life. One time, I was not being patient with Christian, our youngest one. He was in time out."
Paul talked to Christian who was angry, so Paul took him outside and let him yell and show his anger.
"I never would have thought of that," Shannon said. "I'll be loud and yelling, 'come on, brush your teeth.' Paul never yells, he's just quiet."
Paul said he does have to be stern sometimes, but anger can be counterproductive.
"With a kid, you need to be patient," he said.
The program is set up for success, Shannon said.
"There are pretty strict rules," she said. "There is local support to make sure things are going good for us and good for him."
Before they made a final decision, the family and Paul met and talked via Skype. While their contract is for a year, shorter ones are available. There is a process to rematch if it doesn't work out.
When Paul's year is up, he'll return to France. He has a serious girlfriend and others who will miss him, but he said he won't forget the Roman family and his experience in Oklahoma.
For the Romans, it will mean looking for another au pair match.
"Now that we've experienced this, we don't know how we'd live without it," Shannon said. "He set the bar pretty high for someone to live up to."
Paul's girlfriend visited for Christmas, and the family took them to Texas and North Carolina over the holidays.
"It's a pretty good deal for a young guy," Paul said. "You learn and you earn money."
Shannon said they hadn't anticipated a young man when they started the process but it's been great.
"A lot of people, if they think about this, don't think guy; they think girl," she said. "My husband was happy to have another dude in the house and calls him his 'bro-pair.' We didn't know my husband would deploy when we started this. We were just lucky that Paul was here."
Shannon said one of the greatest thing about the program is the cultural exchange. 
"We place a high value on culture and learning about the world," she said. "Even as a military family with the amount of travel we've done, there is nothing like bringing in a whole new world view into your family. We get to take things from his culture and incorporate it into our family, and he gets to do the same of American culture."
The flexibility of the program, with Paul working 25-45 hours a week based on need, is also exceptional for families, she said.
"He's also an amazing role model to our kids. Just by him being here, he shows them how to be kind, committed, fun and adventurous as a way of life," Shannon said.
To learn more about hosting an au pair in Oklahoma, contact local childcare consultant Pamela Mears at www.culturalcare.com/pmears.