NORMAN — When the pandemic hit Oklahoma last March, shuttering schools, Morgan Dragg was just a week into her student teaching at Roosevelt Elementary.
Early childhood student teachers like Dragg get two eight-week blocks, giving them time to work with two classrooms and grade levels.
Dragg was looking forward to the transition to her second classroom when schools went on spring break and never returned that school year.
"I sometimes think back to it and I can't believe my senior year, my student teaching, it all ended that way," Dragg said. "It was definitely disappointing, because I was really excited … I was in first grade the first time, and then I was switching to kindergarten, so I was really excited to kind of see the difference and work with the teacher that I was going to be with.
"I was really disappointed whenever that happened, because I lost that opportunity and that experience to be in that classroom."
Dragg now teaches first grade at Monroe Elementary — after months of unexpected challenges and constant learning, she and other new teachers are nearly to the end of a memorable first school year. Rookie teachers with Norman Public Schools said this year has shown them both the support of their teams and school communities, and the value of flexibility, grace and optimism.
Experience cut short
Like Dragg, some future teachers had much of their student teaching experience cut short when the pandemic struck and were tossed into a disappointing and unexpected space.
Connor Jackson had just finished his first week at a new student teaching assignment when spring break 2020 arrived and shattered any expectations for the rest of the year.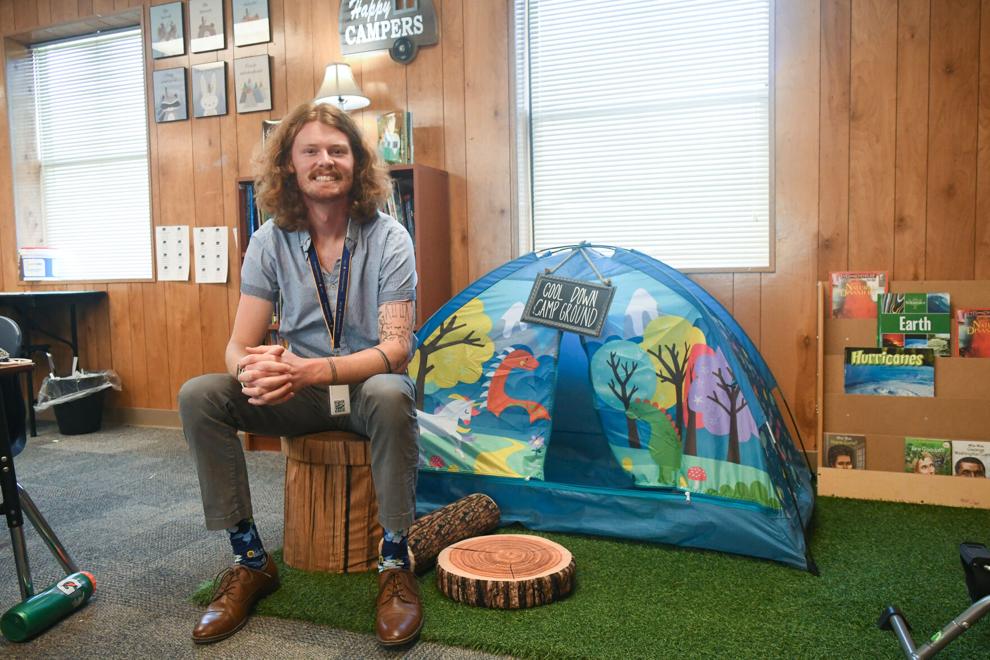 For Jackson, who now teaches second grade at Cleveland Elementary, the timing of the pandemic meant not only that the rest of his student teaching experience was derailed, but that his interview process and pre-school summer looked completely different than expected. Jackson interviewed via Zoom; he wasn't able to set up his classroom early, or to have the in-person bonding with his new coworkers that he might normally experience over the summer.
"When I first got hired, I was so excited to be at Cleveland, but then there's that desire of 'I want to be in, I want to know everything, I want to be at the school,'" Jackson said. "It was tough because they weren't allowing people at the school — I couldn't get my classroom ready over the summer until later ...
"I envisioned during student teaching that, 'Oh, I'm going to spend all summer in that room getting it ready,' and then it quickly changed to, 'Alright, I'm just going to get everything, and at the very first moment that I can get in that room, I'm going to go in there and I'm going to prepare it as best that I can.'"
Dragg said she had some nerves about returning to school in the fall, but her mentor and new team provided consistent assurance.
"I felt a lot of support throughout the summer, because inside I was just nervous, and just so unsure, like 'What is this year going to look like with a pandemic going on?'" Dragg said. "But I felt secure with the support I was getting from so many different people in my building."
Back in the classroom
The start of the school year presented a new challenge for both rookie and experienced educators: remote learning.
NPS began its school year virtually, and even when the district did return to traditional classes, the learning format could differ week to week depending on what COVID levels in the county looked like.
"You wouldn't find out what the next week, if we were going to be in person in the buildings, or if we were going to be teaching remote — you wouldn't know until later in the week, and that's tough because not all my students have access to a device, and not all my students, even if we were giving them a device, were able to join our class meetings for that," Dragg said. "That was a lot, because I had to figure out: how can I reach all my students and still make it so that everyone was able to have a learning opportunity?"
Dragg said she and her teammates eventually figured out a system, creating A and B plans for the coming week that would allow them to adapt to either learning format.
The unpredictable back and forth, along with challenges like this year's ice and snow storms, reminded Jackson to take advantage of the time he did have in person with his students, he said.
"It's so important to love on your kids as much as you can, because you don't know when we're going to go home for a week, or two weeks," Jackson said. "So I think that really prepared me to just love my kids, first and foremost, and provide that safe classroom where they can come here, they can feel safe, they can feel loved."
When the pandemic struck last year, Evelyn Kwanza was a choral music director in Owasso.
Now in her first year as an assistant principal at Norman High, Kwanza remembers vividly what it was like to be a teacher in the chaotic new world of the pandemic, but said nothing could prepare her her fully for her fall debut as an administrator during COVID-19.
Still, she knew where her teachers were coming from as she started to build a community and work to provide for teachers at NHS, she said.
"Obviously there's nothing totally that could prepare me for being an administrator in a pandemic," Kwanza said. "I was prepared in certain ways as far as learning how to develop a relationship with teachers — I think I felt really blessed to be a new administrator because my heart was close to the teachers' heart, because I was just there."
There were moments that felt overwhelming, Kwanza said, when there was so much to learn and absorb that she needed a moment to wrap her head around things.
"I knew that I was going to be learning, but I didn't know the mountain," Kwanza said. "And I didn't know that it was going to come in two streams — there's learning the job, the new job … but then there was the whole thing with the pandemic, and that felt like information just coming at you that you were trying to absorb so much.
"They kept describing it like trying to drink out of a firehouse — that is real."
New educators said the first year of teaching required a lot of grace for everyone involved, themselves included.
Carly Williamson said that during her first official year teaching fourth grade at Eisenhower Elementary, she's put pressure on herself to be the best teacher she can be. Her work has shone through — she, Dragg and Jackson are nominated as the district's Rookie Teacher of the Year finalists.
"I'm very critical of myself, and I want to be the best I can for my students," Williamson said. "It's a blessing and a curse, because I'm not extending myself the same grace that I'm extending to my students or extending to other people, so when a challenge does come on, I accept that hey, I'm a first-year teacher — I'm doing the best that I can and I'm working so hard, and I know that I'm going to learn so much more in the next month and the next year about how to overcome these challenges."
Moving forward
The upcoming 2021-22 school year will present another new experience for this year's new teachers and administrators: a year where the threat of the pandemic has eased, and where they can start learning what "normal" may look like at their school.
Kwanza said she's excited to do her job in a year when the pandemic isn't taking up so much energy, and she can finally focus on fostering relevant, engaging education, raising cultural awareness and meeting students' needs.
"I'm looking forward to that fear that kind of hung over us dissipating a little bit," she said. "I'm looking forward to just the brain space, because COVID took up, in my mind it took up brain space that we can put on other things."