NORMAN — Jerry Puckett will never forget the day his best friend was killed right in front of him. 
Michael Grimwood wasn't shot, stabbed or hit by a drunk driver. He was killed by something more common: distracted driving.
Grimwood and Puckett were doing what they often did Saturday mornings: riding bicycles on the shoulder of Highway 77 near Purcell, a stretch of road considered safe due to relatively low traffic volumes and a wide shoulder.
"We had just ridden a 50-mile ride and were two miles from being done when he was hit by a distracted driver," Puckett said. "Our handlebars were not more than six inches apart when he was struck."
That was Saturday, Aug. 22, 2015.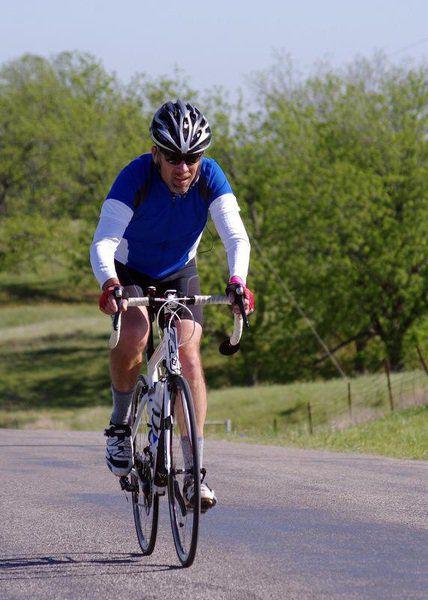 Grimwood, 53, was pronounced dead at the scene from head, neck and trunk internal injuries. He was struck by a 2001 Dodge Journey driven by a young mother, 29, of Paoli. She received a one-year deferred sentence in McClain County District Court in August 2016.
"He should have had her do community service, going into the schools and talking about distracted driving," Puckett said. "The judge could have done that."
Puckett said Grimwood's family did not want the driver to serve time, since she was a young mother, and imprisoning her would impose more tragedy on another family. He understands that sentiment, but he feels the opportunity to share an important message was missed.
"We are vulnerable users of the road," said Tom Woodfin, another one of Grimwood's friends and chair of Norman's Bicycle Advisory Committee. "In that same category are construction workers. We've had a number of pedestrians and cyclists and people in wheelchairs get hit."
To make cyclists safer in Norman, the Bicycle Advisory Committee has worked on Share the Road signage and advocated for more bicycle lanes.
"We're also trying to get more multi-use trails like the one they're constructing on Highway 9," Woodfin said. "We've been focused on trying to create facilities so people can ride the streets and be more comfortable. The distracted driver stuff is a political and policy thing, I think."
The Oklahoma Highway Safety Office notes that while a number of Oklahoma cities have implemented bicyclist passing laws, with most requiring a three-foot distance be maintained when passing a cyclist, there is "no official safety program currently being funded out of the OHSO or ODOT."
"Of course, you can pass all the laws in the world, and if people don't pay attention, it doesn't make any difference, unfortunately," Woodfin said.
Distracted driving killed 34 people in Oklahoma in 2016, but Oklahoma crash reports are completed by law enforcement officers at the scene, and determining whether a driver was distracted is largely based on self-reporting, according to the Oklahoma Highway Safety Office.
Distracted driving can be hard to prove if it's not documented at the scene.
Puckett knows of another cyclist who was hit by an apparently distracted driver who blamed the cyclist for the collision. The wife of the cyclist requested video from a nearby business and proved the driver was at fault. That man was injured but survived.
"Video makes all the difference," Puckett said. "Are they depending on the biases of whether people think cyclists should be on the road? There is so much bias toward cyclists by so many people."
He said there's an attitude that if cyclists are riding on the road, they should live, or die, with the consequences.
Trails are great for people who want to exercise and stay off the road, Puckett said, but it's hard for a large groups like the Bicycle League of Norman to ride together on trails.
"Bicycle lanes make it common knowledge and raise awareness," Puckett said. "I think that's a big deal. If you go to these other states where you have lanes, people look out for cyclists and pedestrians."
Puckett was also on the Oklahoma City ride, Spin Your Wheels, when another Norman man, Chance Toles, 36, was killed in 2013.
The official report is that Toles was riding on the shoulder of NW 39 Expressway near Lake Overholser Drive when he fell into oncoming traffic and was hit by a boat trailer. The driver denied fault at the scene, and no charges were ever filed.
Toles' wife filed a civil suit in Oklahoma County alleging that the driver did not maintain the proper distance between the vehicle and Toles and that the driver was not diligent in observing the surroundings. The judge dismissed the case, finding that the driver of the truck was only 25 percent responsible and Toles was 75 percent responsible.
While cyclists and pedestrians are the most vulnerable, distracted driving can have tragic consequences for those in other vehicles, as well.
In March 2017, a suspected distracted driver hit and killed Norman photographer Linda Danette Smith Irie, 50, and her grandchildren Brooklynn Estelle Newville, 9, and Jace Braxton Newville, 5. Another child survived the crash with injuries.
On the day of the wreck, traffic along the turnpike halted due to a grass fire in Lincoln County some time after 1:20 p.m. according to the Oklahoma Highway Patrol. 
OHP Trooper Dwight Durant said while Irie's 2008 Saab 97X was stopped, a 17-year-old from Durango, Colorado, driving a 1999 Ford F350 rear-ended Irie, forcing her car to collide with two other vehicles.
Investigators believe the truck driver, Noah DeDear, was reading a text while driving. DeDear was two weeks shy of his 18th birthday when the wreck occurred and will be tried as an adult in Lincoln County for three counts of manslaughter.
Linda's husband, Shawn Irie, now travels the state talking to teens about the dangers of distracted driving. The family is still waiting for justice, hoping the case for distracted driving can be proven.
"There's a 323-page report, and their conclusion is that he was distracted," Irie said. "He admitted he had sent a text and received two texts, but he said he hadn't read them."
Meanwhile, advocates of a texting and driving law that prohibits looking at electronic devices while driving hope the new law will raise awareness and save lives through prevention enforcement, something that has apparently worked to reduce drunk driving in Oklahoma.
"The state of Oklahoma has experienced significant reductions in the overall number of traffic-related fatalities over the last several years, from 737 in 2009 to 669 in 2014," the Oklahoma Highway Safety Office reported in its 2017 Highway Safety Plan.
Among those, the number of people killed as a result of drunk driving has decreased.
"Over the last three years in particular, Oklahoma has greatly increased its efforts in the area of impaired driving prevention and enforcement," OHSO reports. "The most recent FARS data indicate 154 alcohol-impaired (BAC=.08+) driving fatalities in 2014, representing 23 percent of all fatalities in the state. This reflects a significant decrease in the number of alcohol-related fatalities, from 222 in 2010 to 154 in 2014, which we feel is directly related to our increased efforts in this area."
Puckett and Woodfin believe for cyclists and pedestrians to be truly safe, Oklahoma needs a cultural shift where the ideal of sharing the road becomes more accepted and drivers become more habitually accustomed to watching out for others.
To Irie, paying attention while driving means caring enough to avoid distractions.
"These kids have grown up with cell phones and, basically, we're all guilty of what we're talking about," Irie said. "If I can reach into their hearts and [help them] care about the people they're on the roadway with, it will make a difference."