Friendly Market owner fighting legal battle for return of seized property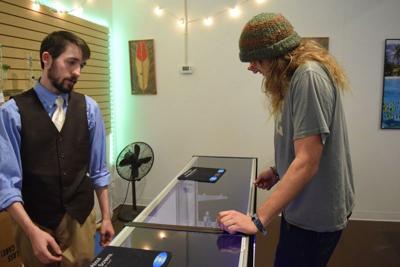 NORMAN — There are no charges left to prosecute in the Friendly Market case, but the state still has not returned the property it seized as evidence.
Friendly Market owner Robert Cox said he was shocked Monday by District Attorney Greg Mashburn's decision to drop all remaining charges related to the paraphernalia cases against the store and its employees.
The news came as a welcome surprise, but like the "not guilty" verdicts handed down last month by a Cleveland County jury in the state's cases against him and former manager and sitting city council member Stephen Tyler Holman, the dropped charges don't represent the absolute end of the legal saga that began more than a year ago.
Cleveland County District Attorney Greg Mashburn maintains that the seized pipes are illegal, even though multiple juries have said otherwise.
"Civil asset forfeiture is a complete separate case from the criminal charges, and even though we were found not guilty and other charges were dismissed, that doesn't mean we get our stuff back automatically," Holman said.
When Norman Police officers raided the alternative lifestyle store twice in December 2015, Holman said they seized about $5,000 in cash, as well as an estimated $15,000 in merchandise. The seized items remain locked up in the Norman Investigations Center, 1507 W. Lindsey St.
"They didn't just take glass pipes, either," Holman said. "If you're found 'not guilty,' you should get your stuff back immediately. There shouldn't be any other procedure. It's just a waste of taxpayer money and time."
After proving his innocence, Cox will now have to fight to get his property back from the state.
Friendly Market attorneys Blake Lynch and Brecken Wagner started the process earlier this week when Lynch filed a motion to court order demanding the return of the property.
Special Judge Steve Stice filed an order to keep the property from being destroyed. Now, the court is tasked with determining whether the items themselves are unlawful. The property can't be destroyed or returned until the hearing concludes and the Friendly Market attorneys are confident that the court will find in their favor.
Lynch said the District Attorney's office has said the money will be returned within a couple of days. The money was in an account that was interest-bearing so they will get a little more money than was seized.
"It obviously doesn't compensate for the loss of ability to use it this entire time," Lynch said.
Outside perspective
Norman attorney David Smith, an outsider on the matter, said it's a tough situation for Mashburn and the police department.
"I'm glad it's not me having to make that decision," Smith said. "The difficulty they seem to have with that is so far the jurors haven't agreed with them."
Norman attorney Elton Jenkins, another outsider to the case, said the fate of Cox's property is unclear.
"There is much debate and it does not come up very often," Jenkins said. "The issue is usually whether or not there is going to be more litigation involving the items in custody. 
"Often, the items are clearly evidence of an illegal crime, like illicit drugs. But in this case, the state still contends that these items are paraphernalia and is truly in a bind when voluntarily giving these items back. To do so would seem like an admission that their position was wrong in the first place."
The future of the Friendly Market
Cox said he's very confident that he will get his property back because there wouldn't be a logical reason for the state to keep it. Regardless, Cox said he intends to reopen the Friendly Market. When he does, he said he intends to mend bridges and work with law enforcement and the district attorney's office.
"I can't tell you how optimistic I am because District Attorney Mashburn finally looked at the big picture," Cox said. "To me, that speaks well of him. It's not something he wanted to do, but he did it. I want to talk to the [police] chief, hopefully set up a meeting with Mashburn, so we can work this out. We want to work together for what's best for the community.
"You've seen the support we've had. The people that have supported us have said, 'Reopen. That's one of the reasons we supported you because we want a store like the Friendly Market in town.'"
Whether Cox reopens the Friendly Market, Holman believes more stores will come to Norman.
"If this were to happen again with another store with surveillance and raids and prosecution, I don't think the Norman community will support that," Holman said. "I've been researching other cities' policies on regulating these kinds of stores. I'm hoping that we can get past this. There are a lot of big issues to deal with in the city of Norman, and this is not one of them."
The big picture
On the state level, Sen. Kyle Loveless', R-Okla. City, civil asset forfeiture reform efforts stalled out in 2016 when his bills failed to make it out of the Judiciary Committee. Despite his pledged commitment to continue the fight, Loveless' efforts were dealt a killing blow in April when he resigned amidst allegations of possible ethics violations for not reporting campaign contributions.
Rep. Bobby Cleveland, R-Slaughterville, said his top priority is tackling criminal justice reform, and, for him at least, the issue is on the back burner. Still, he said civil asset seizure reform has a lot of bipartisan support and he wouldn't be surprised to see a new leader on the issue.
"I've got more things to do than I can run and jump over right now," Cleveland said. "It would be nice if somebody brought it up. I'm sure there's somebody who will, but I haven't heard one person mention it. I think it would pass if it ever got out, but it gets held up over on the senate side by [Judiciary Committee Chairman] Anthony Sykes. 
"I guess he thinks it's OK. I can't answer for him, but I know it gets held up in his committee. Whether it's him or his committee that thinks its OK, I don't know, but that's where it always gets held up."
In 2016, Loveless said the chairman can kill the bill but not the idea. Holman said he had hoped the Friendly Market case would bring more attention to the need for reform. He said it certainly did and, for that, he is grateful.
"It's hard for people to understand how this civil asset forfeiture law came to exist," Holman said. "If you're not guilty of any criminal activity, or, in some cases you don't even have to be charged with a crime, and they can still take and keep your property, that's not right. People in Norman and all across Oklahoma are taking notice."