NORMAN — OU President James Gallogly struck a familiar fiscally conservative chord Thursday as he addressed faculty and staff but it didn't seem to resonate with the standing-room-only crowd at Meacham Auditorium.
Sure, there was plenty of applause as the president retreaded his priorities — keeping tuition down, increasing research and faculty pay — but many had hoped that he would address the dread OU employees are feeling regarding their job security.
"He can't answer the one question we care about, which is will we get to keep our jobs," one audience member said.
After a 30-minute speech and short Q&A session that included a few written questions, Gallogly made a quick exit to jump out of an airplane with the U.S. Army's Black Daggers Special Operations parachute demonstration team. The jump, part of OU Army ROTC's centennial celebration, was originally scheduled for Friday but was moved up due to anticipated rains.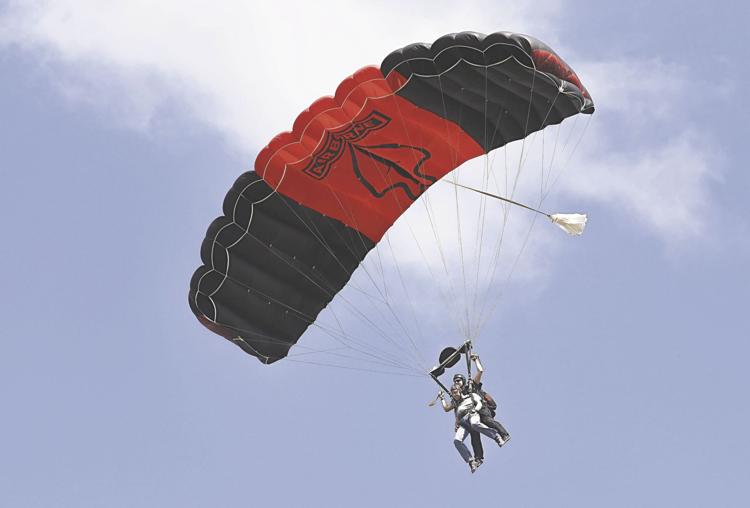 The rain check didn't deter the criticisms from staff members, however, who were eager to get some new information and felt like they were hung out to dry. What they got Thursday was nearly identical to what Gallogly told the OU Faculty Senate during his State of the University Address last month about the arduous and ongoing budget assessment. However, at the top of his speech, Gallogly did acknowledge the elephant in the room.
"There's a reason this is a standing-room-only meeting," he said. "So many of you are wondering what is going on at the university and what does it mean to you personally … What does that mean to me? What does that mean to my family, my children, my career and my opportunities at this university? That's the question you would really like to ask and that's the question that we don't have the answer for at this moment in time. But I can spend a little bit of time talking to you about why we're doing what we're doing."
Gallogly said the university has nearly $1 billion in bond debt and another $100 million in synthetic debt and cannot continue to bleed crimson and cash. To balance the budget, he said the university needs to address the absurd complexity of its budgeting system and centralize operations like communication and I.T. services, among others.
Effectively, Gallogly said it makes sense to run OU like a business, efficiently and competitively. Part of that, he said, is making sure faculty, including graduate assistants and researches, are better compensated. 
"The businesses that do it like we do it don't exist anymore," he said.
Improved efficiencies and a pledge to focus on "human capital" won't necessarily insulate faculty and staff from cuts, however. Gallogly said there is some pain ahead, but tried to paint an optimistic picture as he joked about his fast-approaching skydive.
"We've put ourselves in a financial fix that's solvable," he said. "Do I look like somebody who looks worried that we can't fix this? Would I be jumping out of an airplane? … We can fix this."