In March of 2015, 99%Invisible podcast producer Roman Mars gave a TED talk about city flag design. In the 20 minute show, Mars goes over some "do's" and "don't's" of flag design, and spotlights some examples of great (and terrible) flags.
The talk is one of many Transcript staff members, including myself, admire. We decided to use Mars' lessons to examine Norman's flag, and to design some alternative versions as well. We hope that these forays into municipal flag design inspires others to think critically and creatively about the symbols we use to represent ourselves. If you have a flag design of your own, please email them to editor@normantranscript.com. We'll print some of our favorites in an upcoming Sunday Living issue. Here are some of the designs and explanations that Cody Giles, Mack Burke and myself have created: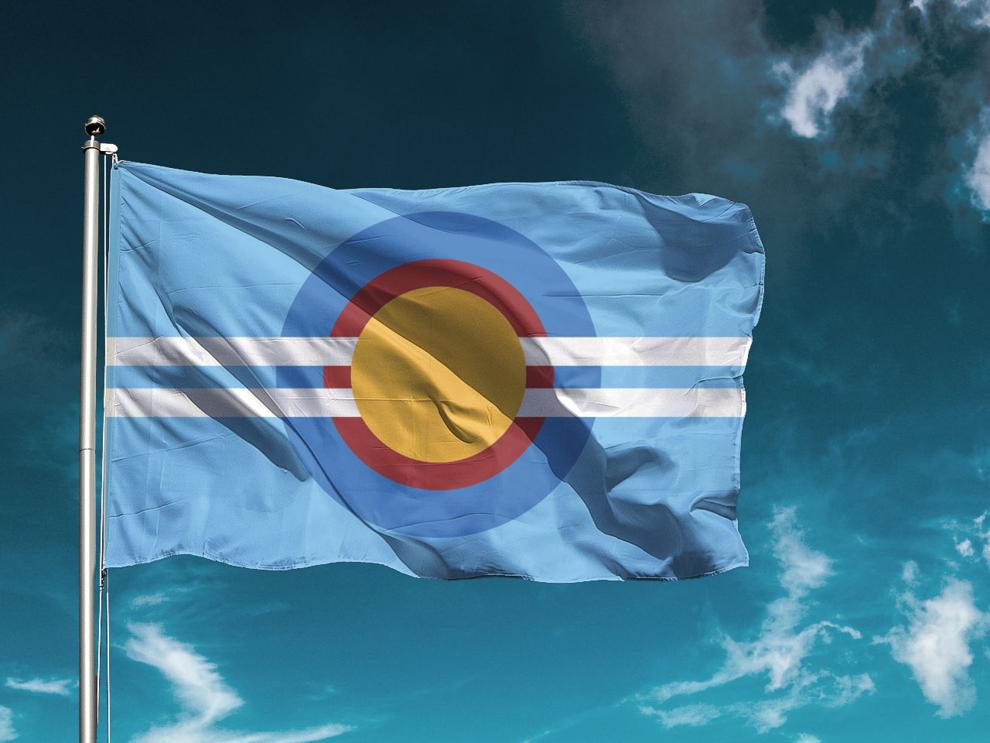 Cody Giles: When redesigning the Norman City flag, I began by looking at the city's motto, which is "Building an inclusive community." It was this phrase, the history, present and future of Norman that served as inspiration for this design. The main blue field pays homage not only the Oklahoma state flag, but also the wide open blue skies Oklahoma is famous for. The white stripes represent the railroad on which Norman was established as well as making an equal sign speaking to the equality Normanites strive for. While all three circles have separate meanings, they are, as a group, to represent the inclusiveness and wholeness of the community for which the motto speaks. The darker blue outer circle represents outer Norman and Lake Thunderbird. The inner crimson ring represents the University of Oklahoma and the way it has been ingrained in the community for so long. The inner gold circle represents core Norman and the vibrant lifestyle created by all of the festivals, get-togethers and community events.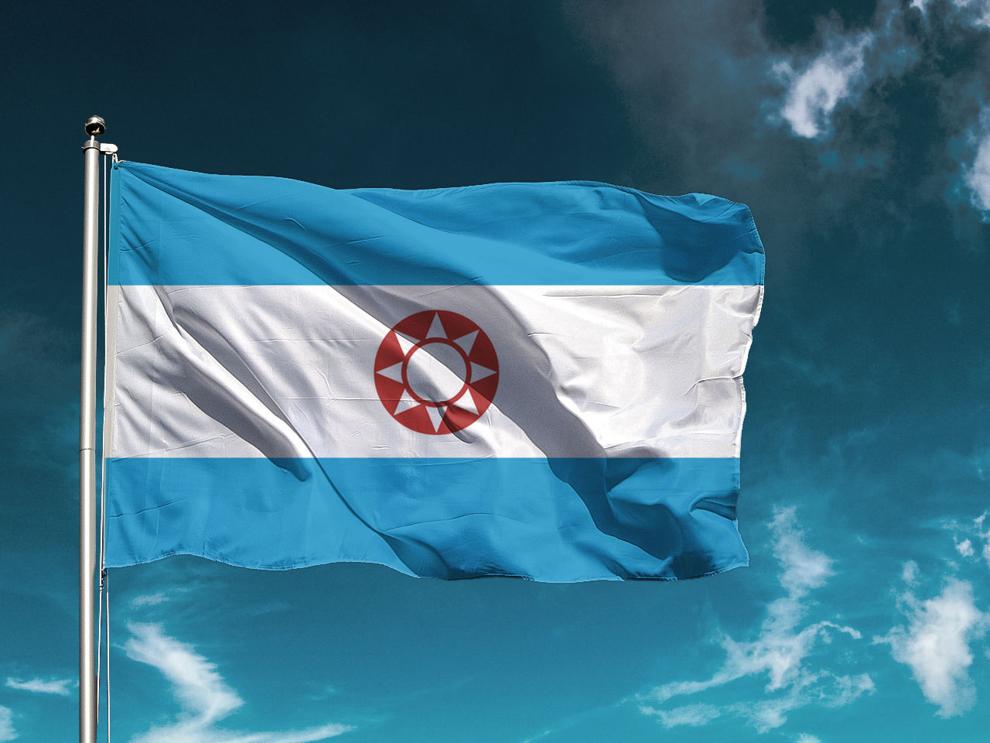 Caleb Slinkard: I wanted to design a flag that was simple, but also had plenty of meaning for Normanites. The two blue stripes represent two bodies of water that have played a significant part in Norman's past, present and future: the Canadian River and Lake Thunderbird.
The sun is a symbol that connects this flag to the current Norman city flag, representing a bright future. The symbol is an homage to the State of Muskogee flag from the late 18th century, a proclaimed sovereign nation located in Florida. The nation was led by William Bowles, who hoped the nation would unite the Seminole, Muscogee, Creek, Cherokee, Choctaw and Chickasaw, who were later forced to relocate to Oklahoma. Lands in modern Norman and Cleveland County were assigned to the Muscogee/Creek nation.
The sun is crimson, which represents the University of Oklahoma and the symbolic relationship between the city and university.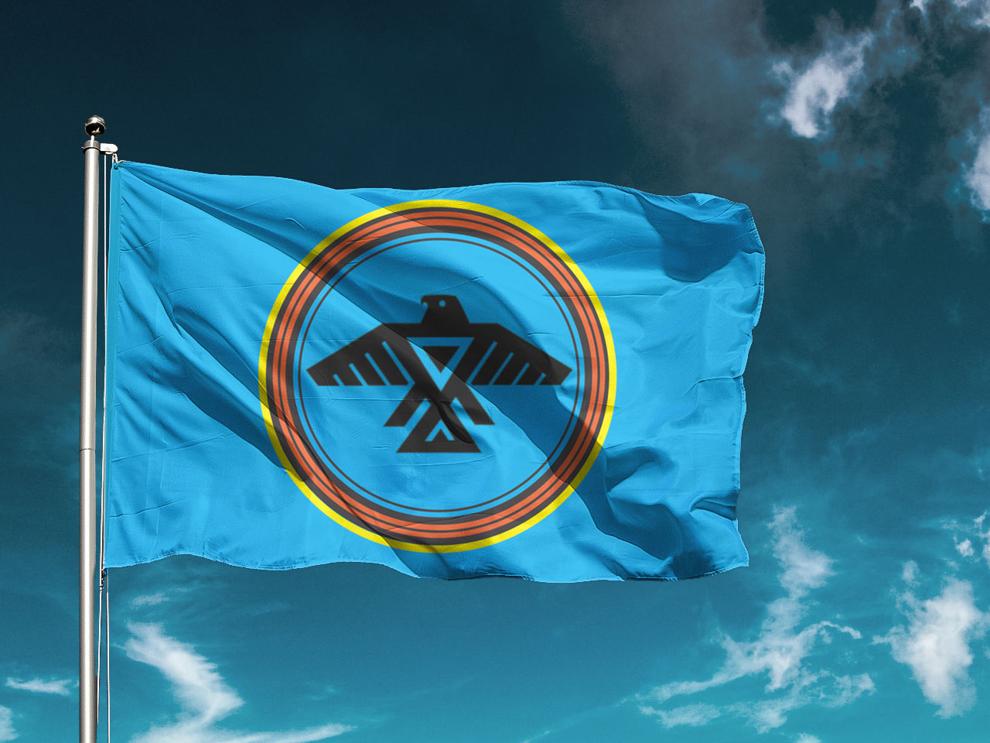 Mack Burke: As we found out during the process, it's pretty difficult to design a flag without potentially treading into dangerous waters. Though it did not occur to me initially, I was informed that this flag, whose primary symbol is a THUNDERBIRD, may bear a small resemblance to another less tasteful flag. Or, as one co-worker put, "that's a Nazi bird." So, this one's probably out, but I think a Thunderbird is a fitting symbol. We've got Lake Thunderbird, and then there's Rick Sinnett's giant Thunderbird mural downtown. The circle around the Thunderbird represents Norman's slogan, "Building an inclusive community." The orange and yellow rings represent the sun and its beautiful sunsets moving across a clear blue sky.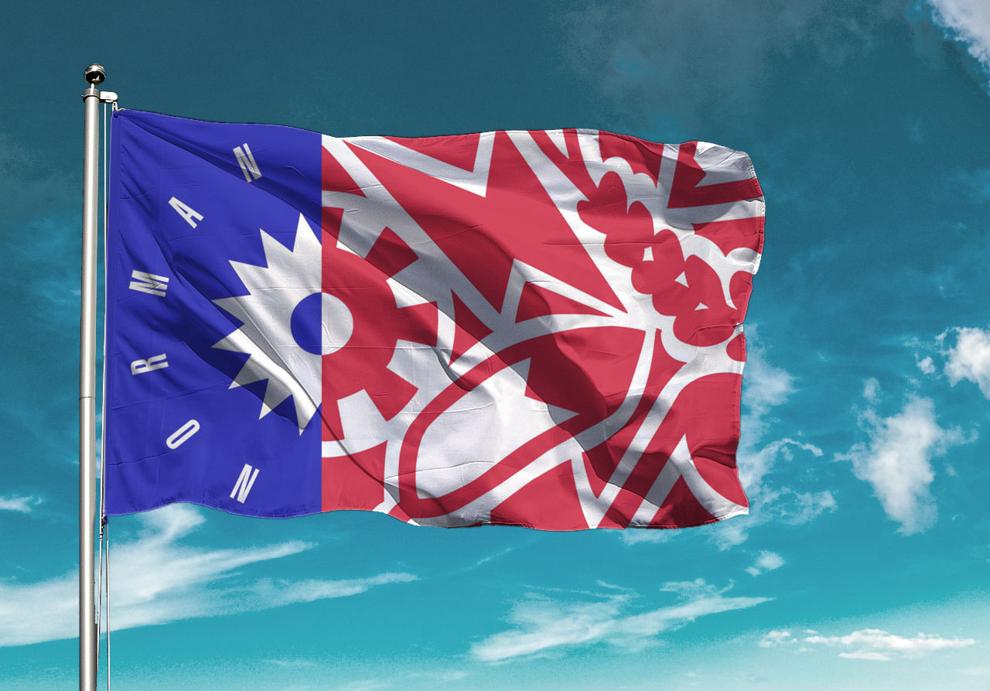 Current city flag critique: The city flag fails to follow the North American Vexillological Association's (vexillology is the scientific study of flags) design advice in a number of ways. Flags should be simple, so simple a child could draw it, according to NAVA. The Norman city flag is a mishmash of a variety of symbols that cover the entire surface of the flag. Additionally, our flag actually has the word, "Norman" written on it, which is another big no-no. The flag is designed vertically, but is flown horizontally, which doesn't make a lot of sense. Thats not to say the flag is terrible (there are a lot of city flags that struggle from a design perspective. The Milwaukee city flag is just awful.) But there is room to improve, and Normanites, who are very proud of their city have an opportunity to become more invested in the flag and use it in a wider variety of ways.