A month after the Norman City Council approved the wearing of masks within city limits, the mandate is generating complaints over businesses not abiding by it.
On July 7, the city council voted to mandate the wearing of face masks when in public. The ordinance also requires all businesses to have this mandate followed by their employees and customers.
It states that all employees and customers must wear masks and that businesses must display signage on the front of the door notifying the public of the requirement.
If businesses are not compliant with the mandate, the city must first issue a warning. After the first warning, businesses owners could be fined anywhere from $50-$500 for everyday they are not compliant.
City of Norman spokesperson Annahlyse Meyer said the mandate mainly is enforced on a complaint basis. Once a resident calls and complains about a business, that is when the city goes to issue a warning or a fine.
"Code enforcement has responded to 77 locations so far with corrective action being taken by the 47 of the businesses and finding no violations at [30] of the locations," Meyer said. "No citations have been required at any of the locations so far."
Meyer said the complaints are spread pretty evenly throughout the city.
The Transcript requested a list of mask mandate violations at Norman businesses. Click to see a complete list of filed complaints.
'Backed up against a corner'
Terry Sterling, owner of Captain Jack's Liquor on 12th Avenue Northeast, said the code inspector came out one time to follow up on a complaint.
"We have a sign up on the door about social distancing and wearing masks, and he was fine with that," Sterling said. "He was following up on a complaint, and who even knows who complained."
Sterling said employees try to wear a mask at all times, but when they are moving boxes and putting liquor up it's not always possible.
"Most businesses around here feel the same way, you're kind of darned if you do darned if you don't," Sterling said. "All we can do is try and comply as best we can. I've got some customers that come in who don't wear a mask, and I'm a small business, I can't afford to kick them out if they're not wearing a mask."
Sterling said he has masks at the store that he offers to people, but he can't afford to lose the business of people who don't want to wear masks.
"We kind of feel like we're backed up against a corner or a wall rather," Sterling said. " … I don't want to lose customers. … People who want to wear a mask and be safe, that's great. I 100% agree with them, and I don't want to lose their business by saying, 'Oh no! Nobody wear a mask.' But then by people [who] don't believe in wearing masks, I don't want to lose their business by telling them they can't come in without a mask."
Sterling said his business is at 50-50 right now of people who don't want to wear a mask and people who do wear masks.
"I can't afford to lose that kind of business if I start making either side mad," Sterling said.
'The greater good'
Chad Purser, general manager of City Bites on West Main Street, said code enforcement came by and put up the placard but found no other violations.
"[The code enforcer] looked around and saw that everyone was wearing masks and [said], 'I don't know why I'm here,'" Purser said. "I wasn't onsite when this happened, this happened when I was off. But my staff told me he was really pleasant, and he was a real nice guy."
Purser said he believes the complaint was only in regards to his business not having a sign on the front door.
Purser said regardless of how annoying masks may be at times, it's worth it.
"It's one of those things where it's for the greater good, it really is," Purser said. "Do we want to wear it while we're working on a hot grill? Nobody does. But we have to, it just is what it is."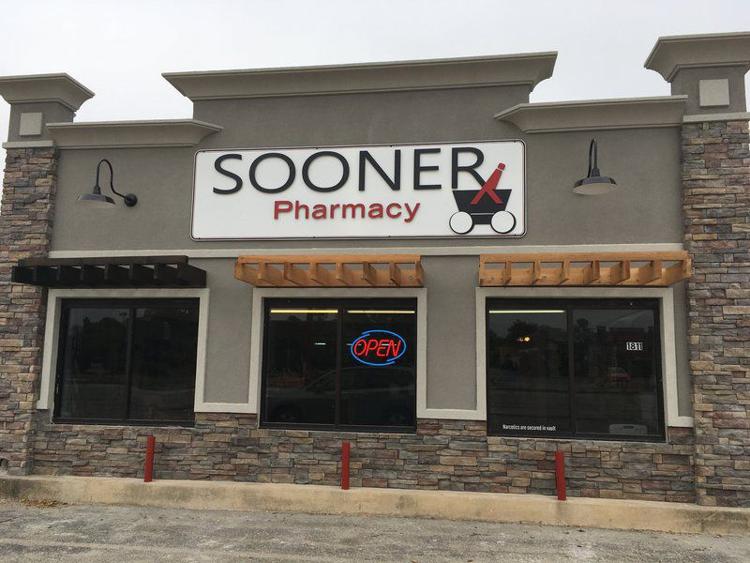 'A single snapshot'
Dr. Brant Alexander, pharmacist at Sooner Discount Pharmacy, said code enforcement came out once and found the store to be in compliance with the mandate.
"The whole thing was one big charade," Alexander said. "We were absolutely in compliance and somebody took it upon themselves to take a picture inside my store — which we could have private health information and they shouldn't be doing anyway — and captured somebody who was eating lunch and another person who was talking to someone on the phone."
Since the beginning, the pharmacy remains proactive taking COVID-19 precautions, Alexander said. Earlier, the front end of the shop shuttered for two-and-a-half months when it wasn't required.
"It was kind of frustrating for me to deal with because we've done a lot," Alexander said. "We gave almost $400 worth of [personal protection equipment] to communities around here, and it's disappointing how this thing went down."
Alexander said a business could always appear to be out of compliance if somebody comes at the wrong time.
"You can't just capture one moment," Alexander said. "There's photos of [disease expert Dr.] Anthony Fauci on Facebook sitting out at the baseball game with his mask off probably for 20 seconds while he's talking to somebody. You can't label somebody with that kind of perspective on a single snapshot."
Alexander said the code enforcement worker was very polite and professional. He said the business was given a box of 50 masks to hand out to customers.
"I told [code enforcement] that the fact he came out because of a complaint was not a bad thing," Alexander said. "The fact that he came out the very next day after a complaint was made, it means he's supporting the citizens who are concerned and I applaud that. He handled it really well."
Alexander states that he wished the person who captured the photo would have come by or called the business instead of jumping to conclusions.
"From the city's perspective, I understand what's going on and it was handled very professionally," Alexander said. "I think they were very responsive. [They came] the very next day within the first few hours of business being open."
Reese Gorman
366-3532
Follow me @reeseg_3