NTown's guide to the weekend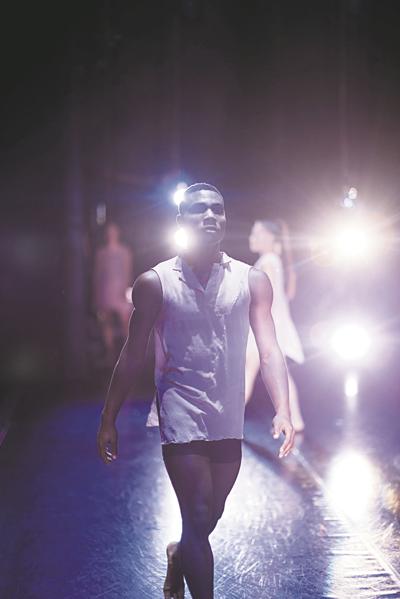 TODAY
• Col. Dick's Flea Market
9 a.m.-5 p.m. @ Cleveland County Fairgrounds
• Masala World Music Series presents Sarah Morelli
4 p.m. @ Catlett Music Center
• Second Friday Art Walk
6-9 p.m. @ downtown Norman
• Flower Power Market
6-9:30 p.m. @ STASH
• Jeff Provine book signing
7-9 p.m. @ The Custard Factory
• Camille Harp
7-10 p.m. @ Bison Witches
• Brian Parton | Art Walk Early Show | Karaoke
7-10 p.m. @ Red Brick Bar
• "Les Misérables"
7:30 p.m. @ Sooner Theatre
• Contemporary Dance Oklahoma
8 P.M. @ Elsie C. Brackett Theatre
• Jeongwon Ham, Piano Recital
8 p.m. @ Catlett Music Center
• Cosmic Wool, Mojo Thief
10 p.m. @ The Deli
• Space4Lease
10 p.m. @ Opolis
SATURDAY
• Craft Show
8 a.m. - 5 p.m. @ Cleveland County Fairgrounds
• Col. Dick's Flea Market
9 a.m.-5 p.m. @ Cleveland County Fairgrounds
• "Les Misérables"
2 p.m. and 7:30 p.m. @ Sooner Theatre
• Contemporary Dance Oklahoma
8 P.M. @ Elsie C. Brackett Theatre
• Masala World Music Series presents Sarah Morelli
8 p.m. @ Catlett Music Center
• Aaron Watson in Concert
8 p.m. @ Riverwind Casino
• 2000-2010 Trivia
8 p.m. @ Opolis
• Mountain Deer Revival
10 p.m. @ Red Brick Bar
SUNDAY
• "Les Misérables"
2 p.m. @ Sooner Theatre
• Contemporary Dance Oklahoma
3 P.M. @ Elsie C. Brackett Theatre
• Sunday Serenade Series
3-4 p.m. @ Norman West Branch Library
• Winter Wind Concert Series: Ellis Paul
7 p.m. @ The Depot
• Ohmme | Champagne Superchillin | Penny (solo)
9 p.m. @ Opolis
• Hosty
10 p.m. @ The Deli
ART EXHIBITS
• Art exhibit: Altered Observations
runs through March 31 @ Firehouse Art Center
• Fluent Generations: The Art of Anita, Tom & Yatika Fields
runs through May 6 @ Sam Noble Museum
• Exhibit: Fine Art! Posters from the Permanent Collection
runs through May 27 @ Fred Jones Jr. Museum of Art
• Generations in Modern Pueblo Painting: The Art of Tonita Peña and Joe Herrera
runs through April 8 @ Fred Jones Jr. Museum of Art
• Art exhibit: Space Burial
runs through April 8 @ Fred Jones Jr. Museum of Art
• Marta Burcham
runs through April 12 @ STASH
More info 
• Ellis Paul Concert To Close Current Winter Wind Series
Ellis Paul, for many "the face of contemporary folk music," is returning for a 7 p.m. concert Sunday in the intimate listening room of The Depot, 200 S. Jones Ave.
Tickets for the final Winter Wind concert of the season are $20.Complimentary refreshments are served and wine is available for purchase from Native Sprits Winery.
Though some may refer to Ellis as a folksinger, he is more a singular storyteller, a musician whose words express relatable feelings, thoughts and sensibilities. He is a rare artist who can both document his life and chronicle his times through his music, telling his own story through songs that also encapsulate the essence of people and places who have helped define their era overall.
In reality, the stories are a continuation of tales Paul has told for more than a quarter century, over the expanse of 19 albums, numerous critical kudos (15 Boston Music Awards alone), inclusion in several movie soundtracks, and stages he's headlined both near and far. He has become a staple at the Newport Folk Festival, ​played Carnegie hall, and venues from Alaska to Miami and Paris to London.
"I've been doing 200 shows a year for over 20 years." Paul said. "There isn't a town in the country where I won't find a friend."
To purchase concert tickets, or for additional information, visit normandepot.org or call 405 307-9320.
• Custard Factory to host ghostly book signing
The Custard Factory, 301 E Main St., will pair sweet treats and spooky stories from 7 to 9 p.m. today as it plays host to ghostly author Jeff Provine.
Provine will be signing his two collections of ghost stories from Norman, including hidden history and strange tales of haunted houses, buried treasure and unsolved mysteries.
• Flower Power Market ready to spring up again
As part of Norman's 2nd Friday Art Walk, STASH, 412 E. Main St., will host the Flower Power Market from 6 to 9:30 p.m. today. The popular market includes pop-up shops, food trucks, craft beer, live music, local art and handmade products.
Local makers and artists featured in the pop-up shop include:
The Wild Sprout
Beach Brothers
Summerbell's Knits & Such
Aditi Panchal Designs
Sharmishtha Shymal, artist
Angel Peck, artist
Triceraware Jewelry
Sophia Babb
HeyJude Handmade
Roman Watson Photography
Honeybear House
The Alt Black
STASH will also play host to an exhibit opening for featured artist Marta Burcham, whose nature-inspired works incorporate textures, color, and even flora. The exhibit will be on display through April 12th.
"Marta is a beloved former helper at STASH, and we could not be more thrilled to have her cheerful, vivid flowers on our wall," STASH owner Rebecca Bean said.
• Sunday Serenade Series
The Paisley Cafe at the Norman West Branch Library, 300 Norman Center Court, will host the Sunday Serenade Series from 3 to 4 p.m. Sunday.
The penultimate Sunday Serenade Series concert of the season will feature students from the OU School of Music. They will perform classical, jazz, and popular selections on the library's grand piano. The concert is free and open to the public.
For more information about monthly recital programming, visit oumtna.org/library-concerts
• More music at OU
March 9 -Jeongwon Ham, Piano Recital, 8 p.m., Sharp Concert Hall, as part of the Sutton Artist Series, featuring music by Beethoven, Chopin, Ravel and Debussy.
March 9 - Masala World Music Series presents Sarah Morelli, Workshop of North Indian Kathak Dance, 4 p.m., Pitman Recital Hall. Open to the public with complimentary admission.
March 10 - Masala World Music Series presents Sarah Morelli in a concert of North Indian Kathak Dance, 8 p.m., Sharp Concert Hall. Morelli performs a traditional solo of North Indian classical kathak dance, featuring rhythmic footwork, dizzying spins, subtle gestures and dynamic exchange with renowned Hindustani classical musicians Amie Maciszewski (sitar), Vivek Virani (tabla), Rohit Khanna (vocal, harmonium) and Carrie McCune (manjira, recitation).
March 12 - Jonathan Shames, piano recital, with OU School of Music faculty Min Koh, violin; and Adrian Fung, cello, 8 p.m., Sharp Concert Hall, as part of the Sutton Artist Series. The program includes Bach's French Suite No. 5, Debussy's Etude and Prelude, Scriabin's Sonata No. 7, and Brahm's Piano Trio in B Major.
March 12 and 16 – Visiting Artist, Marilyn Horne Voice Masterclass 7 p.m., Pitman Recital Hall.
March 15 - University Chorale, 8 p.m., Grayce B. Kerr Gothic Hall, as part of the Sutton Concert Series. The program will feature Duruflé's Requiem, Op. 9, with additional works by Brahms and Rheinberger, with School of Music faculty John Schwandt, organ; Jonathan Ruck, cello; and David Howard, conductor.
For more information, contact the OU Fine Arts Box Office at 405- 325-4101.
Mack Burke
follow me @mackburke4