NORMAN — The Oklahoma State Department of Health reported 70 new cases in Norman Friday as the county moved up to an Orange Level 2 on the state's risk assessment map.
With Friday's update, Norman's cumulative case total rose to 2,607. The state has reported 35 deaths and 1,869 recoveries in Norman. 
With 104 new cases Friday and two other record-setting days of case reports earlier this week, Cleveland County moved to an Orange Level 2 in the state's weekly map. The county has also recorded 67 COVID-related deaths and 3,812 recoveries.
While the State Department of Health does not break the Orange Level into two tiers in its map, the State Department of Education and Norman Public Schools do use a two-tiered Orange Level alert in determining reopening plans.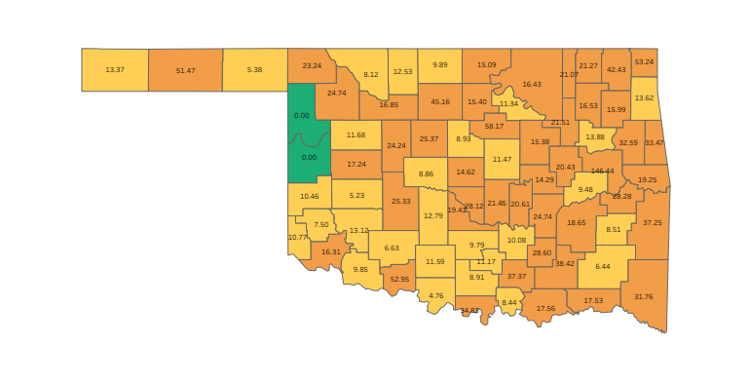 An NPS plan released earlier this week noted that if the county reached an Orange Level 2 (25 cases per 100,000 people or more) on Sept. 11, students at all levels would continue reporting for in-person learning next week (Sept. 14 through 18), then would transition back to remote learning the following week should the county remain at an Orange Level 2 on Sept. 18. As of last confirmation to The Transcript Thursday afternoon, the district had reported 15 COVID cases across multiple school sites. 
The University of Oklahoma updated its COVID case numbers Friday morning, showing test results for Tuesday and Wednesday of this week. The university reported nine new cases Tuesday out of 86 total tests that day, and 12 Wednesday out of 78 total tests.
In total, the university has now reported 265 cumulative COVID-19 cases since August 10. According to the university's online dashboard, as of Wednesday, 333 OU students, faculty and staff were self isolating due to exposure to COVID, symptoms or an actual positive test.
Cleveland County Health Department spokesperson Sara King said this week that the university is "contributing to the drastic increase" in local cases. 
With 942 new cases statewide Friday, Oklahoma's cumulative COVID-19 case total is at 67,642. The state's seven-day case average is at about 800.
The state has reported a 7.9% positive testing rate in all three of its executive order reports this week. Thursday's executive order report showed 509 confirmed and suspected hospitalizations in the state, down just slightly from 513 on Wednesday.
Oklahoma reported 13 additional deaths Thursday, bringing the state's death toll to 888. One death was identified in the last 24 hours, and none occurred in Cleveland County or Norman.
The Health Department is operating testing locations throughout the state at places and times listed on the OSDH website.
OU offers free on-campus testing at Cate Center 3 for students living on campus from 10 a.m. to 6 p.m. daily. OU Health Services also offers curbside tests by appointment to OU students, faculty or staff.
Norman lab IMMY is hosting free drive-thru testing events every Monday through Friday and every Sunday at 2701 Corporate Centre Drive. The weekday events will run 7 a.m. to 1 p.m. and the Sunday events 11 a.m. to 3 p.m. Registration is required ahead of time on IMMY's website at portal.immylabs.com, where the lab also posts other testing sites throughout the state.
The county health department is offering curbside tests by appointment at its Moore and Norman locations.
The City of Norman's COVID data dashboard is available at normanok.gov/norman-coronavirus-updates.
Emma Keith covers Norman Public Schools and the University of Oklahoma for The Transcript. Reach her at ekeith@normantranscript.com or at @emma_ckeith.
Do you have more information, story ideas, questions or tips about COVID-19 in Norman? Tell us here: