A protest organized over the weekend brought the issue of separating children from migrant families to Sen. James Lankford's office door on Monday.
Protesters organized outside on Broadway Avenue, holding signs demanding action on the current practice of U.S. authorities taking children from migrants caught crossing the border and housing them in various facilities. They came from across the metro area to go to Lankford directly and ask him to do what he can to end the practice.
"The separation from families should never happen," said Dianne Fightmaster, a Normanite who attended the protest with her husband Tom. "It's too traumatic for the parents and the children. That's no way to try to keep people from coming to the U.S., is to say we'll take your kids if you come. That's not right."
For his part, Lankford seemed to agree. A statement from his office said it's an issue he has been working on.
"Senator Lankford does not support the separation of families at the border," the statement issued by spokesperson Aly Beley reads. "Senator Lankford has been and continues to work with the Administration and his colleagues in the Senate to protect families and the U.S. border."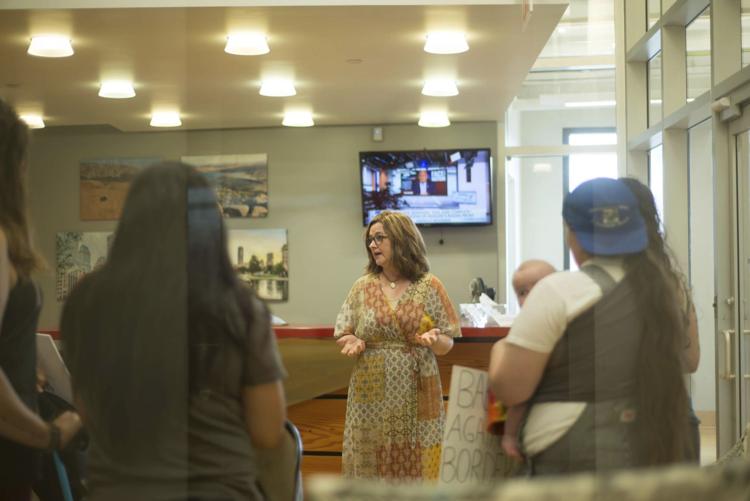 Lankford joined a chorus of political leaders expressing their concern with the practice. The list includes Franklin Graham, son of the late Rev. Billy Graham, former First Lady Laura Bush, and even current First Lady Melania Trump.
Rep. Tom Cole said he does not want to see family's separated and would support President Donald Trump stepping in to end the practice himself. However, Cole said this is nothing new and immigrants run a risk while crossing the border in this way.
"I certainly think we shouldn't be separating young children from their parents," Cole said on the MSNBC program Kasie DC. "But in this case, if you want asylum, you can go to any embassy and any country and seek it, and we'll adjudicate it there. You can come to a port of entry and it will be dealt with there, and again you wouldn't be separated from your children. If you cross the border illegally, you run that risk."
Dwain Pellebon, a licensed clinical social worker at Cope, Inc. in Oklahoma City, said the practice is doing potentially irreparable damage to the children. Separation from parents can lead to issues with anxiety and additional mental health problems later in life.
"We are dealing with human beings that are going to, without a doubt, experience post-traumatic stress disorder, to anxiety issues, to adjustment issues; we are creating mental health crises for people who are just trying to survive," Pellebon said. "It does not matter whether or not they are illegal immigrants, if you want to use that term, or undocumented immigrants. The term I want to use is human beings, is families, is children. This is a crisis that is man-made."
In April, U.S. Attorney General Jeff Sessions sent out a memo to the nation's prosecutors announcing a "zero-tolerance policy" when it comes to illegal border crossings. Anyone caught, he said, will "be met with the full prosecutorial powers of the Department of Justice."
The current policy for prosecuting undocumented migrants crossing the border means any children with them are taken away and kept in a secure facility. More than 11,000 children are currently in facilities, according to figures from the Office of Refugee Resettlement.
Earlier on Monday, Trump defended the practice. Last week, Sessions and Press Secretary Sarah Huckabee-Sanders drew attention for citing a Bible verse in their defense of separating children from families.
That didn't sit well with Tom Fightmaster, who has spent time with the disaster response group Texas Baptist Men. He was part of the response to Honduras in 2000 when Hurricane Mitch killed thousands and caused billions of dollars worth of damage.
"I was there to build houses, and I watched how these people live," Tom said. "They have an average salary of $600 per year. We couldn't live on $600 a week."
What protesters like Pellebon and the Fightmasters want to see is action from lawmakers. Sen. Dianne Feinstein, D-California, has put forth a bill to stop the separation of undocumented immigrant families.
Fightmaster said he wants to see Lankford and fellow Oklahoma Sen. James Inhofe put their weight behind that effort.
It would be in the same spirit as Monday's protest, as organizer Rena Guay explained.
"This is not about Democrat, Republican, liberal or conservative issues," she said. "This is a moral issue. Citizens of this country need to demand that we put a stop this inhumane and immoral practice."
Cole told MSNBC he would support a standalone bill to end the practice instead of wrapping it in a larger immigration reform package. He believes some action will be coming on that in the near future.
"I'm not for separating young children from their families, but you have to understand the sheer scope of what we're grappling with," Cole said. "In terms of comprehensive legislation, that's probably not going to happen. I frankly much prefer dealing with things in several pieces of legislation, and I think we'll have the opportunity this week."
http://www.normantranscript.com/news/oklahoma/protesters-demand-action-over-separation-of-families/article_c6c54c89-b3ca-5bcf-b272-5df37295242d.html