Gabriel Bird is vexed, vexillologicly speaking.
Vexillology, the study of flags, was at the root of the local dentist and Toly Park proprietor's presentation to the city planning and transportation committee Thursday.
His goal: to see a new flag flying over Norman.
Bird politely presented the committee with reasons why Norman's flag doesn't work as a flag design and a plan on how the city can move toward a new design while keeping the present flag as the official proprietary logo at city hall.
"As a proud Normanite, who was born and raised here, I love our town," he said. "Outside of Norman, unless someone has lived here or spent time here, they probably don't get it.
"I've heard time and time again that one of the greatest challenges is the city of Norman doesn't have its own identity. If we did have a culturally unifying flag, it's [the OU flag]. That's what flies everywhere, that's what everybody knows about in Norman … but we have more than that going on."
Bird said he doesn't want to decry the university's importance to the city, because Norman wouldn't be what it is without it, but he said the city can get lost in OU's shadow. He said cultivating a Norman identity with an iconic flag can bring the city more recognition.
Norman's current flag, a vertical red, white and blue rectangle with symbols crammed into the lower two-thirds, breaks a number of desirable design principles agreed upon by the North American Vexillological Association, of which Bird is a member.
Though he acknowledged that the current flag is a good piece of graphic design, he said it doesn't work as a flag because it is too complex, vertical and has the city's name on it, which is a little too on the nose. He said many Normanites aren't even aware that the city has an official flag.
After presenting a courteous critique of the current model, Bird walked the committee through some good examples, such as the Texas state flag and the City of Chicago flag — the "Holy Grail" of flag design.
What makes them great, he said, is that they are instantly recognizable, even at a distance, and simple enough that a child could reasonably replicate them.
"These are flags that have historically been successful," he said. "They've had cultural significance … and they apply five basic principles"
Those principles are: keep it simple; use meaningful symbols; use two to three basic colors; no lettering or seals; be distinctive or be related.
Not copyrighting the image allows for Normanites to own it and use it on posters, clothing, stickers and pretty much anything else. That kind of adoption gives it meaning and makes it a powerful marketing tool for the city and its identity, Bird said.
It wasn't the first time the idea has been brought up, but the presentation struck a chord with the committee. Council member Joe Carter said he loves the idea, and council member Breea Clark agreed that it could be a great marketing tool.
"I have seen it in action and the pride that comes with it in [my hometown] of Wichita," she said. "I fully support this."
Committee chairman Bill Hickman said he wants to get the ball rolling on the creation of an ad hoc committee to guide the process, which Bird estimates could take about six to eight months and include a design contest with ranked voting.
The committee said it wants to make sure to get plenty of public input. Bird agrees.
He said he wants to work collaboratively with the city to avoid what happened in Tulsa, where a grassroots movement drove the process forward before involving city government, leading to some controversy. The Tulsa City Council could vote to officially adopt a new flag design, which was selected via a massive social media survey that began in 2016, next week, but some council members are still resistant to the change.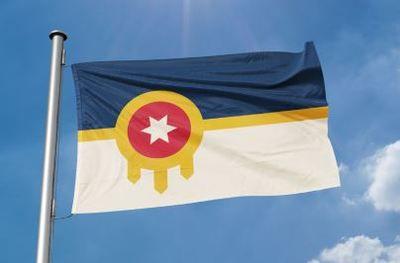 Bird said the process shouldn't be too expensive and could be funded without major investment from the city because the current flag would still be used as a logo. He said the process could elicit submissions and votes online and include a small prize for the winning designer.
"The committee could narrow it down to about five finalists, we could open it up to public voting on a scale from one to 10 … and then we would get the highest score and bring it to city council and vote it in as our flag," he said.