Wednesday night's catastrophic hailstorm added to the list of damaging and severe weather events Norman has experienced over the past six months.
The damage done Wednesday night was extensive, residents said. With hail bigger than golf balls ripping through the city and destroying windows, cars and homes, residents described the events of Wednesday night as surreal and frightening.
"It was so disorientating," Ward 3 city councilor Alison Petrone said. "There was this loud vibration of the roof getting pelted with enormous hail. Because it was so loud I assumed that it was a tornado, [so we] went into the storm shelter until it passed."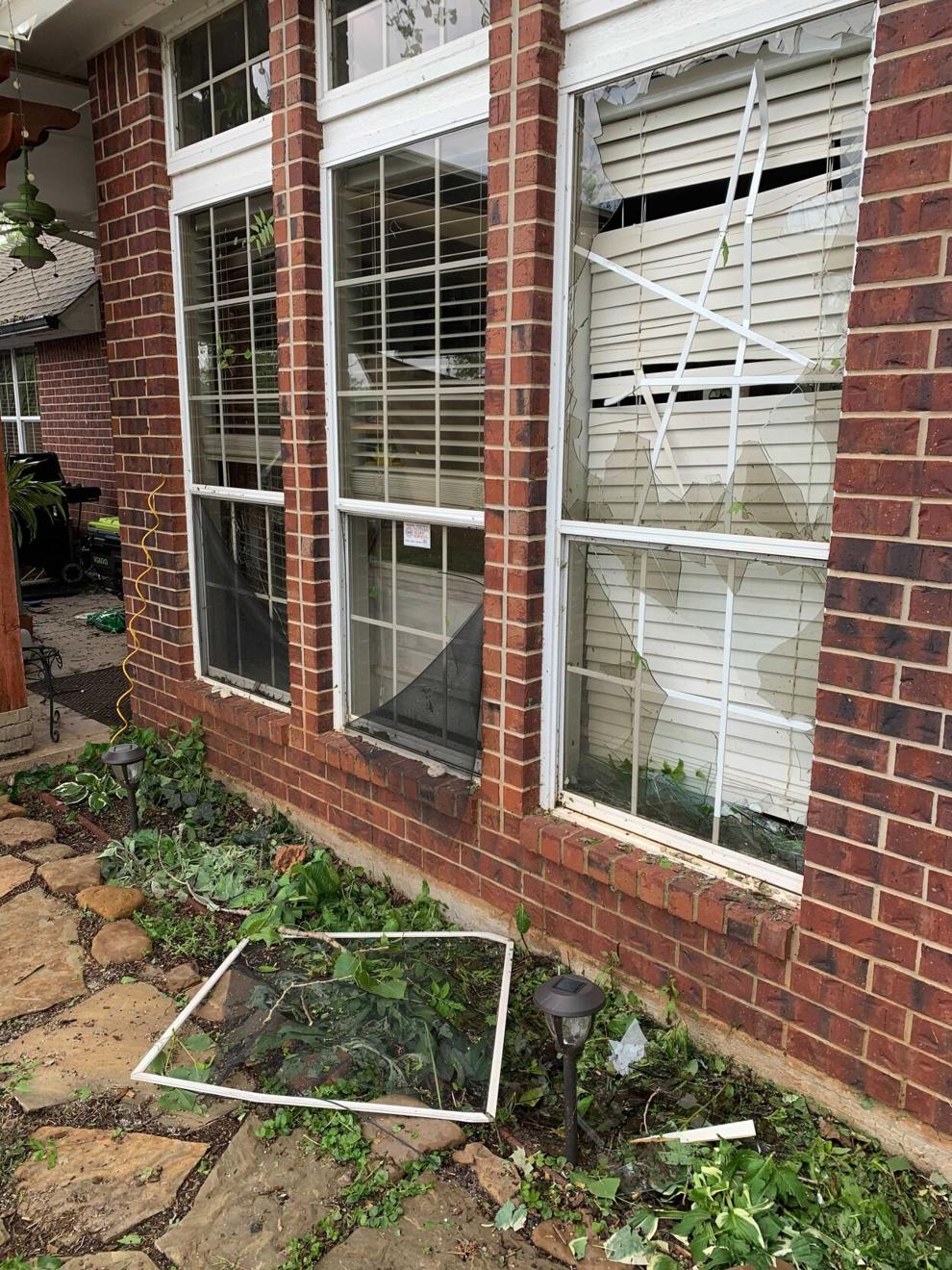 Once it passed and Petrone and her family left the shelter, they were met with eight broken windows, destroyed gutters and a gutted roof.
According to data provided by the Norman Police Department, the NPD's communications center received 168 emergency calls via 911 during Wednesday night's weather event, 105 of which were received during or immediately after the storm.
Additionally, 157 calls were made to the department's non-emergency line, all of which were fielded by the only four communication officers who were working Wednesday night.
"We were inundated with calls during and after the storm, and primarily in regards to hail damage," NPD spokesperson Sarah Jensen said. "We greatly appreciate the assistance of the Moore Police Department and Cleveland County Sheriff's Office Communications Centers, who helped with the overwhelming call volume during the weather event."
NPD responded to a wide-variety of weather-related calls, including at least one water rescue, multiple vehicle collisions, road closures due to localized flooding and damage to vehicles and structures across Norman, Jensen said.
No officers were harmed during the storm on Wednesday night, but the department's fleet was hit hard, Jensen said.
"We do have quite a bit of damage to a number of our fleet vehicles," she said. "It's a pretty substantial amount of damage done to vehicles that were in service at the time of the storm."
Bruce Thoren, a meteorologist with the National Weather Service in Norman, pointed out that storms like this are normal for Oklahoma during this time of the year, just not in big metropolitan areas like Norman.
"If it would have stayed out west and would have been over in the kind of rural area where we probably wouldn't be talking about it too much," Thoren said. "But the fact that it came into a very populated area and did a lot of property damage, it gets a lot of attention."
The biggest hailstone NWS saw was about 3.3 inches in size, which is bigger than a golf ball, he said.
"April into May is tornado and hail season, so in terms of it happening I don't think it's unusual. It's just because of where it hit, everybody's extremely aware of it, because of the population [and] property damage," Thoren said.
Other residents throughout Norman also saw extensive damage, including Eric Crawford, owner of Norman Nerds. Crawford was watching President Joe Biden's address when the storm hit his house.
"I went downstairs and went outside to move the vehicle, and was parking it and was about to close the garage when it felt like a tornado was hitting us," he said. "Wind was flying, rain was flying, hail started coming down and I was trying to close the garage door and it wouldn't close. So, there were hailstones flying into the garage and I was seeking cover. It was completely insane and scary."
Crawford said he could see hail pummeling and destroying the house and his cars.
"It felt like there was a tornado," Crawford said. "I picked up four or five hailstones and they were bigger than golf balls."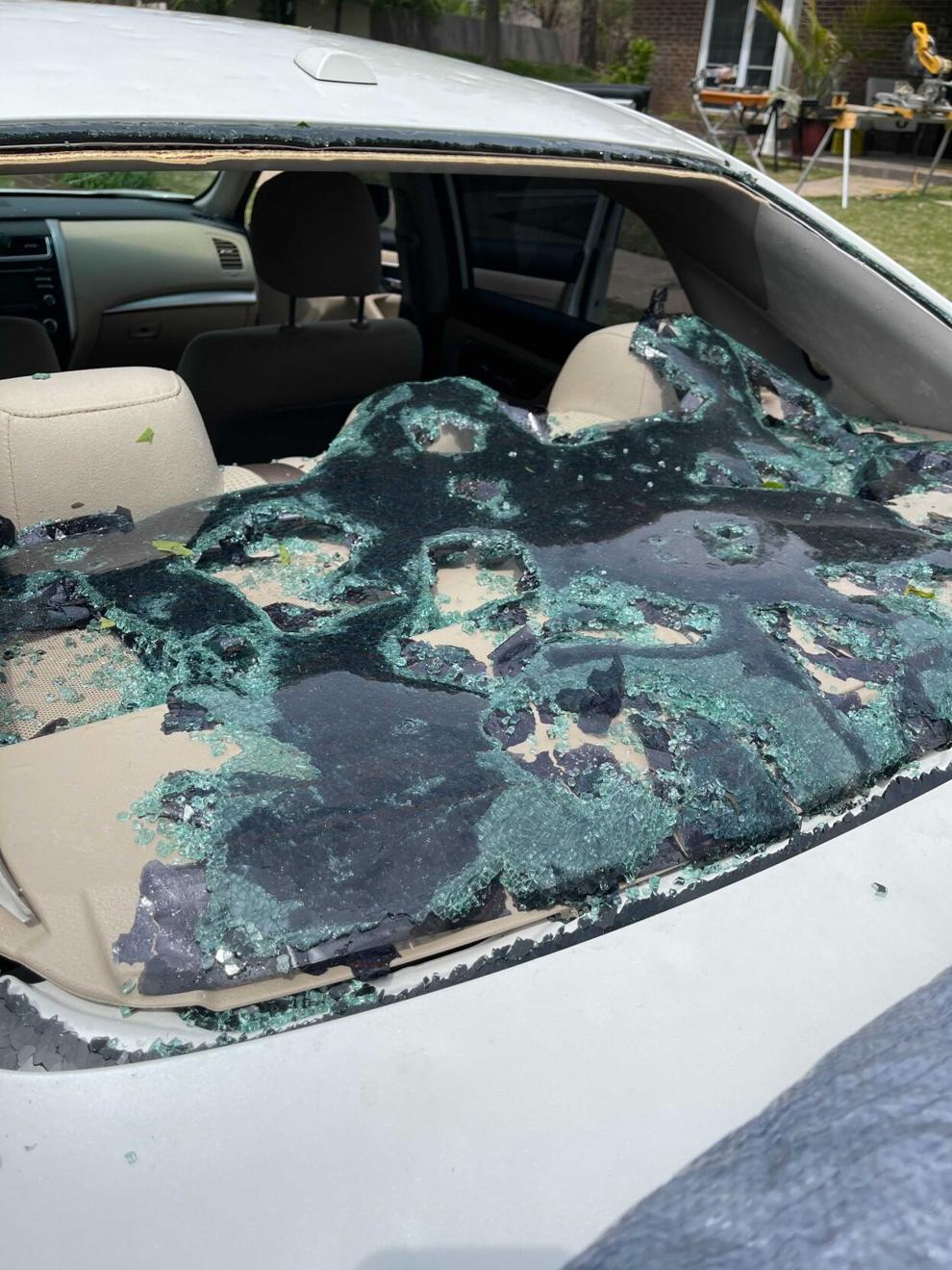 Once the storm passed and he was able to assess the damage, he realized just how bad it truly was.
"We have four vehicles that are just destroyed," he said. "One of them, the back window is completely shattered out — it looks like a baseball went through it. They're all probably totaled. We had one window shattered in our house and all of our screens were blown off, it was just insane."
Bridges of Norman, a local non-profit for Norman's high school students, took a beating during the storm, which shattered windows and destroyed vehicles, said executive director Stacy Bruce.
"It busted the windows of apartments facing the west, it damaged most of the screens on our windows, the siding on our apartments have holes all in them, the facia is down on some buildings," Bruce said. "We have two resident advisors that live on property and they have skylights in their buildings, and their skylights are completely busted and it was raining in their apartments."
In addition to the apartment damage, the students that have cars on property almost all have windshields busted out and massive hail damage, Bruce said.
The City of Norman is asking that residents report all damages to the state at damage.ok.gov.
"[The state] is going to collect all the damage reports, personal property, etc. and if there is a significant number of reports, then they would be able to issue a local emergency declaration, which would allow federal funding to be used for some of the damage," city spokesperson Annahlyse Meyer said Thursday.
The city emphasized that a local emergency declaration is a state decision, and that residents reporting damage does not mean an emergency will definitely be declared. However, in order for one to be declared, residents must report their damage to the government's website.