NORMAN — As the issue of mask ordinances divides Oklahoma cities, Gov. Kevin Stitt remains adamantly opposed to a statewide mask mandate.
Despite the public division ordinances have created, the data is clear, experts said: mask mandates work.
Oklahoma cities like Norman that have implemented mask ordinances this year have seen decreased spread of the virus and smaller spikes in cases than cities without mandates, experts' analysis shows.
Cities with a mask mandate in Oklahoma have seen their per capita cases rise at one-third the rate of cities without a mask mandate, according to the Oklahoma State Department of Health's weekly Epidemiology Report.
The Nov. 20 report shows that from Aug. 1 to Nov. 17, cities with mask mandates saw a 194% increase in cases per 100,000 people, while cities without a mandate saw cases rise by 317% per 100,000 people.
While the statewide positivity rate was at about 19% as of Monday, Norman's rate was at 12%, said David Kendrick, CEO of MyHealth Access Network and chair of OU's Department of Medical Informatics. Kendrick and other researchers have been tracking positivity rates in cities with and without mandates for months now.
Experts say it's important to be careful when measuring the efficacy of a mandate. It's not necessarily enough to simply look at a city's positivity rate before and after it implemented a mask mandate, state epidemiologist Dr. Jared Taylor said. Cities may have started school, or brought more people back to work after approving mandates.
Only looking at a before-and-after of one city also wouldn't show experts what kind of positivity rates that city may have avoided by implementing a mandate, Kendrick said.
Instead, experts are looking at the positivity rates in cities with mandates versus cities without mandates over a set period of time.
"That has shown, through nearly all windows that are examined, that what you've seen is an increase in cases all across the state … but you've seen a much slower increase in those cities that have mandates," Taylor said.
Kendrick said Monday that according to MyHealth's Sunday data, Oklahoma cities without masking ordinances were sitting at about a 19.59% positivity rate, while cities with ordinances were collectively at about a 16.5% positivity rate. Kendrick said now that most mask mandates have been in effect for a few months, he and other researchers have consistently seen that cities with ordinances have a 3-5% lower positivity rate than cities without ordinances.
Numbers still rising
That data doesn't mean that cities with mask ordinances, like Norman, haven't seen recent case spikes.
But it does mean that when cities with ordinances do experience spikes, those spikes are lower than those in cities without mandates, Taylor and Kendrick said.
" … I don't bother with just telling you that the rate has gone down, because it hasn't — it's gone up, even in cities with masking policies," Kendrick said. "But it's gone up less than [in] cities without a masking policy."
Evidence now shows that communities with a mask mandate — like Norman — have lower infection rates than communities with no mandate, said Dr. Dale Bratzler, chair of the University of Oklahoma's Health Sciences Center Department of Health Administration and Policy.
"In Oklahoma, this has actually been fairly dramatic," Bratzler said. "We're seeing an increased number of infections across the whole state, so just because you're seeing an increased number of cases in Norman and Cleveland County doesn't mean masks aren't working."
In comparing the curve of infections in Norman to the rest of the state, Norman is not seeing nearly the increase that other communities across the state are, Bratzler said.
"If you look at Oklahoma, the counties that are having the largest increases in the number of cases per population are rural counties, many of whom do not have any mask mandates," he said.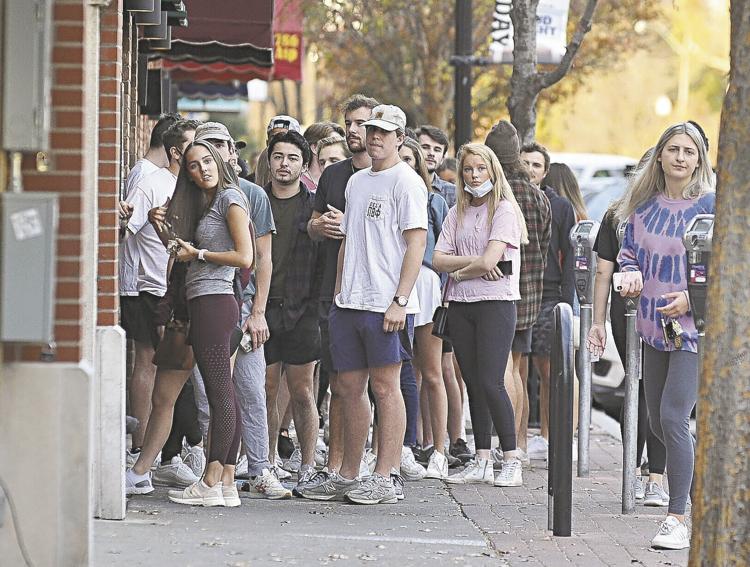 According to data provided by Bratzler, as of Nov. 16, Cleveland County had on average 52.6 new daily cases per 100,000 people. The state's average was 66.4 new daily cases per 100,000 people.
Mask mandates don't just help control numbers in cities that have them, Taylor said — there may also be a "benefit to those surrounding communities" when an individual who works in Norman but lives elsewhere must mask up at work and isn't bringing the virus home, Taylor said. Of course, that effect also works the other way around, the state epidemiologist said.
"With the intermixing of mandated and non-mandated areas, what you end up seeing is a dilution of effect — because it goes both ways, you're getting the benefit of mask mandates in non-mandated areas, and you're getting the negative effect of non-mandated impinging on the mandated areas," Taylor said. "That's one thing that really plays to, 'Well, why hasn't it driven it down? Why are we still seeing these spikes?'"
'Protect our residents'
On July 8, Norman became the first city in Oklahoma to implement a mask mandate.
Mayor Breea Clark said residents of Norman were "proactively reaching out" to herself and the City Council back in July asking them to implement an ordinance.
"[A mask mandate] is one of those things where yes it seems political, but let's be real, I'll just say it right now: masks should never have been politicized," Clark said.
Clark, having used her emergency powers multiple times throughout the pandemic, wanted this decision to be a concerted council effort, she said.
"While our council may not agree on everything, we certainly agree on science and how to proceed in a pandemic," Clark said. "So, we have had unanimous votes, and it has been encouraging to see city leadership stand together."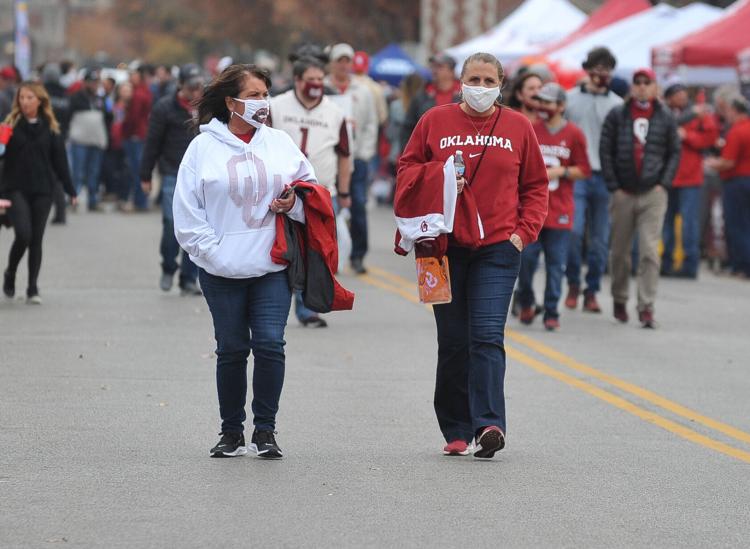 People who are against masks point out that medical experts said they were not necessary at the beginning of the pandemic. That recommendation has now proven untrue, Bratzler said.
"When the pandemic first started in March and April, we weren't exactly sure how this virus was getting transmitted from one person to another ... but when you look at the early recommendations from the [World Health Organization] and others that recommended against using masks, [it wasn't] because we thought they didn't work but because we needed to preserve them for frontline workers, hospitals, nursing homes and places like that," Bratzler said.
The Centers for Disease Control and Prevention (CDC) has changed its stance on masks throughout the pandemic due to developing understanding of the novel coronavirus. After previously stating that masks should be worn to protect others, the CDC said on Nov. 10 that it has now concluded that masks also protect the individual wearing them as well.
"I appreciate the CDC's continued guidance, and I know people get frustrated that things change with our scientists and their recommendations because it's a novel virus and we're learning more and more about it," Clark said. "You rely on science and your medical professionals to give you the guidance that you need to do best by your residents, but honestly the governor has really banged the drum on personal responsibility but we make people wear seatbelts, so I don't understand the disconnect there."
Since implementing the mandate, Clark and the rest of the council have received backlash, with people accusing them of overstepping their bounds and abusing their power.
"For me, I appreciate everyone's frustration and I have very much been — I think — a target of some of that frustration because I am the face of this mandate that they see as imposing on their individual rights," Clark said. "But I know I'm not doing it to infringe on people's individual rights, I'm not doing it to have some show of power, I'm doing it to protect our residents."