The University North Park (UNP) development oversight committee approved a preliminary master development plan for the north half of the UNP TIF that calls for an entertainment district, expo center, single and multi-family housing, technology/office space and parks. 
The plan for the entertainment center includes an arena that could potentially serve OU men's and women's basketball teams as well as Norman High and Norman North basketball teams, host NCAA and state prep tournaments and serve as a concert venue.
According to Norman city attorney Jeff Bryant, while there is no official commitment from the University of Oklahoma because of the preliminary status of the plan, OU athletic director Joe Castiglione has indicated OU is "absolutely interested" in becoming an anchor tenant of the new arena. The Lloyd Noble Center, who OU basketball teams currently compete, would be used as a practice facility and for OU gymnastics.
The plan will be presented to the Norman City Council at a study-session tonight. If eventually approved by the council and other UNP partners, the next step would be determining how much public money would be spent on the development.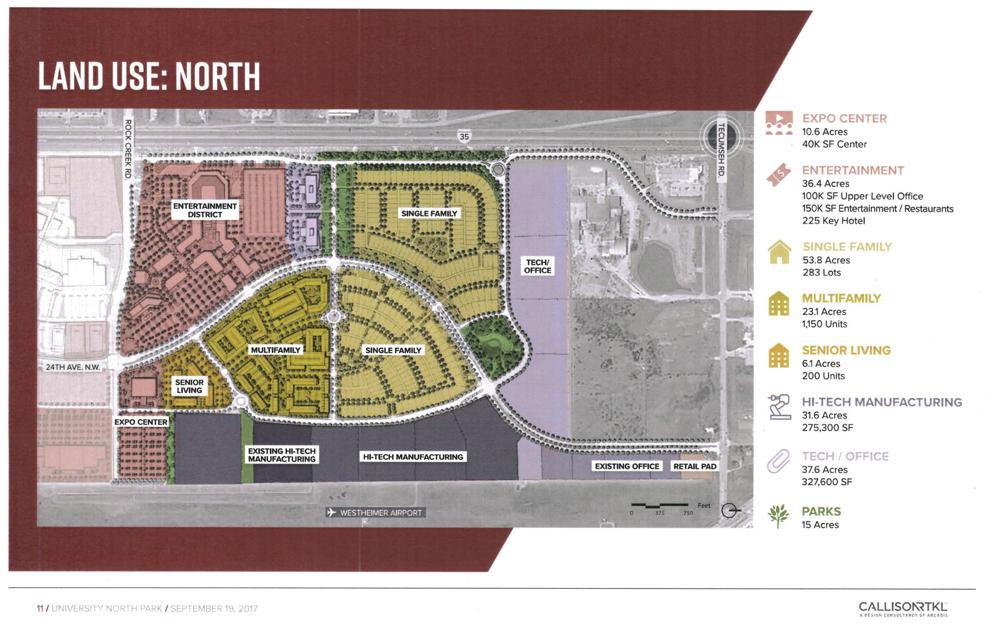 Keeping that in mind, the oversight committee recommended postponing the payment of the remainder of a 2013 loan. The loan is due to be paid off in September of 2018, and, according to city attorney Jeff Bryant, the interest on the loan would have to paid up to September, 2018, even if the loan was paid off early.
Which companies would develop the area, how much public money would be spent on the projects, the timeframe, and more have yet to be determined, as this plan is still very much in the beginning stages, according to the presenters. Development or project plans have been used several times for University North Park, including for Legacy Park, initial traffic concerns, and Rock Creek Road.