From pills to cosmetics, the things we put in and on our bodies and land end up in our water at some point.
While municipalities regularly test for a long list of contaminants to ensure drinking water is safe, there are a number of things people fear could end up in water that no one is measuring. 
Commonly called "constituents of emerging concern" (CEC) the list of these items is lengthy and includes everything from pesticides to hormones.
"I think the public would generally consider these as contaminants that we would want to deal with," said Kyle Murray, Ph.D, a hydrogeologist for the Oklahoma Geological Survey and an adjunct professor in the ConocoPhillips School of Geology and Geophysics at the University of Oklahoma. "There are lots of chemicals out there or compounds out there that are organic in nature and are potentially harmful to aquatic and animal life and humans. We don't have a comprehensive list of them because it continues to grow."
In many cases, the government has not established safe levels for these potential contaminants.
In Norman, questions have been emerging along with those CEC: Which CEC are already in Lake Thunderbird, and are they at dangerous levels? Are we removing them? Should we be removing them? How do we determine what levels are safe?
Additionally, Norman is studying the possibility of augmenting Lake Thunderbird with reclaimed water from the city's wastewater plant. Globally, many cities already treat wastewater and use it to supplement the water supply, including several cities in Texas.
Norman's plan would be to augment the lake during times of drought when water levels in the lake get low. The wastewater would be treated to a high degree and released into Dave Blue Creek, where nature would continue to clean it.
"I believe if Norman would implement this, it would meet their water demand in the future," Murray said.
Currently, Norman releases all of its treated wastewater into the Canadian River, where it ends up in Lake Eufaula and supplies the city of Eufaula with drinking water.
Water from Thunderbird and Lake Eufaula are treated before being transported into people's homes, but due largely to CEC, many people are concerned about the shorter distance between Norman's Water Reclamation Plant (the city sewer plant) and Thunderbird, even with higher treatment of the wastewater.
That creates another level of questions, namely: Which CEC are in our treated wastewater, and are they at dangerous levels? Can we remove them with additional treatment? How do we determine what levels are safe?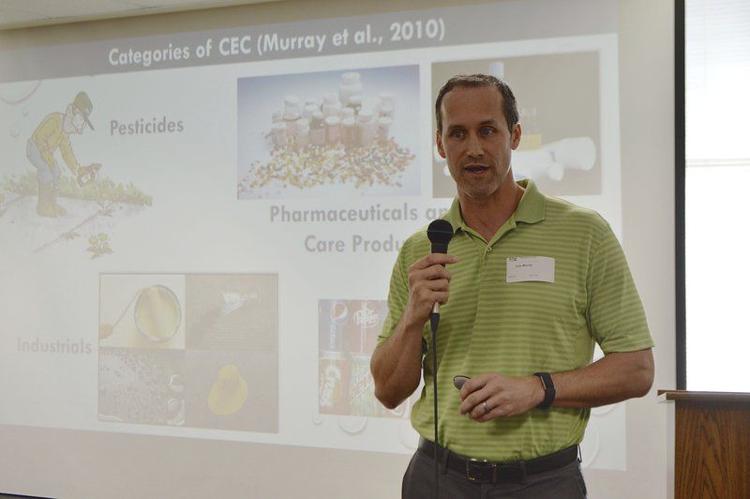 • Where are we on answering those questions? Murray recently completed a project for the Central Oklahoma Master Conservancy District — the entity charged with protecting Thunderbird's water quality — to evaluate baseline concentrations of CECs currently in the lake.
Murray is currently the principal investigator for a project with the city of Bartlesville, titled "Assessing Compounds of Emerging Concern in Municipal Water Sources," where effluent river and lake water will be analyzed for CEC and environmental buffering, then treatment effectiveness will be assessed. 
Murray discussed his research and other related research projects in a presentation Friday at the Oklahoma Department of Environmental Quality, which a large contingent of Norman stakeholders attended.
Murray was principal investigator on a team that included Dave Sabatini, Bob Nairn and Bob Knox.
"Before my study began that was funded by COMCD, there were other studies that were relevant to the city of Norman," Murray said.
In addition to Murray's work, research by Steven Jones, Erin Thornton and Ashley Horton have begun to answer those questions.
Jones looked at city water resource recovery facility effluent (wastewater discharge) including Norman's; Thornton examined a portion of Norman Water Reclamation Facility effluent discharged into an environmental buffer, Dave Blue Creek; and Horton analyzed baseline CEC concentrations in Thunderbird, evaluated periodic tendencies, compared results to previous CEC studies and identified probable sources for the detected CEC.
Jones was a Ph.D. student at the University of Arkansas and did the study as part of the dissertation. He now works at Garver Engineering. Thornton and Horton were both OU students.
Studies found that sources for CEC can be agricultural, such as pesticides and herbicides, and the lake already gets some of those from runoff, but those also have been found in effluents. 
Other CEC come from the human body or things we flush down the toilet, namely pharmaceutical and personal care products such as hormones, antibiotics, stimulants, surfactants, preservatives, artificial sweeteners and caffeine.
• Contaminants can be removed: "With Jones' study, he demonstrated we could remove all of the compounds to 100 percent if we needed to," Murray said. "But I think the point was to try to understand which technologies would be required to get to a certain level of treatment."
Thornton worked on her study as part of her master's thesis and was a student of Bob Nairn.
"The second study of significance was completed by a student in environmental science at OU, Erin Thornton," Murray said. "She collected Dave Blue Creek sediment and took effluent from Norman's Water Reclamation Facility and put them together. She also exposed some of those samples to photosynthetic reactive radiation."
Thorton's study looked at how nature would break down CEC in Norman's effluent.
"Sediment alone was able to decrease the number of detections [of CEC], and photosynthetic reactive radiation [sunlight] was able to also have some effects."
Jones' and Thornton's studies provided a nice ground work for Horton's and Murray's work, establishing what was in the effluent and how those CEC compounds could be removed or would break down in Dave Blue Creek.
Horton was Murray's master's student; their study formed the basis for her thesis.
"We didn't know how many of these compounds were detected in Lake Thunderbird, what those concentrations were and where we needed to match that baseline concentration," Murray said.
Horton looked at CEC concentrations in Thunderbird from six sample sites over different seasons over a year.
"We have four sampling events in each season," he said.
They compared the Thunderbird concentrations to established health standards, where they could find them. They also looked at what sources of contaminants are in the watershed.
"One of the problems we had with this study is most of these compounds are unregulated," Murray said.
Some states, especially Minnesota, are developing those standards, so some of those were used to see if the Thunderbird CEC concentrations were in the range of concern.
"We're lacking 100 health standards for compounds," he said. "That's a major problem."
Eleven pesticides were detected in the lake. Benchmark compounds for common pesticides have a short half-life and were detected at low levels in two seasons.
Two pesticides in heavy use — atrazine and simazine — were found in low concentrations in the lake. Other concerning compounds measured in the lake were found at low levels.
• Conclusions: Murray believes it's important to determine maximum contaminant levels for benchmark compounds that do not have health standards and to perform toxicological and/or bioaccumulation assessments on the fish that inhabit the lake.
Sources for CEC compounds in the lake correlate with runoff with agricultural land, but also with septic systems, based on land use and a survey of domestic wells which accompany septic systems. More investigation on those sources needs to be done, Murray said.
While the public expresses great concern about hormonal compounds, hormones tend to have a short half-life, meaning they don't hang around in the environment long and are highly diluted and easily removed.
Based on the studies, Murray and others believe it is possible to improve Lake Thunderbird's water quality through using highly treated effluent to augment the lake.
Studies will continue to determine the most efficient and cost-effective means of treating wastewater and drinking water, as well as to answer CEC-specific questions.