Ward forum flare-up prompts questions about public officials and social media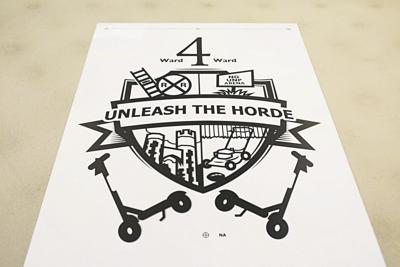 Last year, a federal judge ruled that President Donald Trump cannot block people on Twitter.
There have since emerged numerous cases weighing the legality of public officials' actions on social media, and, in the court of public opinion, at least, the topic has become a hot one on Norman's Facebook ward pages.
Legal questions for the digital age
Former council member and Ward 4 page creator Greg Jungman said the ward pages are the new coffee shops — public forums that are much more than just discussion niche groups.
In that context, what does it mean for a city council member to be a moderator? The answer is at the nexus of technology and government, an intersection that legal cartographers are still mapping.
Last month, Ward 4 council member Bill Hickman, acting as one of the page's moderators, drew criticism for deleting comments on a post and later locking a thread for what he deemed to be personal attacks. Hickman later apologized and removed himself as a moderator, but the incident raised questions about the role of public officials on the pages.
Activist Casey Holcomb, no stranger to criticism himself, said what Hickman did amounts to outright government censorship and has expressed plans to send Hickman a cease and desist letter. He said he also has explored the possibility of a lawsuit.
Though he did apologize, Hickman said he doesn't see a legal issue because the pages are not official government pages.
"The ward pages are unofficial pages," he said. "They are not city sanctioned pages, they're just community forums … Since I've been on council, I've used the Ward 4 page as a way to get information out to people about events or meetings and to listen to the people and what's important to them and how they may or may not want something to go forward, whether it's a policy or otherwise.
"So, it's one source of information for me to have as a council member and it's a way for me to share information with constituents."
Though every case is different, a recent court ruling suggests there could be grounds for a lawsuit.
Last week, the Fourth Circuit Court of Appeals ruled that the interactive portion of a public official's Facebook page is a "public forum." While the Ward 4 page is not Hickman's official candidate page, it was linked to his official candidate page as recently as 2018.
According to ACLU staff attorney Vera Eidelman, while public figures maintain their First Amendment rights when acting as private individuals, they are subject to the limits the First Amendment places on the government whenever they're doing government work.
"As the court rightly held, that includes any time that they're controlling a Facebook page they maintain in their official roles," she opined in a Jan. 9 article posted to the ACLU's website. "Specifically, the [Fourth Circuit Court of Appeals] recognized that when a public official uses a Facebook page as a tool of governance — that is, when [they] use it to inform the public about their government work, solicit input on policy issues through the page, and swathe it "in the trappings of [their] office" — they are controlling the page as a government actor."
The Ward 4 flare-up is part of the broader topic of how public figures interact on social media and the role of digital forums in civic life. And Hickman isn't the only council member who has received blowback for moderating.
Mayor Lynne Miller said she received similar blowback when she shut off comments on a post on her On Topic with Mayor Miller page.
Currently, five of the ward pages have a council member as a page administrator. In the case of Breea Clark in Ward 6 and Stephen Tyler Holman in Ward 7, both council members' official candidate pages are linked to the ward pages.
Clark said she did not seek out the role of moderator but was simply added upon election. While she said she has never deleted or frozen comments, other moderators have deleted posts that were reported as offensive or irrelevant.
To what degree the distinction of who is deleting comments on a public forum matters is another one for the courts.
To avoid any potential issues, Darcie Woodson, who is a moderator of ward pages 1, 5, 6 and 8, said she prefers to take a hands-off approach. It's an approach that Jungman said he subscribes to, as well.
"I think that's a pretty smart way to handle it," Woodson said. "I understand that Jungman created [Ward 4] because he wanted to communicate with his constituents … and then when [Hickman] started to delete comments and closed off comments, stuff like that I don't think is in the spirit of what these groups are about. People have said [crappy] stuff to me on those pages and I haven't deleted them. Democracy is messy."
The city has no official social media policy for council members' involvement on the pages, but interim City Manager Mary Rupp said social media can present delicate situations for public officials.
"If I was a council member I think I would be concerned that I'm putting myself into a position that might be a little precarious [if I were a page administrator]," she said.
"The timing of this, at the height of election season, it's a really sensitive area to try to get involved in. If it was off election season and we were just looking at this policy-wise it's a little bit different. But right now the sensitivity is heightened and people are very active in commenting. And there are lots of issues in Norman that people in Norman want to talk about. I think the ward pages can be very good, it's just that right now we're seeing instances where they might not be as helpful."
Ward 5 council member Sereta Wilson said she and her business have been the victim of threats through the ward pages. She said they can be abused in other ways, as well.
"People need to know that there are political players driving the narrative and many of the things they are pushing simply aren't true," she said.
Ward page history
In 2012, then newly-elected Ward 4 council member Jungman created the Ward 4 Facebook page. The page started off with a few hundred members but has since grown to over 2,000 and is now an active public forum.
By 2014, thanks in part to Woodson, who created four of them herself, Facebook pages had been established for all of Norman's eight wards, and they too have grown.
Though the Ward 4 page is the most active, the Ward 5 page has the most members at 2,145 and there are now over 8,000 total members subscribed to the forum pages.
They're lively discussion hubs whose talking points have felt the influence of and been influenced by council members. Despite representing less than 7 percent of the city's total population (with many duplicate members), politically they hold a lot of sway at city hall.
That doesn't necessarily mean they hold disproportionate influence, however, Woodson argues.
"It's only a small group of people, but there are only a small number of people who vote," she said.
The last two mayoral elections brought in roughly 10,000 votes, and many of the voters pay attention to what happens on the ward pages.
Members of the current council have said that social media is just one tool to gather input from residents, but Jungman said the pages have grown into more than just a small sampling of the community.
Still, mayoral candidates Hickman and Clark said the ward pages aren't the final word on public opinion.
Clark said not everyone is on social media so it can't be the only barometer. Hickman agreed, adding that not everyone who comments on the ward pages lives in Norman, much less the ward page they're commenting on.
'Democracy is messy'
Thousands of residents turn to the ward pages for information and to give input on city issues.
But there is a darker side, and there are some gray areas in between as the pages also have been the staging ground for personal attacks and doxing.
Like Hickman, who has decried what he calls a lack of civility on the Ward 4 page and toxic cyber-bullying, Miller said she has seen the pages digress into personal attacks and falsehoods.
"Many times there is incorrect information," she said. "So, it is a very fast way to spread the wrong information, and it's a very easy way for people who are emotional about these things to express things without a filter. I think it's too easy for people to attack other people and it's too easy for one person's negative opinion about something to impact a lot of people who don't know one way or another.
"I see a lot of people saying 'why is this so hateful,' 'why is this so mean?' … People get mad at each other and they say things they regret, things they would never say in person."
Verbal sparring on the page led to the spawning of another group earlier this month: Ward 4 — On Topic. Page moderator Jeremy Wance said he created the page to address cyber-bullying and foster issue-related discussion.
Censorship accusations have been levied at that page, too, but Wance has a different take.
"There are five people who are primarily responsible for the toxic behavior," he said. "Had an admin agreed on some rules for civil engagement, this wouldn't have gotten out of hand. I think some of the admins are partly to blame for not recognizing this as what it clearly was: online bullying."
Jungman said he has noticed the pages taking a toxic turn since the start of the mayoral campaign, but he said social media users can moderate their own experience by blocking content and/or users themselves.
And he said even uncomfortable posts can be informative.
"Sometimes when you're discomforted, it's because you need to learn something," he said.
Mack Burke
follow me @mackburke4