OKLAHOMA CITY — Technology for Oklahoma City defensive stopper Andre Roberson used to be just paper and pencil.
Before the now 25-year-old turned into a prime candidate for the NBA's All-Defensive Team, before he even got through middle school, he was getting homework assignments. On basketball. 
Basketball innovation came written for a preteen Roberson. He had to draw up plays for his father, John Roberson, a former pro overseas who costarred as his son's AAU coach from sixth to 10th grade. All players had the same task: Scribbling a few plays or basketball actions to hand in to the elder Roberson, who would evaluate them as if they were graded assessments. And with that, an 11-year-old Andre Roberson began to understand the X's and O's of a game that would lend him a career.
"Basketball imitates life," John Roberson told the Transcript. "For me, it was like you've gotta become a student of the game, because you've got to become a student of life." 
Roberson doesn't need pencils now. He's got his iPad, which he uses to watch game film for at least an hour a day.  
Teammate Steven Adams calls him a "freak" athlete. But it's the NBA. Plenty fit that description. It's a trait that's helped Roberson turn in one of the most dominant defensive campaigns around the league. But the homework has now transferred from earthy to digital, from sixth-grade imagination to world-famous reality. 
And today, Roberson is a film buff, Oklahoma City basketball's IMDB.
"With the team, at home when I'm in my room bored," Roberson told the Transcript of his ideal film-watching time. "Laptop watching film, all players…Most of the time, it's just a refresher." 
Roberson has enjoyed a daunting task for the season's first 80 games. He's one of the few players around the league responsible for guarding the opposing team's best perimeter player every night. And with the roster changes that came 10 months ago, the Thunder needed his versatility now more than ever. 
"Last year with Serge [Ibaka] and with Kevin [Durant] and with Dion [Waiters], Andre was always a great defender. He always guarding really good players, but we had other guys" OKC coach Billy Donovan told the Transcript. "Now, there are games he really guards 1 through 4 for us, and he does a great job." 
Roberson has guarded from Houston's James Harden to the L.A. Clippers' Chris Paul to New York's Carmelo Anthony to San Antonio's Kawhi Leonard to Cleveland's LeBron James to Golden State's Klay Thompson. Comparable talent levels, diverging styles, same defender on all of them. 
When the Thunder play the Warriors, he can conceivably man all of Stephen Curry, Thompson, Kevin Durant and Draymond Green. He can switch, using a 6-foot-11 wingspan to disrupt. He calls squaring up a ball-handler with two arms spread an "intimidation factor." 
The Thunder defense allows 5.1 fewer points per 100 possessions with Roberson on the floor this season. And though the numbers skew a bit since he plays the majority of his minutes next to a defensive-minded center in Adams, they also bend in the other direction since Donovan usually makes a point to match his substitution pattern with whomever is the best ball-dominant wing on the opposing roster.
And whomever that player is, Roberson makes sure he's scheming on the iPad beforehand.
Not every player uses scouting to prepare to Roberson's degree. It's part of why he's able to get away with rinky dink moves on ball-handlers, why he keeps elite players off the line, why he doesn't have to gamble like many other athletic wings do.
When you know what's coming, there's not much inclination to guess. 
"Anticipation is a part of defense," Roberson told the Transcript. "But I like to go off reaction."
Playoff Relevance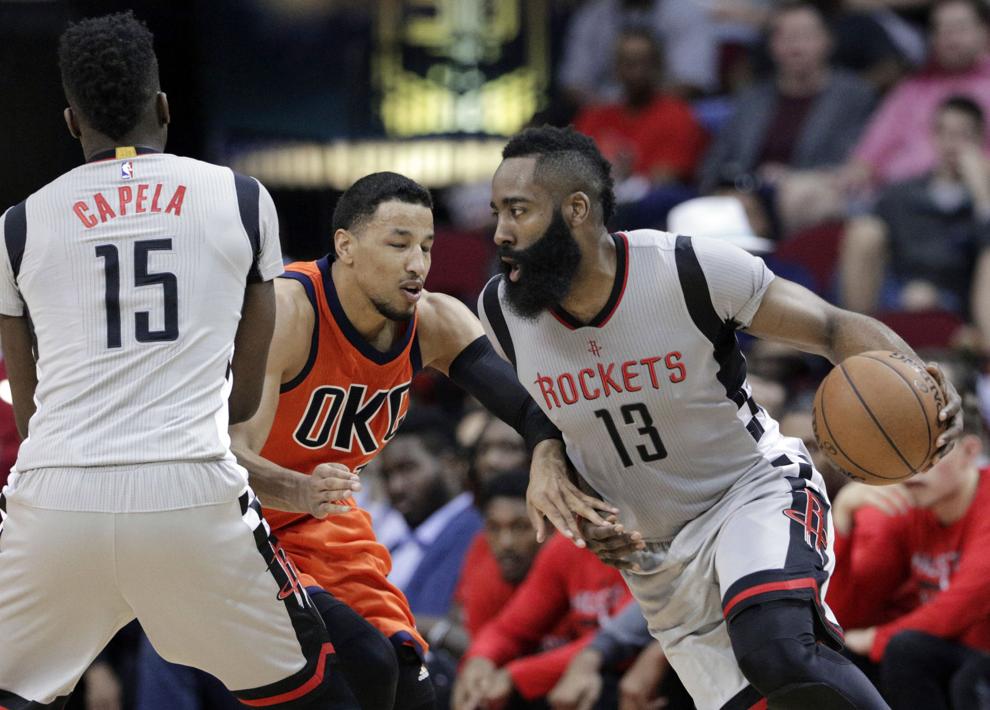 The man surely already on Roberson's iPad is the same one whose face he'll grow familiar with — as long as he can see through that beard — for somewhere between four and seven games starting this weekend. Harden could end up the league's MVP with the season he's had, and the Thunder dropped three out of their four games against Houston during the regular season. But Roberson has grown into one of the NBA's stickiest Harden defenders in the process. 
Harden shot just 31 percent from the field and 15 percent from 3 against Oklahoma City while Roberson was on the floor this year. And he struggled getting to the line, uncharacteristic considering free throws are what prop his efficiency so high. In many ways, that comes down to Roberson's discipline. 
"He just understands how the game is being reffed," Adams told the Transcript. "And mentally, he just understands tendencies and whatnot."
Harden likes to trick defenders into getting caught with a hand inside his arms. Right as he feels the opponent reach, he goes up. It's how he forces fouls on more jump shots than any other player. But it doesn't happen as much with Roberson. Take this play from earlier in the season: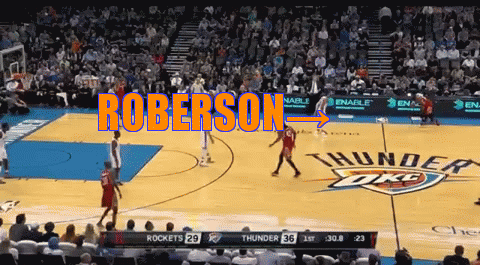 Roberson immediately forces Harden to his off-hand, pushing him right even before a screen comes from Rockets big man Nene, reacting immediately as Adams signals. 
"He's kinda like a German shepherd, just like really quick responding to what you yell at him," Adams said. "So, that's what makes him special." 
Keep an eye on Roberson's arm in the original clip. Instead of playing with it out or by his side, which would put him in a position to clip Harden accidentally, he grabs his ribs with his right hand and keeps the left hand out. 
It's a trick he learned from former Thunder assistant Monty Williams. 
"Just keep your hands close," Roberson said. "Because all they're looking for is for you to slip your hand in there." 
The fundamental has worked well against free-throw addicts like Harden or Toronto's DeMar DeRozan. And on this occasion, Harden winds up for an uncomfortable shot because of it. 
"Always looking for the foul takes away the focus on actually finishing the play," Roberson said. 
That's just one effective pick-and-roll Roberson guarded this year. In reality, he's become one of the league's best at guarding ball-screens. 
Length allows him to contest shots even after going under picks. And he's just as productive when he needs to go over them. In fact, ball-handlers are shooting only 35 percent when Roberson goes over one of their ball-screens, per Synergy Sports, and 33 percent when he goes under. Yet, he claims it's the toughest type of play for him to guard. 
"You gotta have good communication," he said. "It's not just me."
Roberson is expert at forcing ball-handlers away from the middle. He does just that on this play against the Spurs' Leonard: 
Adams calls the coverage out early, and Roberson immediately angles Leonard away from the middle. 
"It's literally just textbook execution," Adams said. 
But Roberson does something a tad differently from the Harden play here — and this is a move he pulls often: He feels around on his backside for the screener — in this case, big man LaMarcus Aldridge — and pushes into him. 
"Once they hit you, they can't move anymore," Roberson said. "So sometimes, I try to stick my [butt] out, so they stop, and I can kinda take up that space." 
It's the recognition that helps keep Roberson consistent. 
"The guard [should] get into the body of the dude with the ball and force him one way," Adams said.  "And so, that's what Dre does. He forces him to take one route, and that makes it a lot easier on the bigs." 
Between Roberson forcing Leonard away from the screen and Adams coming up high, Leonard forces an errant pass and OKC shooting guard Victor Oladipo picks it off. 
"What makes [Roberson] great is he can get the ball redirected to areas of the floor that they don't want to go to," Donovan said. "And that, to me, makes him elite." 
Manning the Ball 
As one rival scout says of Roberson, "his hands are as disciplined as his feet." And it's not just a trait he uses to avoid fouls on guys like Harden. He's simultaneously cutting off passing and driving lanes, like on this play after fighting through a screen to stick with Portland star Damian Lillard:
Roberson extends his right arm when Lillard goes left, left arm when he's right. The opposite arm tucks in, and one of the NBA's most dynamic isolation scorers can't even keep his balance. 
"I can kinda control him. I can control how hard he goes and just absorb him with my arm," Roberson said of the play. "Of course, if somebody gets a full head of steam on you, they're gonna go by you, so I kinda use that hand to slow them down."
It's something he learned from his dad when he was young. 
"The hand up is to discourage passing, try to get into passing lanes, help teammates out," he said. 
The footwork plays in, too. Roberson rarely ever loses his balance in those one-on-one scenarios. The below play is a quick move from Indiana point guard Jeff Teague, but Roberson takes off at almost the exact same time as Teague, as if he knew he was about to penetrate. 
Roberson isn't playing a guessing game — reaction over anticipation, of course — but he is putting those iPad sessions to use. 
"I know Teague is a strong right-hand driver," he said. "And when we played the first time, he beat me off the dribble one time. I think it was in overtime. I was pissed at myself, so I went back and watched more film and tried to get back at him." 
Teague's quick stop might knock some defenders out of their shoes. But Roberson stays down. He doesn't jump, guessing for a shot. It's a similar trait to what helps him against guys like Harden: It's the discipline. 
"He's just smaller," Roberson said. "So, it's easier for me to be the second jumper and still block the shot." 
Donovan thinks those sorts of matchups are his strength.
"Where he has an advantage, where he can really be his best is on 2-guards, because his size really gets involved," Donovan said.
Running Down the Competition
Roberson isn't just guarding 1s and 2s, though. He's taking on bigger wings now, players like James and Anthony. Occasionally, the size will give him issues, like on certain post possessions when he had to defend Denver forward Danilo Gallinari during Sunday's Thunder win. But Gallinari is a 4 in today's game, no natural matchup for Roberson, who has found success against true wings as big as Milwaukee's Giannis Antetokounmpo, who he played one of his best defensive halves against last week, especially in transition.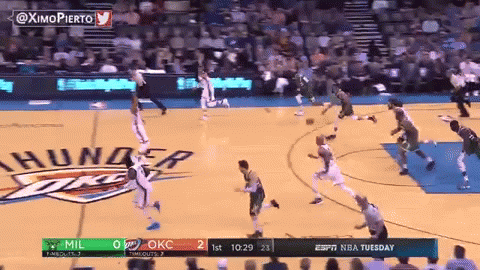 Roberson's ability to pick up his man promptly in transition has boosted the Thunder defense into the elite territory in those scenarios. OKC allows 104.8 points per 100 possessions in transition, sixth in the NBA per Synergy. The Thunder are limiting breaking opportunities, too. Just under 13 percent of their defensive possessions come in transition, which is sixth, as well.  
That production is directly tied to Roberson, whose job is to guard ball-handlers who are almost always the opponents' preferred options to lead the break. 
"There's damn near a play for my guy every time," Roberson said.
Screen Them All
Roberson's success isn't just on the ball. He's chasing guys like Thompson and Clippers guard J.J. Redick off screens, too. 
Here, he follow's Charlotte's Nicolas Batum around a curl at the left elbow:
The recognition here is quick, in part because this is a play the Hornets run often. Adams communicates it uniquely on the back end.
"We went over this play in scout," Roberson said. "So he's like, 'Get to it, boy!'"
Roberson's trick here: Physicality. He's become one of the league's rougher off-ball defenders, nudging guys as they come around screens in oft-undetected ways. It's why his matchups with Leonard, specifically — someone who he lists as one of the purely strongest wings in the NBA — have become so entertaining.
Each initiates shoves or pushes or pokes. Each retaliates. Neither ever gets called for it.
And while Batum is a contributing player, he isn't at the same level as Leonard.
"Right at the point of the curl, try to push him out if you can," Roberson said of the Batum play. "Typically, I like to get him in the waist. That's the weakest point of the body when you try to curl."
Roberson fights similar picks on the wings, too, like on this play against Utah star and All-NBA candidate Gordon Hayward. Here, Roberson reads Hayward and goes under a screen from guard Rodney Hood. It forces Hayward, aiming to curl around Hood and dart to the basket, to change his route. 
With Roberson in the cutting lane, Hayward dances back. 
"He has nowhere else to go," Roberson said before getting rhetorical. "What? Are they gonna flare, throw the ball to him in the corner? I can get there in time. So, I just wait there, see if he pops back." 
Roberson stalls, then throws the screen aside — "we're grabbing each other," he said, "so it's easy to use my momentum or get momentum from him to jump back out there" — and maintains his footing well enough for an ugly but effective contest.
The Next Evolution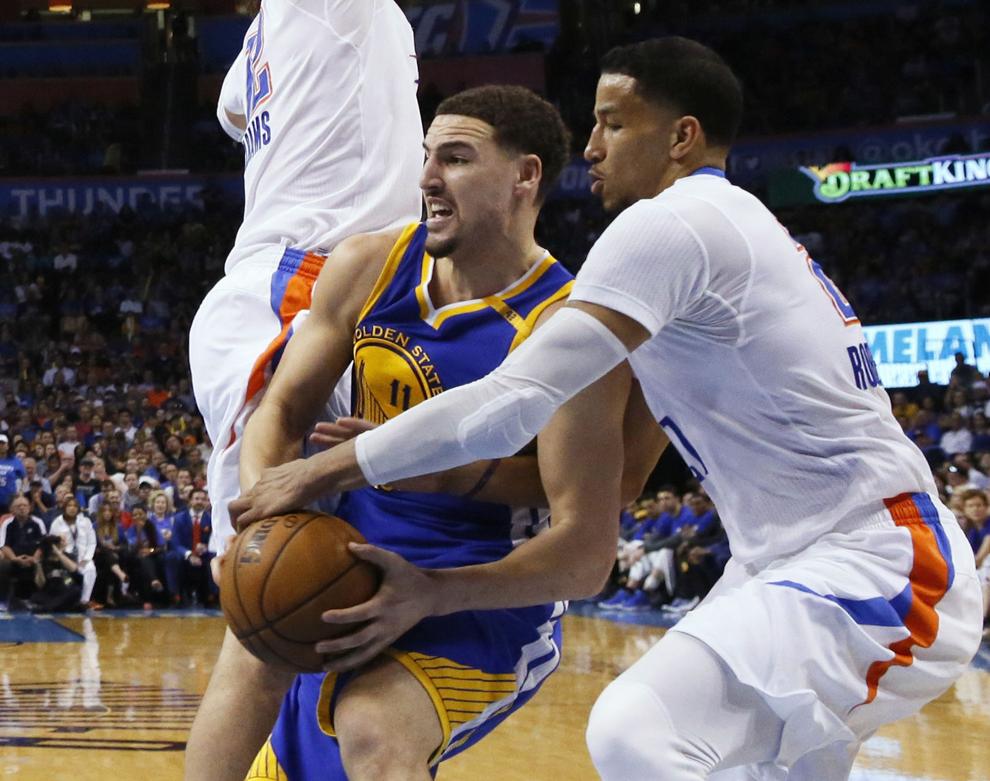 Go back 15 years, and Roberson's defensive skill set would have had value, but maybe not like it does today.
"It's the ability to guard everyone," Brooklyn coach Kenny Atkinson said about what he called the "next evolution" of NBA defense. "Being able to guard one-on-one, and not just your size, different sizes, different positions." 
It's a direct reaction to teams playing smaller, to rule changes, to the game moving outward, to stylistic advancements on offense that are matching with defensive growth. 
"Because of the evolution of the game, you're seeing more wing scoring," Dallas coach Rick Carlisle said. "And with wing scoring, you need wing defenders." 
Maybe bouncing back and forth from position to position worked out for Roberson. He played on the block as a kid, moved to the wing as he got a little older, played power forward in college at Colorado and had to return to the perimeter once he became a pro.
"I always felt like he would become a versatile defender in the NBA," Tad Boyle, who coached Roberson at Colorado from 2010 to 2013, told the Transcript. "He certainly had the feet and the brains to develop into a great defender [of bigger players] in college. I didn't know if that part would translate to the NBA, but obviously, it has."
Roberson's skill set has actually led to diverging points of view. Donovan likes Roberson most on 2-guards because of his length. But Roberson says he's always felt most comfortable on bigger wings, relating back to his collegiate days playing the 4.
Fortunately for him, studying them all — smalls through bigs — has worked out just fine. 
"I think he's grown into that," Boyle said of Roberson's defensive intellectualism. "But the thing that makes Andre special is he's always taken pride in his defense."
Fred Katz is the Thunder beat writer for the Norman Transcript and CNHI Oklahoma as well as the host of the Locked on Thunder podcast. Follow him on Twitter: @FredKatz.