Russell Westbrook's formative years: Tracing back to the UCLA beginnings of the MVP's competitiveness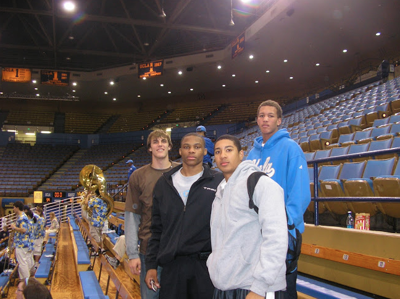 It's technically named the UCLA Student Activities Center. But no one calls it that.
To most, the gym where Russell Westbrook spent his formative basketball years is simply "the men's gym," the spot where any current Bruin will go play pickup and many former ones stop by to join. NBA players of all alma maters come to the men's gym in the summer for games.
The gym holds three courts outlined with big, blue curtains that cover massive windows. There are four entrances. It's often quiet, except for when stragglers drop by to watch visiting NBA players over the summers.
There's one main entrance on the side of the court. If someone comes in and guys are playing, they'll run right onto the floor. So, people scurry around to a little place between the baseline and wall where they can pack in and watch.
The men's gym has seen UCLA legends, players like Paul Pierce, Kevin Garnett and far more. And it's seen Westbrook — in all of his incarnations.
It's the place where the reigning MVP used to play one-on-one through five-on-five.
It's also the place where, especially in those one-on-one games, Westbrook used to lose.
Often.
The First Summer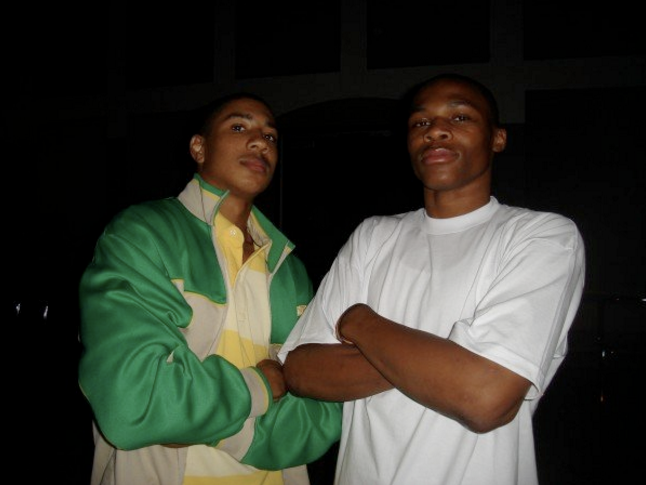 Westbrook arrived on the UCLA campus months before his freshman year began, in character for one of the NBA's most punctual personalities.
He spent the summer of 2006 in that gym along with two other incoming freshman: James Keefe and Mustafa Abdul-Hamid.
The summer took on a Groundhog Day effect quickly: lifting in the mornings, summer classes later in the day and back to the men's gym for late-afternoon pickup with some cameos from NBA players. Abdul-Hamid and Keefe set up a hoop in their room. It was basketball all the time, including the threesome's daily, late-night return to the gym for competitive one-on-one.
"We took it pretty personal when we lost," Keefe said.
It was king of the court style: Winner stays on, loser jumps off. Whoever comes in last on any given night has to buy ice cream sandwiches at Diddy Riese, UCLA's most popular ice cream shop.
"I don't know if Russell would admit it, but James would win most of the games," Abdul-Hamid said.
Westbrook, instead, justifies the losses.
"He's 6-foot-9!" he said. Keefe was notorious for intrusive elbows, too.
"James would hurt you, man," Abdul-Hamid said.
But Keefe winning much of the time wasn't just about height or physicality. The big forward was the one McDonald's All-American of the summer threesome. He was the anchor of a UCLA recruiting class while the Bruins were in the middle of run after run to the Final Four.
He grew up not too far away in Orange County, the semi-local kid about to jump into immediate UCLA fame. Westbrook, a Los Angeles native, was the hyper-local and under-recruited one living in relative obscurity considering some of the high flyers he called his teammates.
"I remember one time, we're sitting around the lunch table, and Russ and I are sitting there and some girl comes up and says, 'What's up? Hey, James.'" Abdul-Hamid recalled. "She looked at Russell and me and was like, 'What are you guys doing here?'"
That anonymity translated to the court.
He may have eventually turned into the No. 4 overall pick, a selection met with the criticism that Oklahoma City Thunder general manager Sam Presti "reached" for a man who became one of the league's most dynamic players. But when he entered college, Westbrook was a raw athlete who even mid-majors thought they had a chance at landing.
It's part of where his obvious edge comes from.
One time, while at the Wooden Center — another UCLA gym Westbrook would frequent, one where non-student athletes would play pickup — someone started talking trash to him from the court. Westbrook was done playing for the day, sitting on the side with Abdul-Hamid, watching others hoop in a way-too-big, starched and ironed white t with Vans on his feet.
The cocky student identified Westbrook as the freshman from the UCLA bench. He averaged only 9.0 minutes during his first collegiate season.The guy wouldn't stop.
"You think you're all that," he yelled to Westbrook. "You ain't trying to play. You're sitting there with your shoes off."
Westbrook didn't say much. He just borrowed someone else's playing shoes, not an easy task for someone who wears a size 15, didn't bother to change his clothes and went to work on the guy.
"Russell grabbed those shoes and went on him and just abused whoever this was talking," Abdul-Hamid said.
He was dunking on him. Sinking shots. The competition didn't know what or who he was up against.
"He killed him," Abdul-Hamid said. "Then he took the shoes off, looked at him, went 'Hehehe' and walked off. And everyone in the gym was just cracking up."
Silent Competition
Westbrook going quiet in a situation like that wasn't a one-time feat.
He'd even temper down for competitive Madden games he and Keefe would play in the wee hours of the morning in Keefe's and Abdul-Hamid's dorm room after one-on-one. The video games got so competitive that Keefe, like an NFL quarterback, ended up making and wearing a clear armband with information for all his audibles, which he had preprogrammed into his Xbox.
The one-on-one games, which would go sometimes until midnight or later, were far more intense.
Keefe was the big name and bigger body, but Abdul-Hamid, a 6-foot-2 guard, and Westbrook considered each other in direct competition. So, trash talk built up, especially when that ever sought-out $1.25 ice cream sandwich was on the line. Keefe got creative. Abdul-Hamid did, too. Westbrook took a different approach.
He'd speak out, but didn't always talk. When he did, he'd respond with one line he'd repeat whenever one of his buddies would come at him hard: "If they're talking about you, you must be doing something right."
Sometimes, he'd just go mute.
"He'll get into it unless he's really mad," Keefe said. "You know Russell is really mad when he's just quiet...That happened a few times either because he thought he got fouled or he got hit with an elbow or he lost a couple games in a row."
Silence is currency for Westbrook, though, a reason one of the NBA's most private stars fits in so well with one of its most private organizations. Presti certainly carries himself in a similar manner.
It's why Westbrook keeps his personal life away from the public — heck, even away from his friends. Many of Westbrook's college buddies had to find out he had started seeing his college girlfriend and now wife, Nina Earl, by catching them out together. Until then, Westbrook was just "Busy tonight. I can't hang out."
Russell Westbrook college stats
| Year | MPG | FG% | 3P% | RPG | APG | PPG |
| --- | --- | --- | --- | --- | --- | --- |
| 06-07 | 9.0 | .457% | .409% | 0.8 | 0.7 | 3.4 |
| 07-08 | 33.8 | .465% | .338% | 3.9 | 4.3 | 12.7 |
NBA Pickup
By the time summer 2007 came around, Westbrook was readying for actual playing time. He was in the midst of an attempt to become a point guard. He had started showing off different types of facilitating moves in the pickup games at the men's gym.
He worked a similar schedule at UCLA to the one from the previous summer. But he was more independent. And he was more aggressive with his workout regimen.
He'd head to the sand dunes, a 500-foot wall of sand amateurs and pros would use for training. And he'd be there alone. The private side of him didn't want that information getting out.
"You say, 'I'm not doing that much.' But in reality, underneath the surface, those legs are kicking and you're trying to get stronger and faster," Abdul-Hamid said. "And you're not showing anybody what you're doing because your next day, your next year on the court, you want to kill everybody."
Westbrook started making an impact at men's gym pickup games that included names like Paul Pierce, Danny Granger, Joakim Noah, Kevin Garnett, Trevor Ariza, Jordan Farmar, Arron Afflalo and Brent Barry.
Westbrook's coach at UCLA, Ben Howland, notes that summer as the transition point for Westbrook.
"He started lifting early morning. He'd go to summer school, classes in the morning," Howland said. "Then, he'd be playing with the pros in the men's gym, and then he'd be playing at night...He was always active, doing something to improve himself and get better."
Fashion King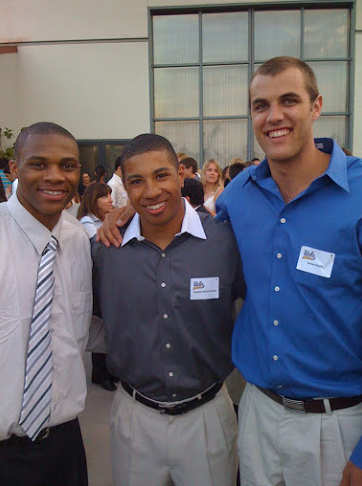 Michael Roll was a teammate one grade ahead, but he ended up growing close to Keefe, Abdul-Hamid and Westbrook.
Keefe and Abdul-Hamid lived together freshman year. Their room connected to the one of Westbrook and teammate Nikola Dragovic, a Serbian who Westbrook also befriended, going out of his way to teach English to Dragovic, who had just moved to the U.S. Of course, that also entailed coaching him in American slang and inappropriate words.
Roll joined the group, even helping the man who is now the NBA's fashion icon maintain his style.
Westbrook's sartorial transformation is more recent than many realize, even if he was laying the foundation for a fashion icon early. He and Keefe used to joke about how true accomplishment wasn't just unrealistically winning an NBA MVP; it was also gracing the cover of GQ.
Westbrook has now done both.
It was in only 2012 when he showed up to a Western Conference Semifinals game wearing a white Lacoste polo splattered with depictions of fish hooks, a look he topped off with those notorious red glasses that didn't have any lenses. He told media members, when asked why he was wearing glasses without lenses later that night, "I see better without them."
Before fielding questions from reporters, though, Westbrook had to do the same from his teammates. As he got dressed to wrap up the Thunder's Game 1 annihilation of the Los Angeles Lakers, buddies Eric Maynor, Daequan Cook and Kevin Durant gathered around.
"What the hell are you wearing?" Durant asked. "That's like one of my grandfather's shirts." 
Westbrook possesses a paradoxical trait: He cares about his appearance, but not what others think about him. Keefe once walked into his dorm room only to see an 18-year-old Westbrook in peak domestic form, ironing his jeans with starch.
Collegiate Westbrook would wear those jeans with oversized white t-shirts often enough that Roll remembers receiving a new pack of extra-long Pearl Glow white t's. They were far too long for him. So, Westbrook took a shot in the dark.
"I remember he was so stoked when he asked me, 'Can I get a new Pearl Glow, bro?'" Roll said. "And when I gave it to him, he rocked the hell out of it because he was so pumped up for it."
The Return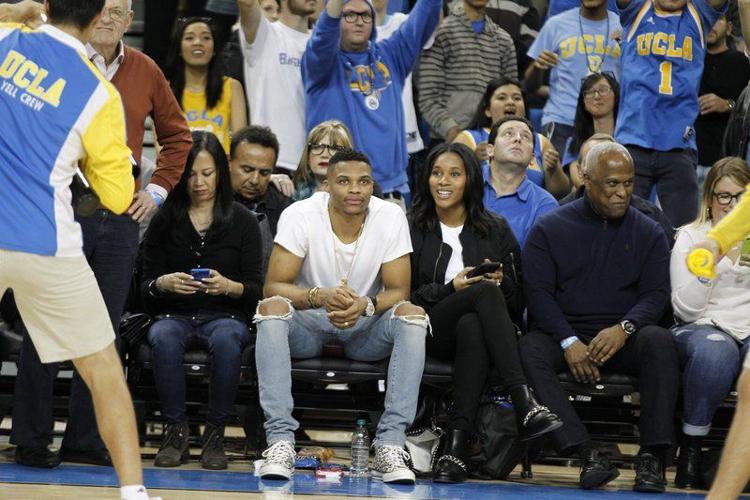 Westbrook returned to the men's gym for the first time as a pro not long after 2008 summer league. The then Seattle SuperSonics had just drafted him. And he ended up popping into a five-on-five game quickly. Abdul-Hamid, now a junior, was on the opposing team.
He wasn't in direct competition with Westbrook anymore, but he knew how to defend him. The years of one-on-one, five-on-five and random practice drills taught him that much. So, when Westbrook busted out into transition early in the game with that typical, reckless, young Westbrookian burst, Abdul-Hamid scampered into position to square him up.
Westbrook had gotten faster. Quicker than expected, he bashed his shoulder into Abdul-Hamid's and finished at the rim seamlessly. It was as if his longtime friend wasn't even there.
"I'm a strong guy. And that dude ran through me and went to the bucket," Abdul-Hamid said. "I was like, oh my goodness. That was unreal. And also, I hope I didn't dislocate something."
Westbrook kept returning to the men's gym, silently dominating. He still does, though he's upped his verbal game these days.
A few years into his NBA career, Westbrook attended an offseason pickup game at the Hax, a gym in Los Angeles, where he still lives in the summers today. NBA veterans like Elton Brand and Corey Maggette were in attendance. Newcomers like DeMar DeRozan and Nick Young were there, too. Westbrook was in the middle.
Shortly into a highly competitive game, he ripped a defensive rebound, went four dribbles to the other side of the court and slammed home a dunk without anyone else even around him. Running back was of no use to the other team.
But in the moment, Westbrook had something to say. He was having fun, talking trash, and doing it to NBA stars not far from where he used to take elbows in the face from teenagers.
"You guys are slow!" he repeated. "You guys are slow!"
Fred Katz is the Thunder beat writer for the Norman Transcript and CNHI Oklahoma as well as the host of the Locked on Thunder podcast. Follow him on Twitter: @FredKatz.