A flier promoting the Norman Transcript's 12th annual Cooking School from March 28-31, 1939 features a quote from King Louis XV, a list of supporting advertisers (including at least one still in business today, Oklahoma Gas & Electric Company), a selection of recipes and a photo of "Miss Harryette Hunter," home service director for the Oklahoma Natural Gas Co.
This faded pink relic was spotted in a Purcell antique store by intrepid Transcript correspondent Doug Hill, who delivered it to my office Friday. I scanned it and loaded it to the Transcript's website, so if you're reading this story on our website or mobile app, you'll be able to peruse such Depression-era delights as "All Bran Refrigerator Rolls," "Broiled Icing" and — my favorite — "Grape Juice Tapioca Refrigerator Cake."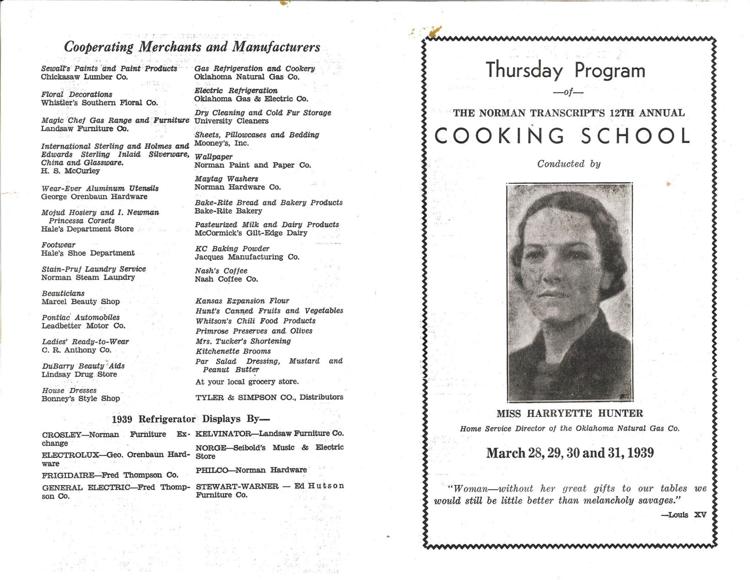 Friday afternoon, I decided to spend a little bit of time doing a quick keyboard investigation of Miss Hunter. Who was this woman, with her confident expression? Did she live out her life in Norman? Did eating Grape Juice Tapioca Refrigerator Cake drive her to an early grave?
It turns out that Miss Harryette Hunter graduated from the Oklahoma College for Women in 1930. She married Frederick W. Emmerson and joined the United States Army in 1943 as a private, but quickly qualified for officer's candidate school.
In the book "A Few Good Women: America's Military Women from World War I to the Wars in Iraq and Afghanistan," authors Evelyn Monahan and Rosemary Neidel-Greenlee recount then Lt. Emmerson's journey from Camp Ritchie in Maryland. Harryette had no idea where she was going, but her train to Chicago was two hours late, and she was sure she was going to miss her connecting train. But in Chicago, she was surprised to learn the train had been held for her — she was assigned to a 100-bed hospital as a dietitian in Los Alamos before eventually becoming the company commander.
While in the Army, Harryette served in the Military Intelligence Division from Sep. 21, 1943 to Dec. 20, 1944. At that time, the U.S. Army was developing nuclear weapons. In the book "Their Day in the Sun: Women of the Manhattan Project," authors Ruth H. Howes and Caroline L. Herzenberg note that Harryette was invited to attend the Trinity test, the first detonation of a nuclear weapon, on July 16, 1945. She refused, because her staff had not been invited. She did, however, walk into the crater the next day with a Geiger counter, Howes and Herzenberg write, impressed by the different colored glass in the crater from the nuclear blast's impact on the New Mexico sand.
There's not too much more to learn about Harryette from a Google search: she lived to be almost 100 years old, dying in 1997. She's buried in the Holy Trinity Cemetery in Okarche, Canadian County.
As we reflect on the 75th anniversary of D-Day, Harryette's story stood out to me. These Americans who stepped up to fight in World War II weren't superheroes, millions of Captain Americas with some sort of invincible super serum flowing through their veins. They were teachers and plumbers and home service directors for gas companies. They lived ordinary lives in the same cities where we live ordinary lives.
But when called upon, these teachers and plumbers and home service directors stood up and did extraordinary things. They truly made up the Greatest Generation.
As a journalist, I've learned everyone has a story to tell. Thanks to Doug and my own curiosity, I've been able to tell a little bit of Harryette's story: a woman who went from presenting at the Transcript's twelfth annual cooking school to walking the glass floor of a nuclear crater in six short years.
I do wonder if, as hospital dietitian, she ever fed her hospital patients her famous Grape Juice Tapioca Refrigerator Cake…
I guess we'll never know.