For all of its apparent monotony, it's crazy how often unique and interesting things happen on the baseball diamond
For that matter, "strange" and "interesting" are frequently accurate descriptors of the Crosstown Clash regardless of sport.
So it was at Tull Lake Park Monday night, where Norman North topped Norman High 8-3, sparked by a home run that must be described by who hit it, and secured by a pitcher who did two quite rare things on the mound.
Will Bradley, hitting leadoff, smashed the home run, but it was the circumstances of the swing that made it so interesting.
"Honestly, in my two-strike approach, a completely shortened swing, I was not looking to do that," he said.
But he did.
Bradley cut down his swing to make contact, to keep from striking out. The last thing he was doing was swinging for the fences, yet upon contact, the hundreds watching knew the left-field fence couldn't hold it.
The pitcher was North's Jack Bucholz, who hit for himself in the six-hole, went 2 for 3 and drove in two, which is rare enough from a starting pitcher, but that's aside from what he did on the mound.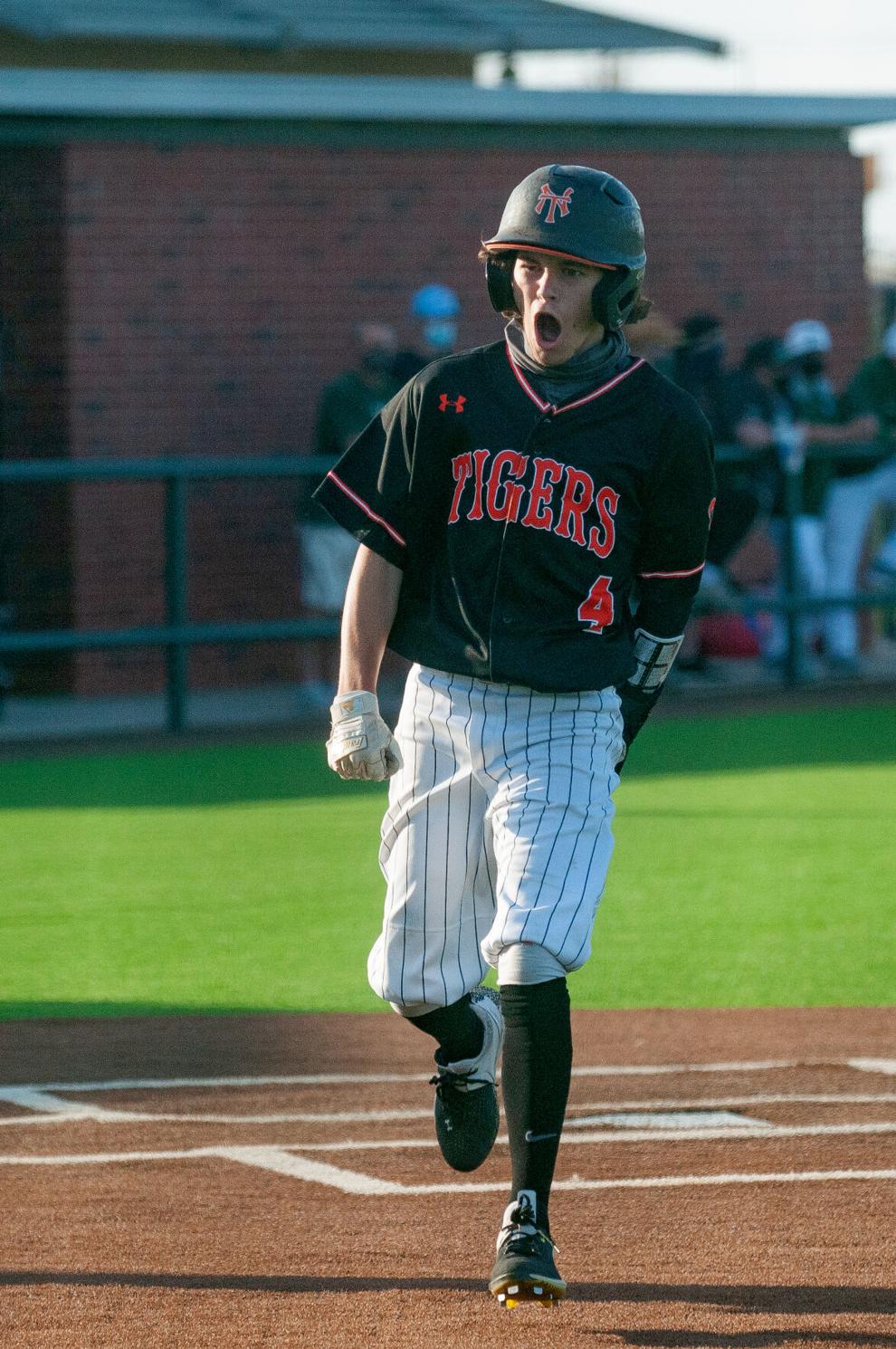 One it, he pitched a complete game, which hardly ever happens any more and though high school games run just seven innings, hardly any pro throws that many frames in a single appearance any longer, either.
But he did.
Bucholz allowed two singles to begin the game, but just three more hits the rest of it, striking out five, walking three and hitting a batter. Just two of his runs were earned.
It was also how he did it.
"I had trouble throwing strikes. I actually had to get rid of my high leg kick," he said. "I went to the slide step and that seemed to work."
In real time, he ditched the way he was pitching to pitch differently. Not just opting to pitch from the stretch the rest of the game, baserunners or not, but to shut down his kick.
From there, he was able to pitch around most danger from the Tigers, throwing a fastball, a changeup and, perhaps what he threw most, a breaking ball he calls a "slurve."
"I aim for their head," he said, "and try to get it in the [strike] zone."
Bucholz's coach, Brian Aylor, explained his success.
"He's a guy that can pitch," Aylor said. "There are guys who can throw and there are guys who can pitch."
NHS scored a run in the first inning and, the result of two North errors, a run in the second to lead 2-1.
North put hits together in the fourth inning to take control.
Landon Bruce led off with a double to left field. Two batters later, Brodie Finlay was hit by a pitch and the guy who followed him, Max Cullison, lined his own double to left, plating Bruce, and the guy who follow him, Bucholz, lashed a two-run single up the middle.
NHS pitcher Liam McKinney was fortunate to only be tagged for three runs in the frame, leaving the bases loaded when he got Bradley to ground out to second base.
Jordan Crowder's fifth-inning double brought the Tigers within 4-3, but the T-Wolves broke it open in the sixth, drawing two walks, connecting for two hits and sacrificing twice to put three runs across. An NHS error produced another run.
Ibi Ahmed, Bradley and Bruce each drove a run home in the frame.
"We had good at bats," Aylor said.
Harrison Smith and Dax Noles connected for four of the Tigers' five hits.
North improved to 11-4 and 4-3 in District 6A-1. NHS fell to 4-14 and 2-5.
The two rivals are back at it against each other beginning at 6 tonight at NHS' Tiger Stadium.