Aiden Hayes has yet to close his final chapter as a Norman North swimmer but has already started inking his next.
The senior finalized his commitment to North Carolina State and celebrated the milestone with his family and classmates at North's National Signing Day ceremony on Wednesday.
"I really found a home there," Hayes said of signing with the Wolfpack. "I found a family environment that would really suit me, and they're just a really good Division I college that is a great place for me to go swim at."
Hayes verbally committed to NC State before his junior season started, wanting to secure his spot in the program's 2021 recruiting class.
It's hard to imagine a team that wouldn't make room, however, for the decorated student-athlete.
Hayes has won every state-meet race he's competed in, set 10 state records and named both a NISCA and USA Swimming Scholastic All-America selection.
Before Hayes heads to Raleigh, North Carolina, to offer his coveted services to the ACC program, he still has a few more accolades to add with the T-Wolves, who will compete at Class 6A's regional meet on Saturday.
"Even though we're still getting recognized for certain things, our season is far from over," Hayes said, "and we're going to do great things at regionals and state this year."
• Package deal: Two of Norman High's best defensive players will remain teammates at the collegiate level.
NHS safety Micaiah Bivines and outside linebacker Cedric McClendon signed with Northeastern Oklahoma A&M.
Both Bivines and McClendon were selected as the top players at their position in the Central Oklahoma Athletic Conference.
• Bears ink NLIs: Noble football's Sean Gillespie and Gabe Hudson signed with Aurora University and Northeastern State, respectively, on Wednesday.
Hudson, a 6-foot-2 safety/receiver, and Gillespie, Noble's 5-foot-10 linebacker and fullback, were instrumental to a solid run for the Bears' defense, including a district championship in 2019.
• 2 CCS seniors sign for football: Alex Hoselton and Josh Vordenbaum helped establish the Community Christian football program as a consistent playoff contender, but the seniors' playing careers aren't done quite yet.
Hoselton, who played both running back and linebacker, signed with McPherson College, while Vordenbaum, an offensive and defensive lineman, is headed to Southern Nazarene.
Hoselton and Vordenbaum were members of three consecutive state playoff teams, including CCS' first appearance as an OSSAA member school in 2018.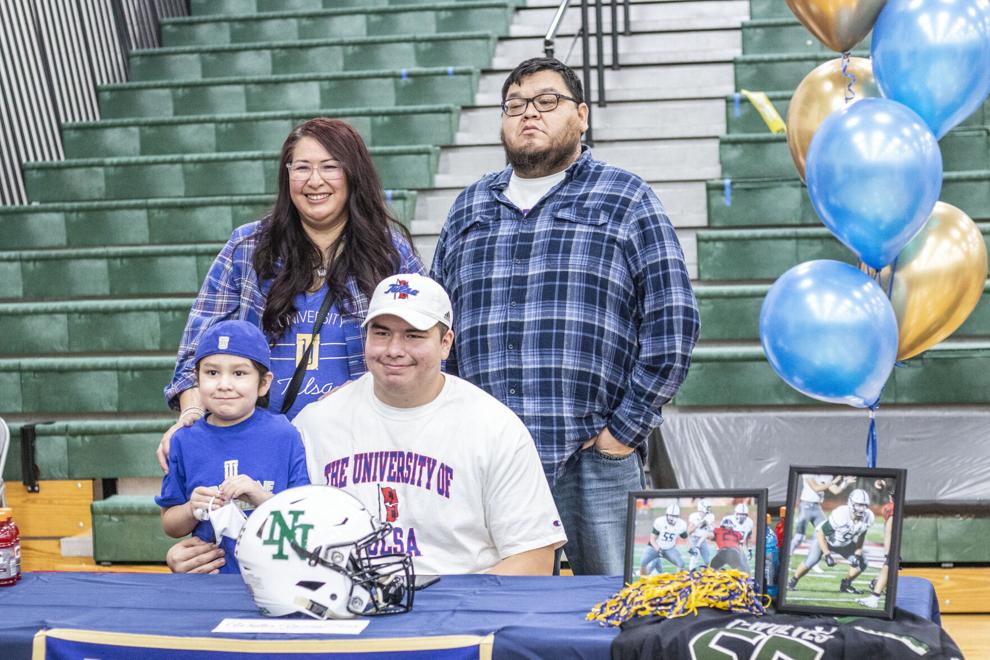 • Young Bear headed to Tulsa: Norman North offensive lineman Walter Young Bear is betting on himself.
The T-Wolves seniors had offers from the likes of Central Oklahoma and Oklahoma Baptist. The Oklahoma Coaches Association All-State selection ultimately went with Tulsa, where he received a preferred walk-on spot to the FBS program.
Young Bear was one of three North offensive lineman and six football players overall that signed on Wednesday, joining Zach Ivy (Missouri Southern), Brock Singelton (Southern Nazarene), Jeremiah Tolefree (Pitt State), Pierce Hassen (SWOSU) and Landen Lehenbauer (Southwestern Kansas).
— Joe Buettner