Coach Patty Gasso's Sooner softball team is insane. Yeah, that's the word.
It's downright crazy.
It's really, really good, too.
But it's how it's so good.
If you look hard enough, you can find its mortality, maybe its fragility, and that's a little crazy, too.
That crazy team was supposed to play host to Texas Tech on Friday, yet weather pushed the game to 1 p.m. today, the second of the three-game set to follow before the series wraps up on Sunday.
You may have heard, Oklahoma is no longer unbeaten, having fallen 7-6 in nine innings at No. 21 Georgia on Tuesday, making the Sooners' record 33-1. But what you may not have known is OU came right back and run-ruled the Bulldogs, 12-3, in five innings, before departing Athens.
"I don't regret one thing," Gasso said of traveling into a different time zone in the mid-week to play a strong SEC program. "Taking this trip was important for us to learn."
She probably meant that her team needed reminding it's not invincible, that it's bound to face future difficult atmospheres and close games no matter how insanely strong it is and she's probably right.
Still, give the numbers a long look and it's easy to imagine OU's ultimate success will rise and fall on the simplest notions.
One, against the nation's best pitching, what it's bound to face at the World Series, will it continue pounding the ball the way it's been pounding it?
Two, can its pitching keep it from having to outslug every foe it faces, because pitching, believe it or not, might be, relatively speaking, at least, its weakness.
Enough evaluation, on with the insanity.
How crazy is this team?
Let us count at least a few ways.
• 1: It's not that OU's hitting .439 as a team, tops in the nation, nor even the fact the Nos. 2 and 3 hitting teams in the country — Long Island (.371) and Texas (.368) — are so far behind the Sooners … actually, that's part of it, because they're so, so, so far behind them.
Instead, it's that four of the top nine hitters, almost half the top 10, in all of Division I, which includes 290 teams, are Sooners AND two of those Sooners are freshmen.
Freshman Jayda Coleman is hitting .510, trailing only Kentucky's Kayla Kowalik (.534). Tiare Jennings, also a freshman, is No. 8 at .482, one spot in front of junior Grace Lyons at .480. Then there's senior Jocelyn Alo, No. 4, hitting an even .500.
Insane.
• 2: Think back to each one of Gasso's national championships and in all but one, you can't help but associate it with a single pitcher (and the other one, two pitchers).
2000: Jennifer Stewart
2013: Keilani Ricketts
2016: Paige Parker
2017: Paige Parker, Paige Lowary.
Lauren Chamberlain was 1B, alongside Ricketts 1A, but it's mostly been the pitching.
Well, right now, though OU's 1.63 earned run average ranks ninth in the nation and Shannon Saile's 0.94 ranks 12th individually, the closest thing OU has to a No. 1 pitcher, Giselle Juarez, is not among the top 150 at 2.26.
Saile and Nicole May (1.67) have better overall numbers than Juarez (and Saile's struck out an amazing 74 in 44 2/3 innings) yet it's still Juarez who's thrown the most innings total (68) and in the conference (21). She has a better ERA in the conference (1.67) than Saile (2.00) and May (2.03), too.
Still, though the closest thing OU has to a No. 1 pitcher, giving her the title remains a stretch. She's pitched more than the others, perhaps against better opponents, but barely.
A case can be made the staff is actually very deep. You can make a better case, perhaps, that depth as a euphemism for the lack of a No. 1 also applies and how can the nation's best team lack a No. 1 pitcher?
Crazy.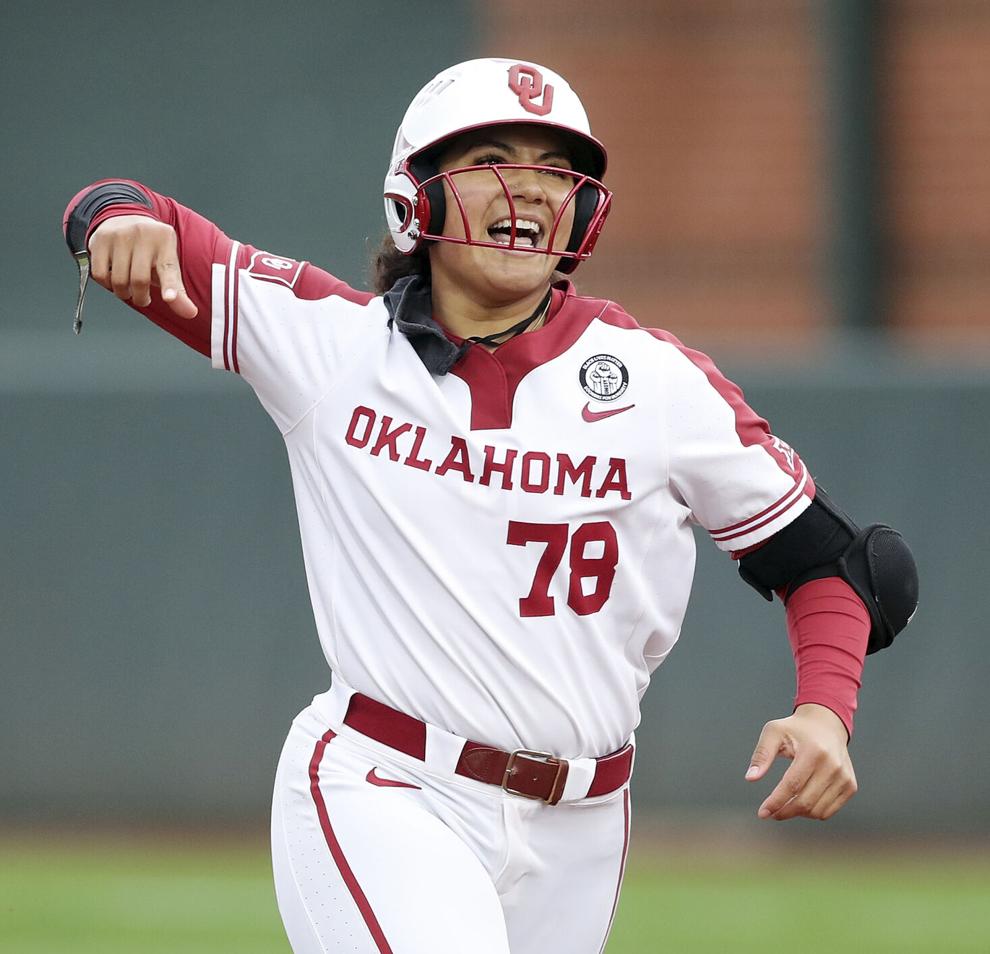 • 3. Call this one the curious case of Jocelyn Alo, because do you remember her freshman season? She was the next Chamberlain. She hit 30 home runs in 62 games. She hit .420, got on base .549 and slugged an impossible .977.
Chamberlain's NCAA record 95 home runs had to be in jeopardy, right? Well, not so fast. In Alo's next two seasons, she hit 24 total.
Well, she's back at it this season, having clubbed 23 in 35 games, which is a much brisker pace than 30 in 62.
It's not clear how many games OU has yet to play this season, but another 15 dingers might be doable and if that happens, Alo will be sitting on 92, making her certain to break Chamberlain's mark next season, when she takes advantage of a second senior year, awarded by the NCAA to her and everybody else in the wake of the coronavirus.
Alo's been up, down, down further and way, way up again.
Wild.
• 4. Imagine where Alo's totals might be if the Sooners weren't so collectively dominant at the plate. Or where Jennings', who's hit 20, might be. If all of their teammates weren't mashing, too, they might well be mashing more.
OU has played 35 games this season, but has averaged just 5.1 half innings per game in which they're at the plate because they've won so many by run-rule.
Had they played 35 seven-inning games, Sooner pitchers would have thrown a cumulative 245 innings by now, yet they've tossed 197 2/3 instead, an average 5.65 innings per contest.
Maybe that's it.
The more you hit, the more at bats you get, innings aside.
It's just a pitching thing.
Whatever, nobody's played fewer innings than OU.
It's nuts.
• 5. By the NCAA's own metric, its ratings percentage index (RPI), the team that's won 34 of 35, that's run-ruled everybody, even Texas, with it's No. 3-in-the-nation-.368-batting-average, three times; somehow that team, the one everybody ranks No. 1 … is not the best team in the country?
Or even the second, third, fourth, fifth or sixth best team in the country?
Can it be?
It's a strength-of-schedule thing, but it still feels way out of whack.
In the NCAA's RPI, it's UCLA (25-2), Florida (32-6), Alabama (33-7), Florida State (31-6), Arkansas (36-5), LSU (26-14) … and then, finally, the Sooners.
That, believe it or not, were the ratings and records entering the week, before the Sooners lost.
OU may not have a No. 1 pitcher, but No. 7, come on!!!
It's an outrage.
If the Sooners want chips on their shoulders, they need only paste the NCAA's RPI on their lockers.
It's just … crazy.