NORMAN — Creed Humphrey and Orlando Brown never started on the same Oklahoma offensive line, missing each other by a year.
Their different timelines didn't stop Brown, however, from endorsing his fellow Sooner, who will soon join him in Kansas City.
"Orlando told us to go get Creed when he was here," Chiefs coach Andy Reid said. "He goes, there's a good one in Oklahoma you need to take a peek at."
Whether or not Brown's advice sealed Kansas City's decision, the franchise, which is in desperate need of offensive line depth, selected Humphrey with the 63rd overall pick in the NFL draft's second round on Friday.
Humphrey, who offers versatility as an interior offensive lineman, knew his moment might not come until Day 2 of the draft, and he seems just fine with the starting point to his professional career.
"I got the call from the best organization in the country," Humphrey said.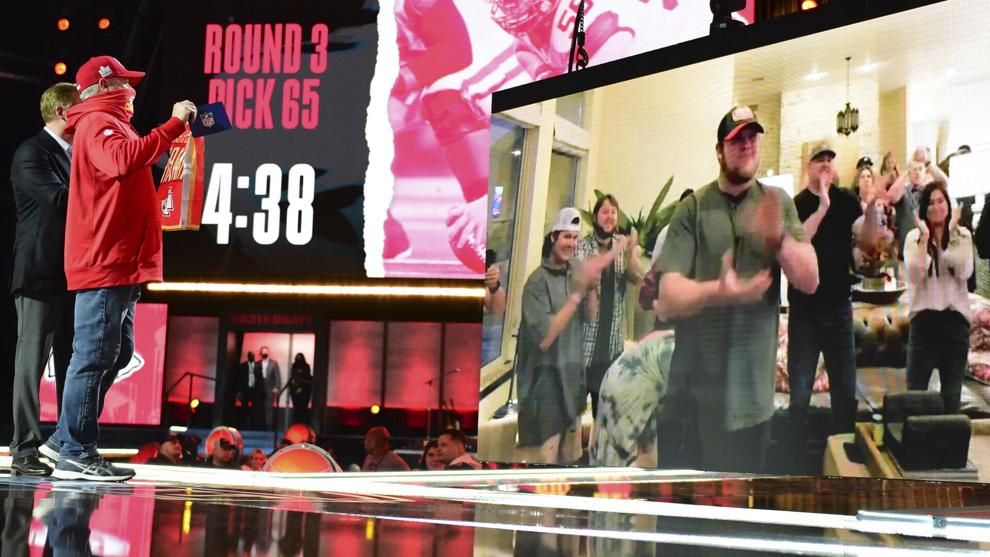 Humphrey arrives to Kansas City after enjoying three years as OU's starting center, first assuming the role in 2018 after redshirting his first year on campus.
Humphrey emerged as a two-time All-America selection and back-to-back Big 12 Offensive Lineman of the Year in 2019 and 2020.
During those two seasons, Humphrey didn't allow a sack in 1,200 plays, according to Pro Football Focus.
"Creed was certainly one of our leaders the last couple of years," OU coach Lincoln Riley said. "He stuck out early in his career, became the starting center and developed into a really good all-around player and a good leader.
"He's certainly one of the more talented offensive linemen we've had come through our program. I think he'll have a long and very positive career in the NFL."
Humphrey came to OU via Shawnee High School, where he left as a four-star prospect and a U.S. Army All-American.
Humphrey's selection marks the seventh consecutive draft OU's produced at least one second-round pick or higher.
He also joins his fellow 2018 offensive line starters Cody Ford, Dru Samia, Bobby Evans and Ben Powers in going in the top-four rounds of the NFL draft. The Sooners' 2018 offensive line won the Joe Moore Award, which is annually presented to the best unit in college football.
Humphrey now gets the chance to play alongside Brown, who was a 2018 first-round pick and the centerpiece of Kansas City's trade with Baltimore announced last Friday.
"I'm really close with Orlando, he's helped me a lot," Humphrey said. "He mentored me a lot at my time at OU. Just being able to be on a team with him, I'm really excited about it and to be able to join such a great organization. I'm so excited, I can't wait."
• Perkins slides to Patriots: Oklahoma defensive end Ronnie Perkins wasn't shy about his tumble to the third round.
"This is so disrespectful lol," he tweeted Friday evening.
The New England Patriots ended Perkins' slide, selecting the three-year Sooner with the 96th overall pick.
Perkins, listed at 6-foot-3, was an All-Big 12 selection last season, despite missing OU's first five games.
He finished his Sooner career with 10.5 tackles for loss, 9 quarterback hurries and 5.5 sacks over 33 appearances.
"He's really developed into an outstanding edge player," Riley said. "He's equally good in pass rush as he is in defending the run game. He plays with an edge and an attitude that really takes a guy who's talented and transforms him into becoming an even better player. I think he'll certainly be a guy who will create a lot of problems on the edge at the next level for the Patriots."
Perkins is OU's highest drafted defensive end since Baltimore picked Dan Cody with the No. 53 overall selection in 2005.
• Still on the board: OU running back Rhamondre Stevenson, cornerback Tre Brown, offensive lineman Adrian Ealy and defensive back Tre Norwood didn't hear their names called Friday evening. The final four rounds of the NFL draft begins at 11 a.m. today on ESPN.