An Oklahoma double-digit, first-half lead vanished quickly after turning the ball over to Texas on two consecutive possessions last Saturday.
The Sooners ultimately won the Red River rivalry 53-45 in quadruple overtime. Along the way, coach Lincoln Riley made a bold decision.
Redshirt freshman Spencer Rattler, the crown jewel of OU's 2019 recruiting class, won the starting quarterback job during fall camp and has started each game this season.
Riley benched Rattler early against the Longhorns, however, after throwing an interception that led to a Texas field goal and fumbling on OU's next offensive series, a giveaway that led to the Horns tying the game in the second quarter with a 6-yard Sam Ehlinger rushing touchdown. 
A change was necessary, according to the fourth-year Sooner coach, so he called on sophomore backup Tanner Mordecai to right the ship.
"We haven't been in that situation a ton, but it just made sense," Riley said. "It was kind of the right recipe.
"We'd had a couple of bad plays in a row and I thought it was the right thing to try to calm Spencer down. Tanner had practiced well, has the experience and I have a lot of confidence in him."
For a brief moment, Mordecai was the story of the day.
He completed his first three passes — a 14-yard throw to Theo Wease, a 13-yarder to Wease again and a 5-yard strike to Austin Stogner.
Mordecai's first series ended in a third consecutive OU turnover — although it wasn't his fault. OU junior T.J. Pledger broke free for a 25-yard run, putting the Sooners inside the red zone. Texas' Joseph Ossai forced the running back to fumble on the big gain and fellow Longhorn Chris Brown recovered the loose ball.
Texas went three-and-out on its ensuing offensive possession and had its punt blocked by OU linebacker David Ugwoegbu. Following a penalty at the end of the special-teams play, Mordecai and the Sooner offense had the ball at the Texas 20. The reserve quarterback rushed for three yards on first down and later connected with another receiver, Marvin Mims, for eight yards to convert on 3rd-and-6. Marcus Major then punched in the score to put OU ahead 17-10 in the second frame.
Mordecai played one more series after that, which included the quarterback losing an uncontested fumble, but the Sooners retained possession before eventually punting.
Mordecai's day was finished after the first half, completing 5-of-7 passing for 52 yards. Rattler reentered the game in the third quarter, eventually leading the Sooners to victory.
Riley, though, was pleased with his backup quarterback's performance.
"I thought Tanner did a good job," Riley said. "That's not always the easiest situation to just go into, just kind of a little bit cold turkey, if you will, and just go straight in there. I thought he stabilized us."
But what if OU had left Mordecai in?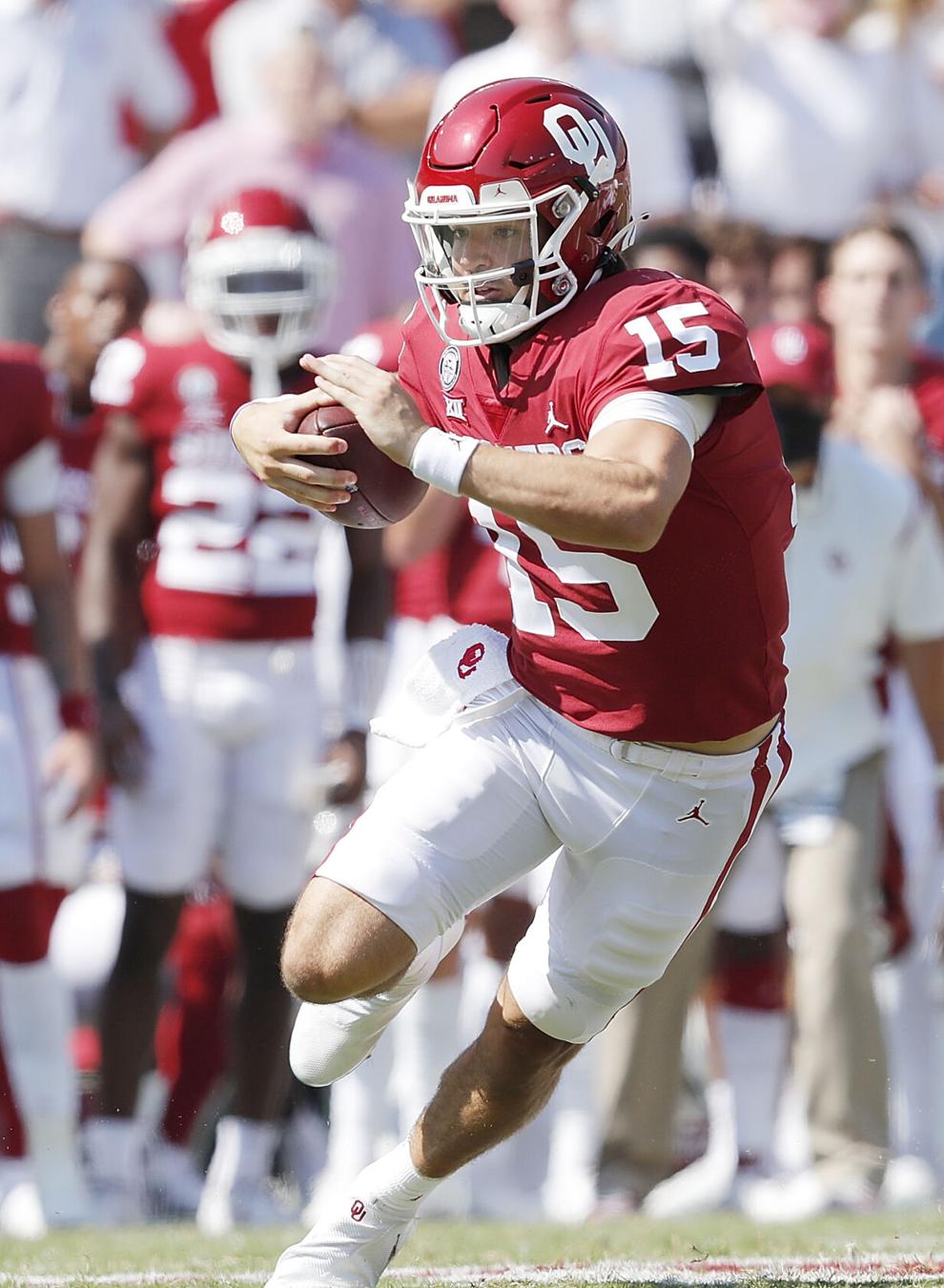 When Riley took Rattler out, he wasn't sure if it was for good. His substitution strategy apparently isn't always multiple steps ahead like the chess master he portrays.
"I've never made those decisions as far as what I'm gonna do down the line," Riley said. "Just kind of looking at the situation as it was, and it made the most sense to put Tanner in and then at halftime I had a chance to kind of reevaluate it and felt like the right thing was to get Spencer back in there."
Rattler's second-half performance validated the decision.
He completed 8 of 13 passing attempts for 74 yards in the first half before finishing with 209 yards on 23 of 35 passing and three touchdowns. He also didn't turn the ball over in the second half or in any of the four overtime periods.
Perhaps the combined effort is a sign of a deeper OU quarterback room than might appear on the surface. Riley certainly seemed confident in both of his quarterbacks' abilities after a tight win in Dallas.
"I think we're fortunate to have a couple of guys that I think our team believes in. ... It just took some guts and some real competitiveness for those guys to play the way they did in those situations; for Tanner to come in and stabilize us, and for Spencer to come back after a couple big mistakes and play the way he did, especially in the third quarter and overtime," Riley said. 
"I think it's a learning moment for those guys. I think our team believes in the kind of players we have there. And winning one like that, in the fashion that we did, certainly does not hurt."