It was a particularly good day for the Noble girls at the state cross country meet Saturday at Edmond Santa Fe and, though perhaps not as grand as the year before, still a fine day for Community Christian and a very fine one for one of the Royals runners, Haley Smith.
The Bears finished off a big season, placing fourth in the Class 5A girls race, behind Bishop Kelley, Piedmont, and Coweta.
Cross country is scored by adding the five fastest runners on each team's place finishes together and the object is to go low.
Noble finished with a score of 113, quite close to Coweta's 99, more distant from Piedmont's 61 and Kelley's 56.
Four Bears finished among the top 30 in the Class 5A field, and the top 28 among runners who were joined by their entire teams, the places from which the scores were counted.
Erika Pena landed a 10th-place finish in 20:07.13; Leah Hickok finished 18th in 20:34.09; Kenzie Heeke was 26th in 21:07.47; Emma Nabors was 30th in 21:15.99.
In the Class 4A races, in which the CCS boys were state runners-up a year ago and the girls fourth, both sets of Royals placed ninth.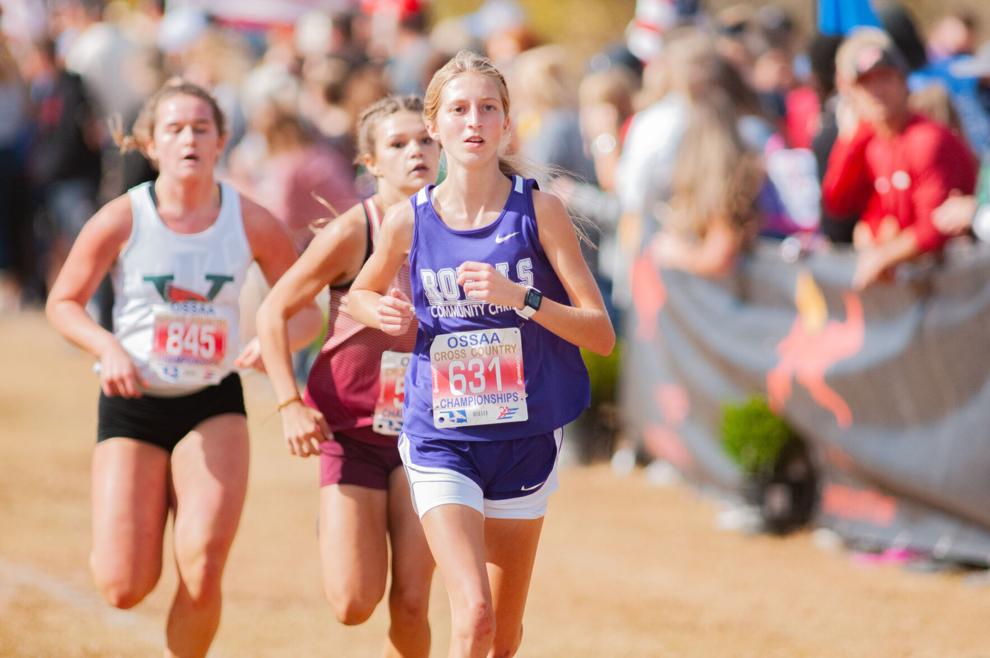 The girls were led by Smith, who finished fourth overall in 12:23.17 one year after finishing 15th in almost 20 additional seconds.
Tuttle's Madi Surber won the individual Class 4A championship in 12:01.81, followed closely by Lincoln Christian's Gabriella Degeorge in 12:03.41. Byng's Cadence Carlos just clipped Smith for third, finishing in 12:22.22.
The CCS boys scored a top 10 overall finish by running fairly close together, led by Carter Craig's 25th-place finish in 17:51.52.
Cache won the Class 4A boys as a team, finishing with a score of 70, just in front of Lincoln Christian and OCS' 79.
Tigers, T-Wolves
Beyond Smith and Pena, the highest finish from a Transcript area athlete came from Norman High's Phin Bonner, who claimed 11th in the boys Class 6A race, finishing in 16:08.78.
Teammate Michael Parker was close, placing 19th in 16:34.29.
As a team, the NHS boys finished 11th with a score of 276. Deer Creek dominated the boys race, winning a state title with a score of 44, well ahead of Owasso's 113.
Deer Creei's A.J. Antonelli won the individual championship, finishing in 15:14.80.
Qualifying its girls team for the Class 6A event, Norman North finished 10th, led by Kinley Kite's 32nd-place finish in 20:03.78.
The T-Wolves finished with a team score of 248, narrowly behind ninth-place Tahlequah's 229.
The girls Class 6A crown belonged to Jenks, which placed three runners among the top 13 and finished with a score of 56, well in front of second-place Deer Creek's 104.